Studio 360
Why Two Turntables Are Not Enough for Jace Clayton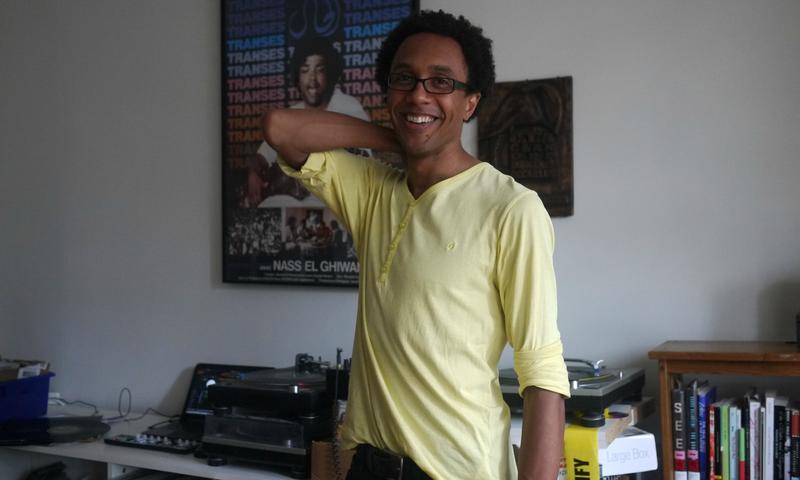 Jace Clayton is the philosopher-king of club DJs. He's a Harvard grad who used to review poetry, and made some tracks with poet Elizabeth Alexander. He's an ethnomusicologist fascinated by the way digital technology gets adopted in different cultures — and has a new book called "Uproot: Travels in 21st-Century Music and Digital Culture." He designs software, including music-making plugins that create North African-style sound effects. He runs his own record label and plays electronics in a band called Nettle. Working as DJ /rupture, he mixes disparate sounds in DJ sets jam-packed with ideas: from traditional Berber music of North Africa to "jungle" beats from the UK; from American hip-hop to mid-20th-century musique concrète. He uses not two turntables but three — a DJ's equivalent of turning it up to 11. Kurt Andersen visits Clayton at his home in Brooklyn and gets a lesson in the fundamentals of beat matching. 
Clayton was in college when he came under the spell of "jungle," also known as drum and bass, the fast electronic dance music of the 1990s rave scene. But he found himself bored by the clubs in Boston. "It'd be one tempo, one style of music all night long, and I just felt that didn't reflect what I was as musician. I was like, I wanna rupture that dance floor, put a big hole in that." Just a few years out of college, he put the three-turntable mix tape "Gold Teeth Thief" up on the internet. It went viral, and Clayton became a presence on the global dance music scene.
Clayton explains that when it comes to finding sounds to mix, it's not enough to sit at home and trawl the internet — sometimes you have to go get the CDs from the back of the clothing stall in the Moroccan bazaar. 
(Originally aired August 17, 2012)
Music Playlist
Time to Get Away

Artist: LCD Soundsystem

Album: Sound of Silver

Label: Parlophone UK

Gold Teeth Thief

Artist: DJ /rupture

Album: Gold Teeth Thief

Get Ur Freak On

Artist: Missy Eliott

Album: Miss E....So Addictive

Label: Atlantic Records/ATG

Here I Come Jungle Mix (Greensleeves)

Artist: Barrington Levy