What NJ Police Are Doing with Mine-Resistant Trucks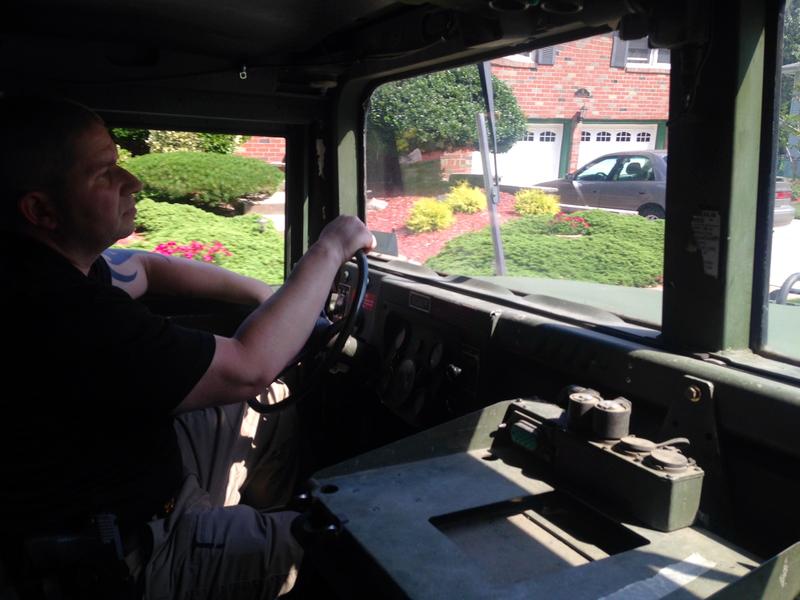 Police in the small suburban town of Little Ferry recently received six military trucks for its 25 police officers.
Two of the green and camouflage Humvees were parked on a grassy patch behind the police department. There's a mount near the steering wheel where the machine gun used to go, a hatch on the roof you can crawl out of, the remnants of the outer gun turrets, and clamps inside that look like the jaws of a bear trap.
 "I don't really know what any of this stuff is," said Detective Ronald Klein, who got a quick tutorial on how to drive the trucks when he picked one up from a military base. "They don't tell us all that kind of fun stuff."
Military trucks are among the $20 million worth of surplus military equipment that police in New Jersey received for free last year from the federal government.
With two wars in Iraq and Afghanistan winding down, there's been an increase in military gear available. Three years ago, the state received just $504,000 in donated military equipment, according to data from the Defense Logistics Agency, which oversees the transfer of surplus military equipment to law enforcement agencies. 
Police departments in the state have received everything from armored trucks, rifles and grenade launchers to shirts for extreme cold weather, boots, and ladders. But the use of military equipment to quell protests in Ferguson, Mo., following the shooting death of an unarmed black teenager, has sparked a national conversation about whether local law enforcement agencies are becoming too militarized.
For example, among the most expensive items on the list of supplies used in Iraq and Afghanistan are the MRAPs – 30,000-ton armored, mine-resistant, ambush-protected vehicles.  
Police in Middletown, N.J., have one. And the Bergen County Sheriff's Office has just ordered two.
The federal government requires any agency that receives surplus military equipment to use it within a year. It's one of the few regulations of the federal program, said Vanita Gupta, the deputy legal director of the ACLU. "So you can only imagine how that is kind of incentivizing local law enforcement to use it," she said.
But some say there's no need for mine-resistant trucks in suburban north Jersey.
"We are not going to militarize Bergen County, and these are clearly military vehicles, for which the Sheriff has no use," said Bergen County Executive Kathleen Donovan. "God forbid we need a military vehicle; I'm calling the National Guard. These are not police vehicles."
The Sheriff who ordered the MRAPs, Michael Saudino, says there is a need for them, especially if they're free.
"If you had a barricaded suspect or a hostage situation, this vehicle could get up to that front door where you would never put a police officer so close and in risk of being shot," he said.
The MRAP can also go through seven feet of water. Saudino says he plans to mostly use the trucks for water rescue during future storms. In nearby Little Ferry, for example, 80 percent of the town was under water during Sandy. Police Chief Ralph Verdi said sending first responders out in small boats isn't safe.
But critics say Bergen County already has military trucks that go through water. And they seat four times as many people as the mine-resistant trucks.
But President Obama has said it might be time to re-think the federal program, and re-consider what kinds of military equipment police really need. 
"There is a big difference between our military and our local law enforcement," President Obama said. "And we don't want those lines blurred."
UPDATE: The Bergen County Sheriff's Office announced Thursday it would delay the use of two armored vehicles it was set to receive. In a statement, Bergen Country Sheriff Michael Saudino said he's taking the action after the U.S. attorney general and the state attorney general decided it would review the program.