Four Tiny School Districts To Vote on Merger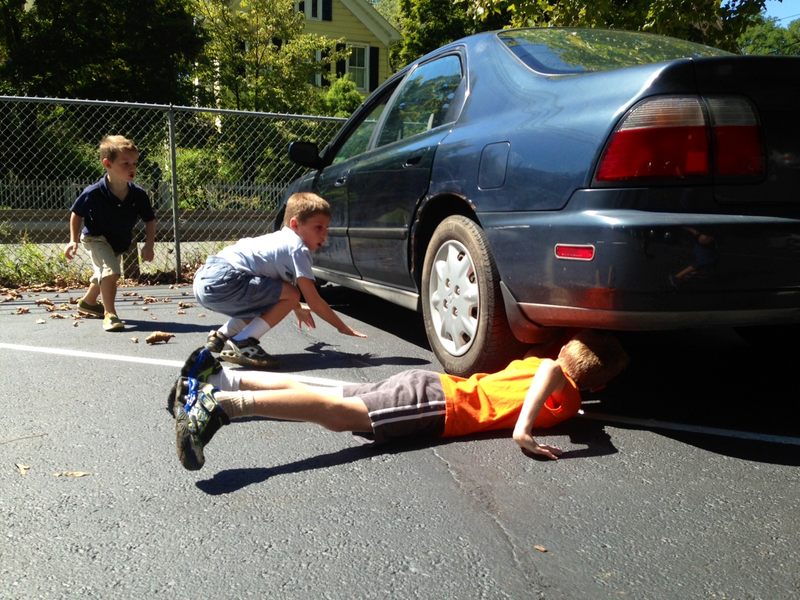 The parking lot at Stockton Elementary, a four-room schoolhouse near the Delaware River, is also part of the playground. The school with no auditorium or cafeteria is its own school district.
It's asking voters on Sept. 24h to consolidate its district with three others in the area — Lambertville, West Amwell and South Hunterdon Regional.
Collectively they teach less than 900 students. But because each school is its own district they are each required to have their own superintendent. School leaders argue they can no longer afford to be so small and say merging would cut administration costs.
"We would go down to one superintendent, we would go down to one business administrator, we would go down to one auditor, we'd go down to one legal council," said Dan Seiter, a school board member for South Hunterdon Regional, the only high school in the area.  "We'd go down to one of several different areas here."
His district spends around $20,000 per student — about $2,000 more than the state average.
A study funded by taxpayers found that merging could save the small schools up to half a million dollars a year, just in administrative costs.
But many parents in the four districts oppose the merger.
If it passes, one of the elementary schools might be closed, the 6th grade could get moved to the high school and teacher contracts would have to be re-negotiated.
That could leave some cities paying more for their teachers than they currently do.
"It could potentially raise taxes," said Stockton parent Karen Edwards. "If kids are going to be needed to be bused to other schools or if teacher contracts need to be re-negotiated."
She's worried about losing local control and doesn't like the idea of someone from outside her small town stepping in as superintendent.
"We're just going to be giving our power our voice and our choice to someone that I don't know," Edwards said. "I don't know where they come from. I don't know their agenda."
Part of belonging to a district is being able to share resources. But Seiter says you can't do that when there is no other school in your district.
"We cannot take a teacher from one elementary school and bring her to another elementary school under the current circumstances because those are two different districts," he said. "Those are two different bargaining units, there are two different structures. We cannot deploy the resources in that way."
Paying for Hyper-Local Small Towns
Residents are paying for their hyper local small towns with the highest property taxes in the nation, says Gina Genovese, executive director of the group Courage to Connect New Jersey.
The group helped Princeton Township and the Borough of Princeton consolidate their city governments last year and is now helping the four school districts with their efforts.
Genovese argues its time for local governments to start streamlining.
There are 603 school districts in New Jersey and 565 cities.
"We can no longer keep these provincial villages and towns and expect to deliver 21st century services," Genovese said.
"At least one of them needs to start consolidating and start regionalizing some form of their government," she said. "We are really at the end of the rope here."
Supporters also argue merging the districts would benefit students.
The way the system works now each elementary school can buy its own textbooks and set different curriculum. And neither of them has to communicate what they teach to the high school.
"You can definitely see that some schools go over some topics and others don't," said Karen Scheetz. She tests the incoming 7th graders to place them in the right classes.
"A kid from one school might be strong at solving equations but weak at Geometry," Scheetz said. "Another school might be strong at Geometry but weak at Algebra."
And sometimes there is repetition says student Wendy Davis, a junior.
"We ended up learning the same thing over and over and over again a couple years in a row," Davis said. "Like learned about the American Revolution in 4th grade and then again in 8th grade."