Hillary Clinton's Wall Street Ties Cause Lingering Concern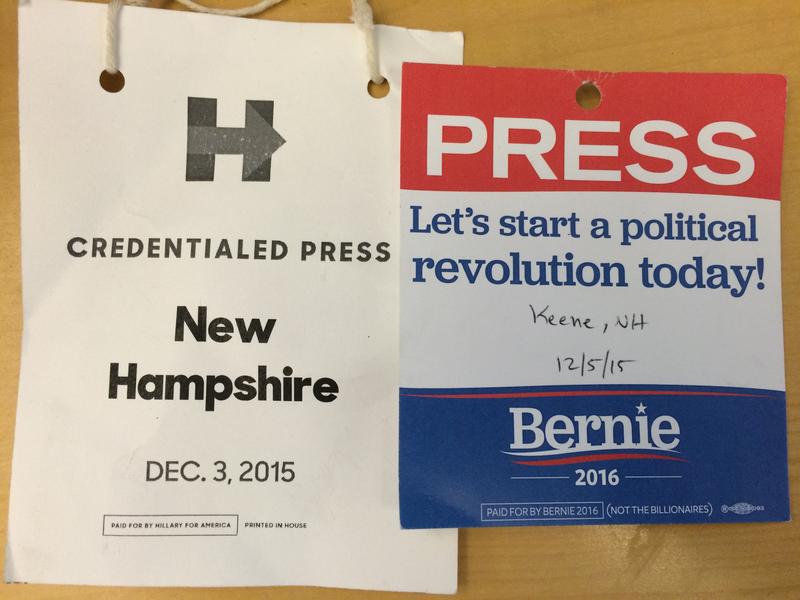 At Margie's Dream Diner in Manchester, N.H., the eggs were fresh, the coffee was hot and the opinions tempered.
About a month ago, retiree Edward St. Cyr went to hear Hillary Clinton speak nearby. He was impressed. "She's smart, she's vibrant, she's not afraid," he said recently after ordering the Big Breakfast: three eggs, bacon, hash browns, English muffin and coffee.
But it's Clinton's message he liked best. "I like the idea of how she wants to help the middle class come back. I was middle class. I had two kids, you know, three houses." Still, St. Cyr also liked Clinton's main opponent, the U.S. Senator from next-door Vermont, Bernie Sanders.
"I like where he's not taking any campaign money, he has his own voice, nobody's telling him what to say," St. Cyr said.
I find this all over the state: in Manchester, Dover, Portsmouth, Lebanon, Hanover and Keene. In contrast to the highly negative tone of the Republican primary, Clinton supporters admire Sanders, and vice versa. But there's a persistent doubt about Clinton that keeps coming up, even from her own supporters. She's described as having "too many relationships with Wall Street and big corporations" and as a "corporate democrat."
One former tech worker, Dave Mariansky, who was laid off, as he put, it, by Carly Fiorina when she ran Hewlett-Packard, described himself as a Clinton supporter...but. "I'm a little worried about her ties to Wall Street," he told me. "Which I don't understand fully. Bernie's the total opposite of that."
A lot of people don't seem to understand her corporate ties fully. And Sanders is making the most of it. His has a simple message: Income inequality is the biggest problem the country faces, and he's the candidate who can really take it to the billionaires, because he doesn't take their money.
Sanders has raised less than $50,000 from the securities and investment industry, while Clinton had raised $5.5 million as of October, the most recent public filing, according to the non-partisan Center for Responsive Politics. (By contrast, Former Florida Gov. Jeb Bush had raised $32 million from the industry, more than any other Republican. New Jersey Gov. Chris Christie was second among Republicans in Wall Street fundraising, with $4.4 million.)
At the last Democratic debate, Sanders landed his anti-Wall Street critique with particular sharpness. "I mean, let's not be naïve about it," Sanders said. "Why, over her political career, has Wall Street been a major — the major — contributor to Hillary Clinton? Now maybe they're dumb, and they don't know what they're going to get, but I don't think so."
It's a tough question that Sanders is asking, because there's no good answer. But Clinton tried.
"You can look at what I did in the Senate," Clinton said. "I did introduce legislation to rein in compensation. I looked at ways that the shareholders would have more control."
This is true. Clinton does have some specific, concrete, pro-regulatory positions to point to. As Senator, she voted for corporate oversight to prevent Enron-style accounting maneuvers and opposed tax breaks for hedge funds. But she also supported a controversial bill making it easier for banks to go after people in bankruptcy, and had a general closeness to bankers. As the senator from New York, she represented those bankers — that just makes people queasy.
Still, other senators from New York, including Clinton's former Democratic colleague, Sen. Charles Schumer, and the man he replaced, Republican Al D'Amato, have been known to have a far more transactional relationship with Wall Street than Clinton.
I spoke about this with Neera Tanden, a Yale Law School grad who became a policy adviser to Clinton when she was first lady, and stayed with her through her presidential campaign. Tanden became one of the few Clinton aides who later went to work for Barack Obama, and now heads the liberal think tank, the Center for American Progress.
Tanden seethes when this subject comes up. She said that Clinton didn't compromise herself. "I know we live in very cynical times," Tanden told me. "But there was never a single time, a single instance, where she ever once said, 'You know, I can't really do this,' or even hinted, or even was elliptical about: 'I can't do this thing, that I think is the right thing to do, because of a donor.'"
In December 2007, 10 months before banks would collapse and the U.S. financial markets teetered on the brink, Clinton went to speak to some of those donors at a public speech at NASDAQ. By this time, Clinton had heard from plenty of voters in places like Nevada and Florida and California whose mortgage rates were rising, and what they owed on their homes was larger than the sale price. As early as March of that year, Clinton had publicly chided big mortgage lenders for encouraging unqualified buyers to over-extend themselves. At the December 2007 speech, she drew the line directly to Wall Street, and some of the donors in that room.
"Responsibility also belongs to Wall Street, which not only enabled, but often encouraged, reckless mortgage lending," Clinton said. "I believe Wall Street shifted risk away from people who knew what was going on -- onto the people who did not."
Tanden said the speech was criticized for being too harsh – on banks. The criticisms "look ridiculous now," she said, "but this was pre-crisis."
To get a gut-check on the tenor of discussion in those days on bank regulation, I called Richard Sylla, Emeritus Professor in Economics at New York University, and an expert on the history of financial regulation. In 1998, President Bill Clinton signed the industry-backed repeal of the Glass-Steagall Act, a 1930s law which barred overlap between commercial and investment banks. After that repeal, Sylla said, the phrase-du-jour was "financial innovation."
"We were in an era of de-regulation," Sylla told me. "There was a notion that the 1930s had regulated us too much and therefore the solution was to deregulate."
Even as the economy soured in early 2008, not much changed. Until September of that year, when the bottom fell out. Huge financial institutions, like Lehman Brothers and Bear-Stearns, collapsed. The stock market crashed.
Senators Barack Obama and John McCain suspended their presidential campaigns to go back to Washington, D.C., to hammer out details of an $800 billion bank bailout. They ended up supporting the bill, as did Clinton.
A couple weeks later, Clinton went on WNYC's Brian Lehrer show. "How's your constituent mail running on the bill?" Lehrer asked.
"It's interesting," said a relaxed and confident-sounding post-presidential-campaign Clinton. "Because of course for the first week to 10 days, it was overwhelmingly negative, with good reason." Clinton had rejected an early version of the bill. "I mean, what the Treasury and the [George W. Bush] administration proposed was a total power grab with no accountability and kind of a take it or leave it attitude — and we left it."
But Clinton represented Wall Street. Fifty alarmed bankers had just engaged her on a conference call. "Their concerns were, people were pulling money out of their banks, and we're talking about huge banks that were on the call, like a representative from the Bank of America, to tiny community banks," she said.
Banks did get bailed out. Then millions of people lost their jobs and homes. At the same time, expenses for middle-class Americans, especially the big items like housing, education and health care, were all going up. Income inequality has been growing since the 1990s, but wages for employees at the bottom of the wage scale were still going up. Now, they're stagnating.
"That is what is driving a lot of the anxiety about the inequality today," said Tanden, the Center for American Progress president. "And that has all occurred in the aftermath of the financial crisis in which...a lot of decisions on Wall Street put the wealth of average families who did nothing wrong at serious risk. And it took many years for them to come out of it."
So this is the situation in which Clinton finds herself today. She's been talking about health care and education costs, and raising the minimum wage, for as long as she's been in public life. But in the current environment, some voters want fundamental change, and it's Bernie Sanders who's promising to deliver it.
At a Sanders rally in Keene, New Hampshire, I'm handed a press pass emblazoned with "Let's start a political revolution today!"
As I wend my way through the crowd to speak with Sanders' supporters, Tracy Chapman's "Talking About a Revolution," pours over the sound system. A volunteer tells me that when he gets to New York City, his first stop will be the Dakota apartments, because John Lennon lived there.
Speakers take the stage, and three of them mention revolution, even before Sanders takes over the microphone. "We have a rigged economy!" he thunders, before referring to the "revolution" he and his supporters will bring about.
I meet one of them, career coach Susan Hay. She likes Clinton and sees her as a reformer, but Hay distrusts her reliance on Wall Street money. "If your campaign is funded in large part by the people that we believe have to be fundamentally changed, the candidate whose funding is totally dependent on that — it's hard to see them as the person is who going to make that happen."
Sanders is her revolutionary. Clinton is her reformer. If the revolution doesn't come, Hay said, she'll choose reform.