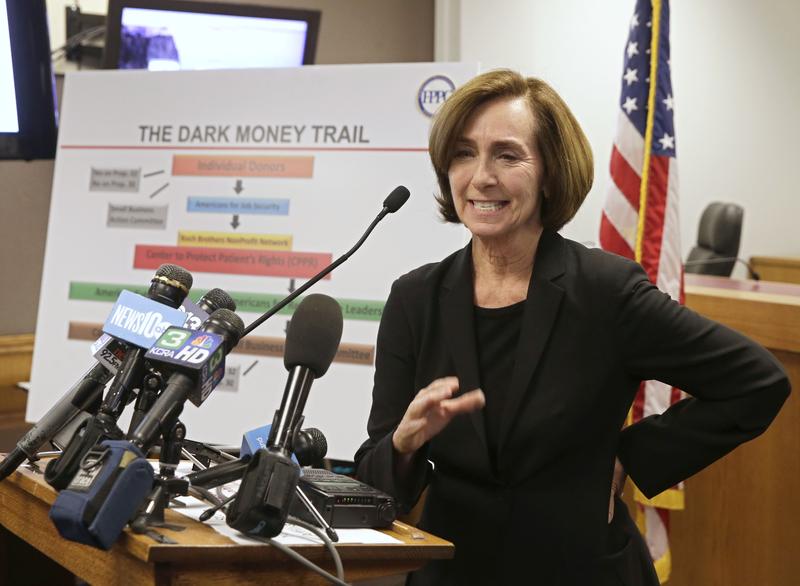 Summary
In 1975, in the aftermath of Watergate, Congress created the Federal Election Commission to enforce campaign finance laws and monitor the influence of money on our elections. But for several years, the bipartisan FEC has been paralyzed by gridlock between its three Republicans and three Democrats.
After over three years of service, Commissioner Ann Ravel is quitting--and she's made no secret as to why. She talks to Bob about the politics inside the FEC, why it doesn't work, and her frustration with the Commission's inability, or unwillingness, to shed light on dark money.
Song:
I Got A Right To Sing The Blues by Billy Kyle
Transcript
BOB GARFIELD: This is On the Media. I'm Bob Garfield. The Federal Elections Commission was established post-Watergate to enforce campaign finance laws and increase transparency, but for several years it has failed to do that. Why? Because it's a six- member Commission that can have no more than three members of one party at any time and needs four votes to act, which, in recent years, has yielded partisan gridlock.
One of the FEC's three Democrats has had enough. Commissioner Ann Ravel recently announced her resignation and published a report detailing the FEC's, quote, "dysfunction and deadlock." Well aware of obstructionist tactics in the Congress, Ravel says she was nonetheless shocked when her Republican colleagues refused to investigate campaign finance violations, no matter the evidence and no matter her efforts to accommodate their concerns.
FEC COMMISSIONER ANN RAVEL: The first year that I was on the Commission, out of 25 enforcement matters I voted with the Republicans on 20. It seemed to me that that good faith though was not acknowledged and that it was not going to be possible for me to get any agreement from this bloc of Republicans.
BOB GARFIELD: Not just bloc of Republicans but blockade. According to your report, they voted together against taking enforcement action in, was it, 98% of the cases brought before them?
COMMISSIONER ANN RAVEL: Yes, and we really deadlocked significantly more than ever before. And the fines that are imposed when we do not deadlock on matters are so incredibly low that in a few years it went from more than $5.5 million in fines in 2006 and in 2016 the penalties that were imposed by the FEC was 595,000. My colleagues never agreed to look at the issues having to do with the foreign money that is clearly in our elections and that comes through limited liability corporations or 501(c)(4)s that are supposed to be social welfare organizations.
BOB GARFIELD: Tax-exempt organizations because they are performing something for the greater good. They are explicitly forbidden to undertake, as their major purpose, campaign finance. And yet, there was one called Carolina Rising that spent [LAUGHS] 97% of its budget on a Senate race in North Carolina.
COMMISSIONER ANN RAVEL: Well, let me tell you a little more about that case. The night of the election, the person who was the head of Carolina Rising, wearing a hat with the name of the senator, was at the senator's victory party and he said on TV, "We did it," [LAUGHS] And they did do it.
BOB GARFIELD: And the FEC look into this and ruled how?
COMMISSIONER ANN RAVEL: The Commission stalemated three to three because they did not think that they should be a political committee and disclose their donors. That's what we're talking about when we're talking about 501(c)(4)s and whether or not they are a political committee versus just a true social welfare organization. It's transparency to the public.
BOB GARFIELD: Now, it turns out that campaign finance irregularities are an equal opportunity – swamp. There are excesses, abuses and maybe even criminal acts from campaigns of both parties.
COMMISSIONER ANN RAVEL: Absolutely, and their refusal to investigate or enforce the law was also nonpartisan, in that sense. I think an example that explains that is at the beginning of the campaign in 2016, there was an allegation made to the Commission relating to Hillary Clinton and the Ready for Hillary PAC. And that case, like all the others, also stalemated three to three, with the Democrats wanting to investigate the Ready for Hillary PAC and the Republicans wanting to dismiss and not do anything.
BOB GARFIELD: Which, at first blush, seems counterintuitive, unless you see this not as judgment on the merits of a particular case but on an ideological determination not to investigate the source of political money. Is that what's at the heart of this?
COMMISSIONER ANN RAVEL: I think that there is definitely ideology that is governing the bloc behavior, not purely partisanship, although I've been told that it ultimately is partisanship, in the sense that the major violators in certain kinds of cases do tend to be Republican committees, although there are those on the Democratic side, as well.
BOB GARFIELD: What's frustrating as a member of the public is that the gridlock that you're describing at the Commission is in addition to Citizens United, which legalized all sorts of corporate and super PAC donations that otherwise had been strictly limited.
COMMISSIONER ANN RAVEL: Well, the decision in Citizens United specifically said that one of the protections for all of these independent expenditures was that we have a robust disclosure system and that the Internet and technology can give that information about who's funding campaigns and where the money is being spent to the public to prevent corruption. But the reality is that we can't.
BOB GARFIELD: Now, compounding the problem you've described is that the courts have been loath to intervene to force the FEC into conducting an investigation that a deadlock vote has prevented. It's not that outsiders haven't tried to get the courts involved but they've stayed out of it. Why?
COMMISSIONER ANN RAVEL: Well, what they decided sometime ago was that when there is a split stalemated vote on the FEC, the winning vote, which is the vote that wanted nothing to happen, gets deference from the courts. It's called Chevron deference that is normally given to federal agencies or other administrative agencies because they have greater expertise in a particular matter. But, in this case, it doesn't fit that rationale. Nonetheless, the courts in the past have consistently given deference to that bloc of commissioners.
BOB GARFIELD: When the law for the FEC was designed, they intentionally avoided the usual model of having the party that controls the White House having the tie-breaking vote. The idea was to make it impossible for the FEC just to go on partisan witch hunts. But the effect might as well be called the "Witch Impunity Act" because there's no hunting going on at all. Was it stupid?
COMMISSIONER ANN RAVEL: [LAUGHS] No, actually, it makes sense, if you have people on the Commission who believe in the mission and are willing to follow the law, that they come to the table in good faith. But what we have now, because of the extreme polarization, both in Congress and represented that way on our Commission, paralyzing the agency is a higher priority.
BOB GARFIELD: What's the consequence to you of going on the record accusing your Republican colleagues of bad faith?
COMMISSIONER ANN RAVEL: The consequence has been somewhat personal in that they have utilized certain media to spread lies about me, such as that I'm, you know, trying to shut down the Internet and part of the Chinese Censorship Board, and the like.
[CLIP]:
RADIO HOST: And the FEC runs around for two years putting out press releases saying, we want to regulate talk radio, we want to regulate political speech. We're gonna call it political and not let you do it, unless it's approved by the FEC, and you got to pay for your speech. Are you kidding, you monster woman?
[END CLIP]
COMMISSIONER ANN RAVEL: Which has led to thousands of people on Twitter and on the Internet trying to hurt me, kill me, do misogynist things to me. So there's that.
BOB GARFIELD: They've unleashed the trolls.
COMMISSIONER ANN RAVEL: And they've done it purposely, and I know that because I have actually gone to speak to them about it, but to no avail, But, in my view, speaking out is more important because I see my job as representing the American public, and they do not. And so, I think I'm doing what's right by telling people about what's happening to this agency.
BOB GARFIELD: Commissioner, thank you very much.
COMMISSIONER ANN RAVEL: Thank you very much for inviting me.
BOB GARFIELD: Ann Ravel is the Democratic commissioner on the FEC. Her tenure ends in March.
[MUSIC/MUSIC UP & UNDER]
And that's it for this week's show. On the Media is produced by Meara Sharma, Alana Casanova-Burgess and Jesse Brenneman. We had more help from Micah Loewinger, Sara Qari, Leah Feder and Kate Bakhtiyarova. And our show was edited, this week, by Executive Producer Katya Rogers. Our technical director is Jennifer Munson. Our engineers this week was Rick Kwan and Terence Bernardo. On the Media is a production of WNYC Studios. Brooke Gladstone will be back next week. I'm delighted, and I'm Bob Garfield.