De Blasio Furiously Raising Funds, Privately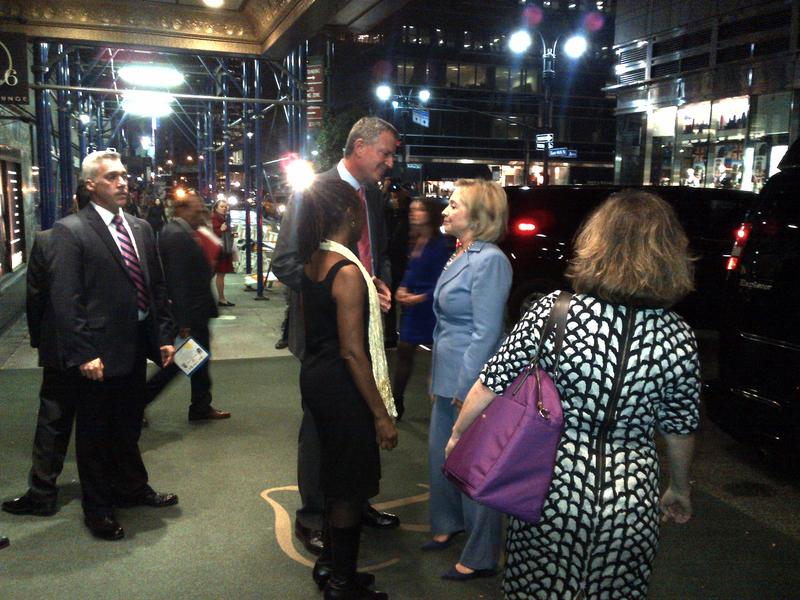 Mayoral frontrunner Bill de Blasio is continuing to raise money at a rapid clip, but we don't know much about who is helping him bring it in.
De Blasio took off Columbus Day weekend, plus one Sunday and one Saturday. But other than that, the candidate has had at least one fundraiser a day in October. He brought in the most money – more than half a million dollars – on Oct. 21, the day of a fundraiser featuring former Secretary of State Hillary Clinton.

But city election law doesn't require candidates to disclose the hosts of those fundraisers.   

The de Blasio campaign voluntarily named fundraiser hosts during his primary campaign. It's prominent on his campaign website, under the banner, "TRANSPARENCY."

But until WNYC reached out this week, that page had not been updated since Aug. 15, when de Blasio was surging in primary public opinion polls.

The campaign sent over a list of its 446 fundraising hosts since the primary. It shows the furious pace of events, and who has joined de Blasio's fundraising circuit, as the city's political establishment has closed ranks around him. Former Mayor David Dinkins and Former Council Speaker Peter Vallone Sr. have hosted events. Longtime Clinton adviser Harold Ickes did, too, along with Paul Adler, a former Rockland County Democratic Committee chairman who went to prison a decade ago on corruption charges. Adler hosted two de Blasio events since the primary.  

An Oct. 20 event brought together several former primary opponents. Among the hosts were former Council Speaker Christine Quinn, national teacher's union president Randi Weingarten, who backed Bill Thompson, and Sex and the City actress Cynthia Nixon, a longtime de Blasio backer.

The campaign has generally prohibited reporters from fundraisers, and campaigns are not required to release how much money each fundraising host or fundraising event brought in.

Campaigns do have to disclose fundraisers who bundle donations outside campaign events. Four of de Blasio's top seven bundlers are connected to the taxi industry. His top fundraising intermediary is Michael Woloz, a lobbyist for yellow cab fleet owners, who has brought in $234,865.
Here is the de Blasio campaign's list of fundraising hosts since the primary.
| First Name | Last Name | Date of Event |
| --- | --- | --- |
| Gary | Barnett | 10/30/13 |
| Lela | Goren | 10/30/13 |
| David | Dinkins | 10/28/13 |
| William | Lynch III | 10/28/13 |
| Leonard | Riggio | 10/28/13 |
| Kevin | Ryan | 10/28/13 |
| Alex | Amaro | 10/27/13 |
| Giti | Bendheim | 10/27/13 |
| Jack | Bendheim | 10/27/13 |
| Una | Clarke | 10/27/13 |
| Ryan | Freidman | 10/27/13 |
| Mahindro | Jainarain | 10/27/13 |
| Johnny | Marines | 10/27/13 |
| Rud | Morales | 10/27/13 |
| Balbir | Multani | 10/27/13 |
| Dave | Narine | 10/27/13 |
| Nick | Persaud | 10/27/13 |
| Stanley | Raj | 10/27/13 |
| Frank | Singh | 10/27/13 |
| Gurpal | Singh | 10/27/13 |
| Kawal | Totaram | 10/27/13 |
| Fazal | Yussuf | 10/27/13 |
| Joan | Davidson | 10/25/13 |
| Melnicke | Meir | 10/25/13 |
| Deborah | Sagner | 10/25/13 |
| Lefkowitz | Shimon | 10/25/13 |
| Carol | Sutton Lewis | 10/25/13 |
| Debbie | Almontaser | 10/24/13 |
| Kevin | Armstrong | 10/24/13 |
| Leonardo | Auricchio | 10/24/13 |
| Charles | Bendit | 10/24/13 |
| Fernando | Bohorquez | 10/24/13 |
| Donald | Capoccia | 10/24/13 |
| Jeanine | Conley | 10/24/13 |
| Doug | Dunham | 10/24/13 |
| Douglas | Eisenberg | 10/24/13 |
| Joshua | Eisenberg | 10/24/13 |
| Wendy | Eisenberg | 10/24/13 |
| Robert | Ezrapour | 10/24/13 |
| Maria | Fernandez | 10/24/13 |
| Gianluca | Galletto | 10/24/13 |
| Lisa | Gomez | 10/24/13 |
| Raj | Goyle | 10/24/13 |
| Amb. Gabriel | Guerra Mondragon | 10/24/13 |
| Aaron | Hoffman | 10/24/13 |
| Robinson | Iglesias | 10/24/13 |
| Rosen | Jack, Daniel and Jordan | 10/24/13 |
| Sharah | Khemani | 10/24/13 |
| David | Kramer | 10/24/13 |
| Bernice | Leber | 10/24/13 |
| Carlos | Manzano | 10/24/13 |
| Jonathan | Marvel | 10/24/13 |
| Ron | Moelis | 10/24/13 |
| Jason | Muss | 10/24/13 |
| Paul | Pariser | 10/24/13 |
| Russell | Semmel | 10/24/13 |
| David | Sheehan | 10/24/13 |
| John | Siegal | 10/24/13 |
| David | Von Spreckelsen | 10/24/13 |
| Oren | Warshavsky | 10/24/13 |
| Ekow | Yankah | 10/24/13 |
| Stephen | Younger | 10/24/13 |
| Ellen | Alpert | 10/23/13 |
| Andrea | Anthony | 10/23/13 |
| Leah | Archibald | 10/23/13 |
| Gina | Argento | 10/23/13 |
| Abaynesh | Asrat | 10/23/13 |
| Bill | Baccaligni | 10/23/13 |
| Shante | Bacon | 10/23/13 |
| Brian | Benjamin | 10/23/13 |
| Willa | Bernstein | 10/23/13 |
| Ken | Biberaj | 10/23/13 |
| Rhonda | Binda | 10/23/13 |
| Leonard | Burnett | 10/23/13 |
| Michelle | Byrd | 10/23/13 |
| Mario | Caggianno | 10/23/13 |
| Assemblyman Karim | Camara | 10/23/13 |
| Jesse | Campoamor | 10/23/13 |
| Daphnee | Chapoteau | 10/23/13 |
| Carolyn | Concepcion | 10/23/13 |
| Calcie | Cooper | 10/23/13 |
| Gil | Cygler | 10/23/13 |
| Keenan | Davis | 10/23/13 |
| Andrea | Dawes | 10/23/13 |
| Lisa | DeMarco | 10/23/13 |
| Nicola | DeMarco | 10/23/13 |
| Stephanie | Desanges | 10/23/13 |
| Matthew | Doull | 10/23/13 |
| David | Fazio | 10/23/13 |
| Alex | Frias | 10/23/13 |
| Ian | Gerard | 10/23/13 |
| Mona | Ghasemi | 10/23/13 |
| Gianluca | Gialletto | 10/23/13 |
| Malcolm | Gilliam | 10/23/13 |
| Crystal | Granderson-Reid | 10/23/13 |
| Gary | Grant | 10/23/13 |
| Dan | Halpern | 10/23/13 |
| Pamela | Hayes | 10/23/13 |
| Laura | Imperiale | 10/23/13 |
| Kwame | Jackson | 10/23/13 |
| Drew | Katz | 10/23/13 |
| Naledi | Khabo | 10/23/13 |
| Allegra | Kochman | 10/23/13 |
| Liza | Kramer | 10/23/13 |
| Donna | Lawrence | 10/23/13 |
| Jibreel | Lockhart | 10/23/13 |
| Shawna | Lockhart | 10/23/13 |
| Will | Mack | 10/23/13 |
| Jorge | Madruga | 10/23/13 |
| Tamika | Mallory | 10/23/13 |
| Tony | Martinez | 10/23/13 |
| Michael | Mchale | 10/23/13 |
| Thomas | McMahon | 10/23/13 |
| David | Meade | 10/23/13 |
| Julie | Menin | 10/23/13 |
| Reggie | Miller | 10/23/13 |
| Ayaan | Mohallim | 10/23/13 |
| Idyl | Mohallim | 10/23/13 |
| Thomas | Montvel-Cohen | 10/23/13 |
| Mike | Muse | 10/23/13 |
| Kasshun | Negash | 10/23/13 |
| Ciaran | O'Kelly | 10/23/13 |
| Lisa | O'Kelly | 10/23/13 |
| Larry | Ossei-Mensah | 10/23/13 |
| Sharada | Palavarupo | 10/23/13 |
| Carmen | Perez | 10/23/13 |
| Fabian | Pfortmuller | 10/23/13 |
| Pam | Pickens | 10/23/13 |
| Vincent | Pitta | 10/23/13 |
| Vito | Pitta | 10/23/13 |
| Jacques-Phillippe | Piverger | 10/23/13 |
| Wes | Puryear | 10/23/13 |
| Robert | Reffkin | 10/23/13 |
| Kenyatta | Reid | 10/23/13 |
| Ayo | Roach | 10/23/13 |
| Joseph | Robles | 10/23/13 |
| Regine | Roumain | 10/23/13 |
| John | Salzinger | 10/23/13 |
| Jonevan | Salzinger | 10/23/13 |
| Matt | Schneid | 10/23/13 |
| Carlos | Scissura | 10/23/13 |
| Virgilla | Singh | 10/23/13 |
| Kathy | Sloane | 10/23/13 |
| Marcia | Smith | 10/23/13 |
| Todd | Sutler | 10/23/13 |
| Vaughan | Toney | 10/23/13 |
| Barbara | Turk | 10/23/13 |
| Shane | Ward | 10/23/13 |
| Shawn | Ward | 10/23/13 |
| Justin | Warner | 10/23/13 |
| Michael | Williams | 10/23/13 |
| Vicki | Williams | 10/23/13 |
| Steven | Witkoff | 10/23/13 |
| William | Zeckendorf | 10/23/13 |
| Jim | Walden | 10/22/13 |
| Mary | Adler | 10/21/13 |
| Paul | Adler | 10/21/13 |
| Stanley | Alpert | 10/21/13 |
| Rachel | Amar | 10/21/13 |
| Joel | Berger | 10/21/13 |
| Mario | Caggiano | 10/21/13 |
| James | Capalino | 10/21/13 |
| Lucas | Ferrara | 10/21/13 |
| Gabrielle | Fialkoff | 10/21/13 |
| Andrew | Freidman | 10/21/13 |
| Floss | Frucher | 10/21/13 |
| Sandy | Fucher | 10/21/13 |
| Angelo | Genova | 10/21/13 |
| Seth | Ginsberg | 10/21/13 |
| Julie | Greenberg | 10/21/13 |
| Pamela | Hayes | 10/21/13 |
| Fred | Heller | 10/21/13 |
| Matthew | Hiltzik | 10/21/13 |
| Suri | Kasirer | 10/21/13 |
| Richard | Koplin | 10/21/13 |
| Marianna | Koval | 10/21/13 |
| Robert | Levine | 10/21/13 |
| Ronny | Levine | 10/21/13 |
| Emily | Madoff | 10/21/13 |
| Hon. Carolyn | Maloney | 10/21/13 |
| John | Merlino | 10/21/13 |
| Sally | Minard | 10/21/13 |
| Ali | Mizra | 10/21/13 |
| Sam | Natapoff | 10/21/13 |
| Mark | O'Luck | 10/21/13 |
| Felix | Ortiz III | 10/21/13 |
| Jack | Osborn | 10/21/13 |
| Sharon | Patrick | 10/21/13 |
| Jacques-Phillippe | Piverger | 10/21/13 |
| Dave | Poleto | 10/21/13 |
| Chris | Reda | 10/21/13 |
| Alan | Rosenberg | 10/21/13 |
| Elizabeth | Sackler | 10/21/13 |
| Porie | Saikia-Eapen | 10/21/13 |
| Matt | Scheckner | 10/21/13 |
| Michael | Schelin | 10/21/13 |
| William | Schwitzer | 10/21/13 |
| Alan | Sclar | 10/21/13 |
| Sant | Singh Chatwal | 10/21/13 |
| Alexandra | Stanton | 10/21/13 |
| Jordan | Tamagni | 10/21/13 |
| Sal | Tommasino | 10/21/13 |
| Peter | Tully | 10/21/13 |
| Mari | Vullo | 10/21/13 |
| Tim | Wilkins | 10/21/13 |
| Christopher | Barley | 10/20/13 |
| Jennifer | Baumgardener | 10/20/13 |
| Robin | Canter | 10/20/13 |
| Andy | Cohen | 10/20/13 |
| Mitch | Draizen | 10/20/13 |
| Brian | Ellner | 10/20/13 |
| Bryan | Eure | 10/20/13 |
| Tom | Garry | 10/20/13 |
| Faith | Gay | 10/20/13 |
| Brad | Gerstman | 10/20/13 |
| Tim | Gunn | 10/20/13 |
| Anne | Hess | 10/20/13 |
| Jay | Jacobs | 10/20/13 |
| Craig | Kaplan | 10/20/13 |
| Tom | Kirdahy | 10/20/13 |
| Sarah | Kovner | 10/20/13 |
| Victor | Kovner | 10/20/13 |
| Christine | Marinoni | 10/20/13 |
| Terrance | McNally | 10/20/13 |
| Terrence | Meck | 10/20/13 |
| Charles | Myers | 10/20/13 |
| Cynthia | Nixon | 10/20/13 |
| Charles | O'Byrne | 10/20/13 |
| Billy | Porter | 10/20/13 |
| Christine | Quinn | 10/20/13 |
| Rebecca | Seawright | 10/20/13 |
| Richard | Socarides | 10/20/13 |
| Sally | Susman | 10/20/13 |
| Andrew | Tobias | 10/20/13 |
| Randi | Weingarten | 10/20/13 |
| Bill | White | 10/20/13 |
| Francesca | Zambello | 10/20/13 |
| Ken | Raske | 10/19/13 |
| Dennis | Rivera | 10/19/13 |
| Jeffrey | Sachs | 10/19/13 |
| Steven | Safyer | 10/19/13 |
| Harry | Singh | 10/19/13 |
| Arthur | Webb | 10/19/13 |
| Justin | Bernback | 10/18/13 |
| Victor | Brown | 10/18/13 |
| Bergman | Jay | 10/18/13 |
| Craig | Johnson | 10/18/13 |
| Lewis | Jones | 10/18/13 |
| Michael | Klein | 10/18/13 |
| Doug | Lawrence | 10/18/13 |
| George | Lence | 10/18/13 |
| Ray | Long | 10/18/13 |
| Matthew | Daus | 10/17/13 |
| Marty | Edelman | 10/17/13 |
| Steven | Feldman | 10/17/13 |
| Jon | Halpern | 10/17/13 |
| Marty | Kravet | 10/17/13 |
| Michael | Maturo | 10/17/13 |
| Nevins | McCann | 10/17/13 |
| Joe | McMillan | 10/17/13 |
| Bruce | Mosler | 10/17/13 |
| Michael | Stern | 10/17/13 |
| Ed | Wallace | 10/17/13 |
| Phil | Caito | 10/16/13 |
| Donald | Carey | 10/16/13 |
| Jim | Chanos | 10/16/13 |
| Dr. Dan | Fass | 10/16/13 |
| Ken | Fisher | 10/16/13 |
| Michael | Gianaris | 10/16/13 |
| Harry | Gianoulis | 10/16/13 |
| Savas | Konstantidis | 10/16/13 |
| Karen | Mehiel | 10/16/13 |
| Bruce | Mosler | 10/16/13 |
| Joe | Pelicane | 10/16/13 |
| Jason | PIzer | 10/16/13 |
| Jefrey | Pollock | 10/16/13 |
| Delmastro | Rick | 10/16/13 |
| Vin | Roberti, | 10/16/13 |
| Neil | Rubler | 10/16/13 |
| William | Samuels, | 10/16/13 |
| Jon | Silvan | 10/16/13 |
| Larry | Silverstein | 10/16/13 |
| Ed | Sweeney | 10/16/13 |
| Olga | Tsunis | 10/16/13 |
| Scott | Widmeyer | 10/16/13 |
| John | Zuccotti | 10/16/13 |
| Rachel | Amar | 10/15/13 |
| Ana Maria | Archila | 10/15/13 |
| Joseph | Awadjie | 10/15/13 |
| Elizabeth | Barrett | 10/15/13 |
| Justin | Brannen | 10/15/13 |
| Ashe | Brooks-Cook | 10/15/13 |
| Ellyn | Canfield | 10/15/13 |
| Laurie | Combo | 10/15/13 |
| Matthew | Cowherd | 10/15/13 |
| Derrick | Davis | 10/15/13 |
| Khari | Edwards | 10/15/13 |
| Maritza | Farrell | 10/15/13 |
| Andrew | Friedman | 10/15/13 |
| Andrew | Gounardes | 10/15/13 |
| Mark Winston | Griffith | 10/15/13 |
| Alison | Hirsh | 10/15/13 |
| Corey | Johnson | 10/15/13 |
| Joni | Kletter | 10/15/13 |
| Yetta | Kurland | 10/15/13 |
| Alex | Low | 10/15/13 |
| Jeff | Lynch | 10/15/13 |
| Marcos | Masri | 10/15/13 |
| Mollie | Meikle | 10/15/13 |
| Theo | Moore | 10/15/13 |
| Audra | Mukuch | 10/15/13 |
| Nekpen | Osuan | 10/15/13 |
| Jason | Otano | 10/15/13 |
| Linda | Sarsour | 10/15/13 |
| Reshma | Saujani | 10/15/13 |
| Jen | Schenkel | 10/15/13 |
| Doug | Schneider | 10/15/13 |
| Amy | Spitalnick | 10/15/13 |
| Jesse | Strauss | 10/15/13 |
| Adam | Townsend | 10/15/13 |
| Amber | Williams | 10/15/13 |
| Messados | Basil & Laurie | 10/11/13 |
| Marty | Judge | 10/11/13 |
| John | Merlino | 10/11/13 |
| Frank | Russo | 10/11/13 |
| William | Schwitzer | 10/11/13 |
| Steve | Sinacori | 10/11/13 |
| Peter | Vallone Sr. | 10/11/13 |
| Christopher | Boies | 10/10/13 |
| David | Boies | 10/10/13 |
| Nick | Gravante | 10/10/13 |
| Kamlesh | Mehta | 10/10/13 |
| Ellen | Richman | 10/10/13 |
| Richard | Richman | 10/10/13 |
| Harandra | Singh | 10/10/13 |
| Landa | Benjamin | 10/9/13 |
| Hagler | Daryl | 10/9/13 |
| Sid | Davidoff | 10/9/13 |
| Fensterman | Howard | 10/9/13 |
| Bhat | J.G. | 10/9/13 |
| Rozenberg | Kenneth | 10/9/13 |
| Richard | Anderson | 10/8/13 |
| Richard | Cavallaro | 10/8/13 |
| John | Dionisio | 10/8/13 |
| Carl | Galioto | 10/8/13 |
| Seth | Ginsberg | 10/8/13 |
| Susan | Hayes | 10/8/13 |
| Jill | Lerner | 10/8/13 |
| Felix | Ortiz III | 10/8/13 |
| Jonathan | Resnick | 10/8/13 |
| Milo | Riverso | 10/8/13 |
| Thomas | Scarangello | 10/8/13 |
| Dominick | Servedio | 10/8/13 |
| Jay | Simson | 10/8/13 |
| Michael | Zetlin | 10/8/13 |
| Sitt Family |   | 10/8/13 |
| Husam | Ahmad | 10/7/13 |
| Patrick | Brown | 10/7/13 |
| Abby | Disney | 10/7/13 |
| Patricia | Duff | 10/7/13 |
| Bunny | Ellerin | 10/7/13 |
| Richard | Farley | 10/7/13 |
| Betsy | Gotbaum | 10/7/13 |
| Anne | Hess | 10/7/13 |
| Dr. Yin | Ho | 10/7/13 |
| Hugh | Hogan | 10/7/13 |
| Judith | Hope | 10/7/13 |
| John | Howard | 10/7/13 |
| Lorna Brett | Howard | 10/7/13 |
| Craig | Kaplan | 10/7/13 |
| Sarah | Kovner | 10/7/13 |
| Victor | Kovner | 10/7/13 |
| Sally | Minard | 10/7/13 |
| Judy | Paul | 10/7/13 |
| Feniosky | Pen_a-Mora | 10/7/13 |
| Deborah | Sale | 10/7/13 |
| Ted | Striggles | 10/7/13 |
| Howard | Teich | 10/7/13 |
| Tom | Twomie | 10/7/13 |
| David | Weinraub | 10/7/13 |
| Maggie | Williams | 10/7/13 |
| Jaswinder | Dhillon | 10/5/13 |
| Sanjeev | Jindal | 10/5/13 |
| DP | Singh | 10/5/13 |
| Jagajit | Singh | 10/5/13 |
| Jarnail | Singh | 10/5/13 |
| Jay | Singh | 10/5/13 |
| Tejinder | Singh Gill | 10/5/13 |
| Harbans | Singh Gotra | 10/5/13 |
| Raginder | Singh Lalli | 10/5/13 |
| Murstein | Alvin | 10/4/13 |
| Murstein | Andrew | 10/4/13 |
| Eric | Kumar | 10/4/13 |
| Pam | Kwatra | 10/4/13 |
| Michael | Balboni | 10/3/13 |
| Jeffrey | Brown | 10/3/13 |
| Resi | Cooper | 10/3/13 |
| Warren | Feldman | 10/3/13 |
| Charlene | Gayle | 10/3/13 |
| Sofer | Isaac | 10/3/13 |
| Craig | Johnson | 10/3/13 |
| Alan | Klinger | 10/3/13 |
| Lenard | Leeds | 10/3/13 |
| Ali | Mirza | 10/3/13 |
| Indig | Moshe | 10/3/13 |
| Barry | Peek | 10/3/13 |
| Dr. Asif | Rehman | 10/3/13 |
| Laurie | Scheinman | 10/3/13 |
| Martin | Scheinman | 10/3/13 |
| Robert | Scheinman | 10/3/13 |
| Jonathan | Bach | 10/2/13 |
| Max | Berger | 10/2/13 |
| Alison | Berke | 10/2/13 |
| Barry | Berke | 10/2/13 |
| Darren | Check | 10/2/13 |
| Anne | Coffey | 10/2/13 |
| Sean | Coffey | 10/2/13 |
| Josh | Dubin | 10/2/13 |
| Jay | Eisenhofer | 10/2/13 |
| Steve | Fineman | 10/2/13 |
| Anne | Hess | 10/2/13 |
| Craig | Kaplan | 10/2/13 |
| Neil | Mitchell | 10/2/13 |
| Shelly | Mitchell | 10/2/13 |
| Alexandra | Schapiro | 10/2/13 |
| Jemma | Walden | 10/2/13 |
| Jim | Walden | 10/2/13 |
| Patricia | Lynch | 10/1/13 |
| Gurdev | Singh | 10/1/13 |
| Harpreet | Singh | 10/1/13 |
| Michael | Woloz | 10/1/13 |
| Friedman | Abraham | 9/30/13 |
| Mario | Caggiano | 9/24/13 |
| Raymond | Colon | 9/24/13 |
| Freddy | Dare | 9/24/13 |
| John | di Prima | 9/24/13 |
| Louis | Hernandez | 9/24/13 |
| Andy | Pitsillos | 9/24/13 |
| Marianne | Spraggins | 9/19/13 |
| Missry | Morris and Linda | 9/17/13 |
| Karen | Hinton | 9/16/13 |
| Paul | Adler | 9/12/13 |
| Steve | Aiello | 9/12/13 |
| Rachel | Amar | 9/12/13 |
| Christopher | Barley | 9/12/13 |
| Alison | Berke | 9/12/13 |
| Barry | Berke | 9/12/13 |
| Jim | Capalino | 9/12/13 |
| Derrick | Cephas | 9/12/13 |
| Betsy | Eisenberg | 9/12/13 |
| Philip | Eisenberg | 9/12/13 |
| Jay | Eisenhofer | 9/12/13 |
| Janice | Enright | 9/12/13 |
| Steve | Feldman | 9/12/13 |
| Gabrielle | Fialkoff | 9/12/13 |
| Angelo | Genova | 9/12/13 |
| Marshall | Gluck | 9/12/13 |
| Nick | Gravante | 9/12/13 |
| Jim | Haddad | 9/12/13 |
| Jon | Halpern | 9/12/13 |
| Sarah | Halpern | 9/12/13 |
| Fred | Heller | 9/12/13 |
| Anne | Hess | 9/12/13 |
| Matthew | Hiltzik | 9/12/13 |
| Lorna Grett | Howard | 9/12/13 |
| Harold | Ickes | 9/12/13 |
| Craig | Kaplan | 9/12/13 |
| Richard | Koplin | 9/12/13 |
| Marianna | Koval | 9/12/13 |
| Tondra | Lynford | 9/12/13 |
| Alex | Martins | 9/12/13 |
| Mary | Max | 9/12/13 |
| Peter | Max | 9/12/13 |
| Mike | Muse | 9/12/13 |
| Mark | Peters | 9/12/13 |
| Jacques-Philippe | Piverger | 9/12/13 |
| Vin | Roberti | 9/12/13 |
| Bill | Samuels | 9/12/13 |
| Laurie | Scheinman | 9/12/13 |
| Martin | Scheinman | 9/12/13 |
| Alan | Sclar | 9/12/13 |
| John | Siegal | 9/12/13 |
| Susanne | Studier Feldman | 9/12/13 |
| Jeff | Thamkittikasem | 9/12/13 |
| Jemma | Walden | 9/12/13 |
| Jim | Walden | 9/12/13 |