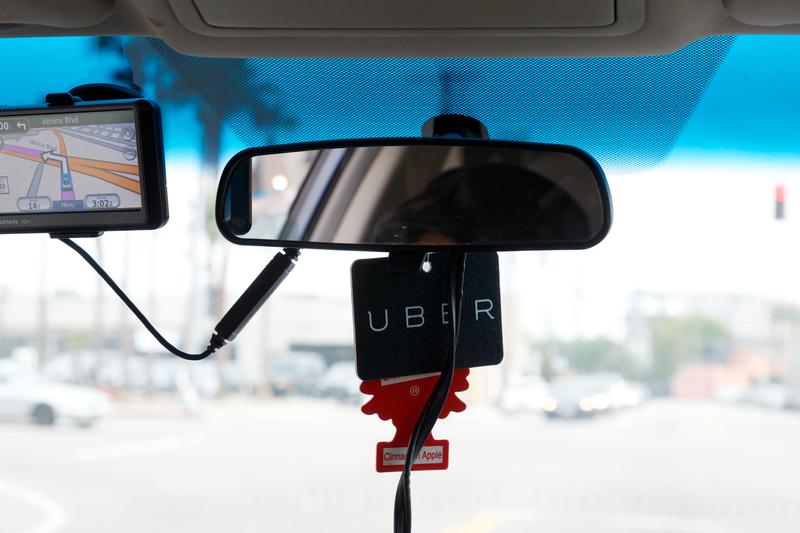 Starting last June the D.C. Taxicab Commission began collecting a 25-cent surcharge on every ride as long as the cab has successfully installed a modern meter and credit card payment system.
As WAMU 88.5 detailed, the rollout of universal credit card acceptance was plagued by glitches, but most have been resolved since. Nearly all taxis are now in compliance with the new regulatory regime design to modernize D.C.'s taxicab fleet.
The extra quarter per ride comes out of the passenger's pocket and into the commission's operations budget. Taxi companies and tech startups whose credit card readers are installed in backseats are responsible for collecting the surcharge from cab drivers' fares to transmit it to the commission.
WAMU 88.5 has learned one tech company has evaded collecting the surcharge entirely. Also, due to a confusing technical issue, some drivers inadvertently are sending two surcharges to the commission, taking twenty-five cents out of their own pockets.
Uber Taxi operates outside regulations
Four tech firms – Hailo, MyTaxi, Royal1, and Taximagic – and Yellow Cab Company have smartphone apps that allow people to summon a taxi without having to hail it on the street. These five companies are the only ones currently authorized to let customers 'e-hail' a metered D.C. taxicab.
Uber, which has fought a series of battles with regulators and legislators, also has a smartphone app that lets passengers order a D.C. taxi. But 'Uber Taxi' has not been approved to operate as a 'digital dispatch service' in Washington and has failed to transmit a single surcharge to the D.C. Taxicab Commission. Uber Taxi launched in Washington in January 2013.
"We don't have any authority from the city council to regulate Uber. They are exempted from our authority," said commission chairman Ron Linton. "Uber for its own reasons has chosen not to comply with the regulations. Therefore, Uber is not legally entitled to use for its customers any D.C. metered cabs."
"If a hack inspector finds an Uber device being used by a driver, it's a fine for that driver," Linton added.
Uber's regional general manager Rachel Holt said her company made a business decision to not comply with the regulations.
"From Uber's perspective, we are here to protect consumers, we are here to protect drivers, and we are here to protect proprietary business data," Holt said.
So what happens to your quarter?
The 25-cent passenger surcharge from rides 'e-hailed' through the Uber Taxi app is not disappearing into thin air or being pocketed by drivers or Uber.
The company whose credit card reader happens to be installed in the cab and is tracking every trip withdraws the twenty-five cents from drivers' accounts and transmits it to the taxicab commission – regardless of whether the passenger paid with cash, a credit card swipe, or digitally via smartphone app.
"All the money is being paid and collected," Holt said. "The only question here is who should be remitting the surcharge?"
To Uber's competitors who have been remitting the $.25 surcharge – the five authorized 'digital dispatch services' – the current arrangement is unfair.
"I believe it is important for all taxi app vendors to comply with the rules of the local regulatory authority. It is good business. It is not hard to do. It keeps everyone on the same playing field," said Sanders Partee, the president of Arlington-based Taximagic, whose hardware appears in thousands of D.C. taxicabs.
"It is no surprise that Uber is operating outside of any regulations. Around the country that is their modus operandi," Partee added. "Here in D.C. they are completely sidestepping the current regulations. Why should someone not comply just because they don't feel like it?"
Another Uber competitor, Hailo, released a statement implying all tech firms should follow D.C. regulations.
"Our goal is to make sure that the proper city surcharges are paid to the District, which pay for important services, including safety and proper licensing. Additionally, Hailo believes in fair and transparent pricing with no surprises for our passengers," the statement said.
Two surcharges not better than one 
The way the D.C. Taxicab Commission set up the surcharge collection process is tripping up some drivers who are unwittingly sending in fifty-cents instead of twenty-five. That extra quarter comes out of their pockets. Passengers are not being charged two surcharges.
For rides that were booked via an authorized smartphone app (like Hailo or MyTaxi), the cabby is supposed to press a button at the end of the trip. That button signals his credit card system (which tracks all fares, cash or credit) to not count that trip for purposes of remitting the surcharge.
However, some drivers are forgetting to press the button or their meter systems are incapable of separating rides that were booked via smartphone app from street hails that end in a credit card swipe.
"There are situations where an app vendor is reporting $.25 and the credit card payment machine is reporting $.25 because the driver didn't push the appropriate button to exclude that ride. So in those cases, there is a double payment to the District," Partee said.
David Miller, the chief executive of D.C.-based tech startup Hitch, whose credit card processing software appears in about 2,000 District cabs, said the double surcharges are an unintended consequence of the modernization program's design.
"I don't think all the systems are perfectly integrated, so there is a technical component to it as well. And in the cases where systems are perfectly integrated, the driver may sometimes forget to push a button at the end," said Miller, who also criticized Uber for maneuvering around the regulations his company follows.
"I think it comes down to an issue of fairness. You've got companies like Uber that just are blatantly not following the rules," he added.
Data?
It is unclear how often drivers are paying two surcharges. The D.C. Taxicab Commission has no accurate data about this problem because its taxi information system is waiting on an upgrade.
"Assuming that some of this is true, once we have completed the upgrading to the second phase of our taxicab information system, we will be able to identify that kind of conflict," said taxicab commission chairman Linton. "We also will be able to straighten out the integration process between the digital dispatch services and the [credit card payment processors] to minimize that."
"It is not a significant or major issue," Linton added.