Where the Legal Battle Over Trump's Immigrant Ban Goes From Here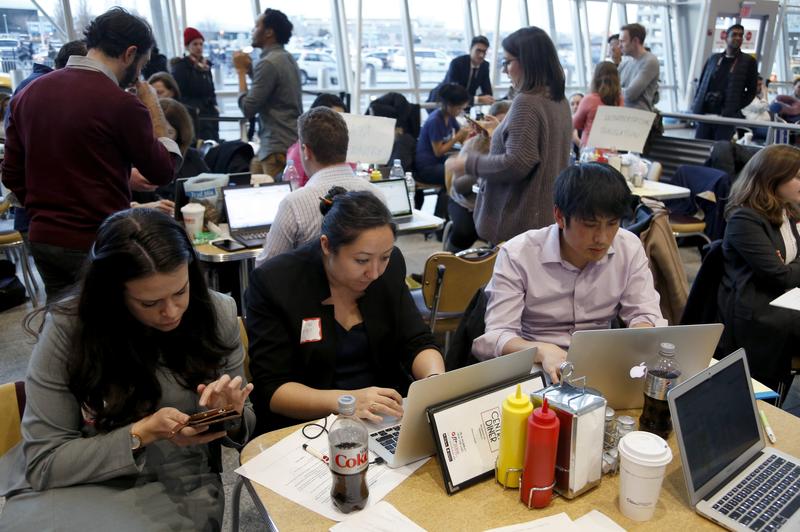 The executive order temporarily banning the entrance of people from seven mostly Muslim nations was blocked by a federal judge in Brooklyn Saturday night, but concerns remain about whether the government will  comply. And that's why dozens of lawyers set up an ad hoc legal clinic in Terminal 4 at J.F.K. to help anyone who's detained, and they're still going there.

The situation is fluid, because new flights keep arriving. According to the New York Immigration Coalition, as of 7 p.m. last night, a total of 52 people were detained over the weekend. Many were let go eventually, but about 20 were still in detention Sunday night. The coalition claims two people were deported, though WNYC has not confirmed that independently.
The people being detained over the weekend included a mix of green card holders, who are permanent residents, along with visa holders and family members of United States citizens. The federal government is supposed to provide a list of everyone who was detained, and New York State Attorney General Eric Schneiderman is demanding that information by noon Monday.
The Department of Homeland Security said it will comply with the Brooklyn federal court order to temporarily halt deportations. But it also defended the executive order, saying the government retains its right to revoke visas if required for national security or public safety. The White House appeared to soften a little on Sunday by saying the executive order would no longer apply to permanent residents with green cards, though they could still be screened.
Reporter Beth Fertig spoke this morning with WNYC's Richard Hake about the latest status in the legal battle over the executive order. Listen to that conversation above.