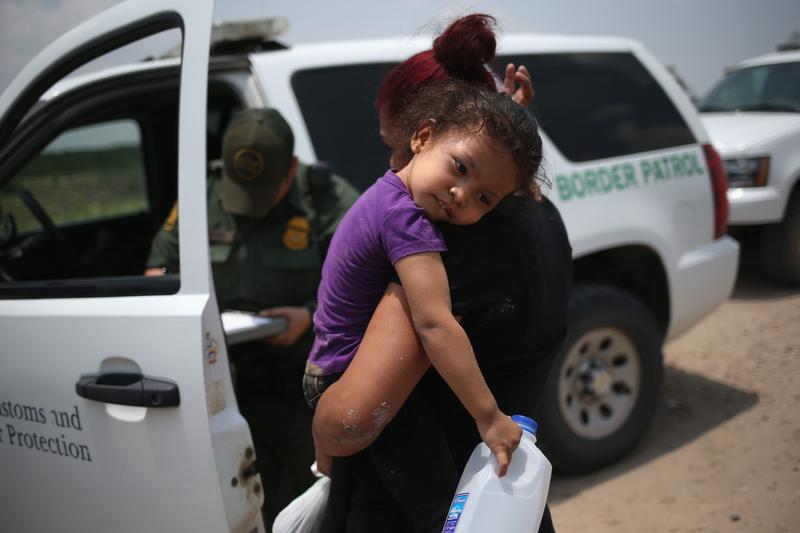 Summary
Attorney General Jeff Sessions was a big proponent of a 2006 law, the Secure Fence Act, that required some 700 miles of "two layers of reinforced fencing." That law passed easily with support from Democrats, but it ran into snags as it became clear that installing that much tough fencing is easier said than done. 
Bob speaks with Cindy Carcamo, who covers immigration for the LA Times, about why building a fence (or a wall) is so complicated, and what the media miss about realities on the border. Plus: how fixating on a barrier obscures the truth about immigration and attitudes towards immigrants.
Transcript
BROOKE GLADSTONE: This is On the Media. I'm Brooke Gladstone.
BOB GARFIELD: And I'm Bob Garfield. In order to avert a government shutdown, on Tuesday, President Trump backed off his vow to secure a $1-billion down payment in the spending bill for the Mexican border wall. Naturally, for the president, this was not a defeat but rather a strategic shift to plan B, increased border security funds now and wall, for real, in September.
[CLIP]:
MALE CORRESPONDENT: The president took to Twitter this morning writing, "Don't let the fake media tell you that I have changed my position on the WALL. It will get built and help stop drugs, human trafficking etc."
[END CLIP]
BOB GARFIELD: Throughout the campaign, Trump showered the mythic structure with accolades, big, beautiful, powerful impenetrable, 1,000 miles long, 35 feet tall and - altogether vital to our security - as Attorney General Jeff Sessions reasserted this month on his border tour. Here he is in Nogales, Arizona.
[CLIP]:
ATTY. GEN. JEFF SESSIONS: We have a good fence here. It has been very effective in helping to curtail the illegal flow into the country. The next structures will be even more effective and be in a lot of areas that we've said we were going to have barriers in before but have not yet been built. That's going to get done.
[END CLIP]
BOB GARFIELD: That fence he referred to was part of the 2006 Secure Fence Act, signed into law by President Bush. And yes, 11 years later, much of that fence - has not yet been built. The law required some 700 miles of at least, quote, "two layers of reinforced fencing" and was part of an early attempt to pass comprehensive immigration reform, which also never actually materialized. Barack Obama was a senator at the time.
[CLIP]:
SENATOR BARACK OBAMA: This bill, from my perspective, is an election year political solution to a real policy challenge that goes far beyond November. It's great for sound bites and ad campaigns but as an answer to the problem of illegal immigration, it's unfinished, at best.
[END CLIP]
BOB GARFIELD: He voted for it anyway, as did Chuck Schumer and Hillary Clinton, and it sailed through the Senate with 80 votes. The 2006 fence was a less ambitious barrier than the one Trump campaigned on, but it sprang from a familiar debate and its stunted construction offers a cautionary tale.
Cindy Carcamo covers immigration and the border for the LA Times. Cindy, welcome to On the Media.
CINDY CARCAMO: Hello.
BOB GARFIELD: The fencing project took years but it never actually got even the 700 miles of double fencing that was voted for, and I guess there were a few reasons for that. Can we go through them?
CINDY CARCAMO: Sometimes American people don't have a good understanding of what the actual border looks like, especially along Texas and Arizona. You know, you just have this real funky geology. You have terrain shifts due to tectonic plates, you have mountains and rivers and wilderness areas, sandy ground, swampy areas. [LAUGHS] It's not like a straight-line border that you could build a fence on.
BOB GARFIELD: And some of the land doesn't even belong to the government.
CINDY CARCAMO: Yeah, private citizens were served with letters of possible eminent domain and it didn't happen, and now they're getting some of those letters, again, under the Trump administration. Actually, a good chunk of it along the Arizona border is owned by the Tohono O'odham Nation. They don't want any kind of fencing along [LAUGHS] their land. In their culture, they go freely from the Mexican side to the US side. To them, it's all one nation.
BOB GARFIELD: The fence that got built is a bit patchy. Most of it is what?
CINDY CARCAMO: In some areas, there is not fencing because it's so difficult to get through. Why would you have fencing in those areas? And, even if you did put fencing, there are no roads to get to the fencing, [LAUGHS] to be able to stop anyone crossing. So it really depends on where it is that you would be building on. What was built was really kind of like the low-hanging fruit, right? So it was relatively easier than what the Trump administration is proposing now.
BOB GARFIELD: But there are some places where it's quite robust. There's a three-and-a-half-mile stretch in San Diego, built at the cost of $58 million [LAUGHS] –
CINDY CARCAMO: Yes.
BOB GARFIELD: - that's pretty impressive. And in places like Yuma, Arizona, there's triple fencing. Has it been effective?
CINDY CARCAMO: People will tell you that all it's done is actually moved migration east to Arizona or to the Pacific Ocean. I mean, you're seeing more people in flimsy fishing boats. And when the fencing went up in Arizona, it moved it farther east to Texas. And I've spoken with former INS who will tell you, frankly, that the San Diego border, the fencing there, all it did was create a cottage industry of smuggling and made it more dangerous and more expensive.
BOB GARFIELD: As the Wall Street Journal [LAUGHS] reported last week, in the border states not a single House member or senator supports funding for a wall. Is it because of what you've just described for me or are there other reasons that they are wary?
CINDY CARCAMO: People who live along the border have a very different, very nuanced point of view. I wrote a story not too long ago of a community that said they felt invaded by strangers coming through their area, and they weren't talking about people who are coming into the country illegally. They're talking about federal officials, they're talking about US Border Patrol. The overwhelming amount of people that I've spoken with see it as a real hassle, for instance, to have to go through Border Patrol checkpoints to do their grocery shopping.
BOB GARFIELD: Most undocumented immigrants don't enter the United States by braving the Rio Grande. How do they get here?
CINDY CARCAMO: Many come by plane and many come on visas and overstay their visas. I think there's too much of a focus on the Southwest border.
BOB GARFIELD: In misdirecting the public, what are, what are we doing wrong?
CINDY CARCAMO: When we do stories about illegal immigration, the easiest thing to do when it comes to a visual is to get file art that we had of the border fence, and it's usually like from Nogales or San Diego or what not, [LAUGHS] but there's rarely a picture of like a plane, you know? It's an easy way to illustrate the illegal immigration debate but yes, I mean, it's probably not the right thing to do. We're a lot more cognizant about it than we used to be because illegal immigration is way more [LAUGHS] than just the fence.
BOB GARFIELD: You know, we've asked you, as I mentioned, and many others have, to cite chapter and verse on the, the logistics of wall construction and the obstacles, and, and so forth but, you know, I sense discomfort because you've been covering this story in rather exquisite detail but you don't believe any of this, this detail really gets to the heart of the story, do you?
CINDY CARCAMO: No, I think – I think that people are just so fascinated and so in love with an idea of a barrier that they're kind of losing perspective in regards to the bigger picture: what is the mission here? If the mission is really to cut illegal immigration, to stop people from coming here clandestinely, the wall, you know, it might help somewhat but you have to start thinking holistically. You have to start thinking about what's pushing them and what's pulling them in.
The fence is a nice distraction from all that, and I think that's on purpose. [LAUGHS] You know, it's all optics. It's something that you can see. You can see progress, for instance. There was no fence and now there's a fence, you know, and that really satisfies something very basic in our minds. It might be part of a solution, a very tiny part of it but, if you just think of that, you're not thinking of the bigger picture.
BOB GARFIELD: Cindy, thank you very much.
CINDY CARCAMO: Thank you.
BOB GARFIELD: Cindy Carcamo covers immigration and the border for the LA Times.
So what is the mission of the border wall? What does its construction or its very idea really tell us? Early this week, the debate over funding the barrier was so heated that some thought it could cause a government shutdown. Republicans strained to redefine Trump's law that, for instance, it wasn't really a wall-wall.
[MUSIC UP & UNDER/CLIPS]:
ALISYN CAMEROTA, CNN ANCHOR: Congressman Dennis Ross, Republican, said this, "The wall is a term to help understand it, to describe it. It could be a fence. It could be an open surveillance to prevent people from crossing. It does not mean an actual wall."
BOB GARFIELD: Or as Senate Homeland Security Chair Ron Johnson suggested a few weeks back –
CHAIRMAN RON JOHNSON: Well, I've always thought the wall is a metaphor for securing the border.
BOB GARFIELD: Of course, Trump insists that it is an actual wall. In December, the author Masha Gessen warned us that there would be a point when the discussion of the border wall would become a debate about its particulars. What it does, she said, it's likely that what the wall or talk of the wall will really obstruct is not undocumented immigrants but an alarming shift in the American psyche.
MASHA GESSEN: So there isn't much point in focusing on whether the wall is going to be all brick and mortar or partly chicken wire. Whether it's a metaphoric wall or a physical wall doesn't matter. What matters is that we're entering a new level of animosity and hatred toward immigrants in this country.
[END CLIP]
BROOKE GLADSTONE: Coming up, tracking hate in America, without data.
BOB GARFIELD: This is On the Media.