The Takeaway
What's Next for Supporters of the Dakota Access Pipeline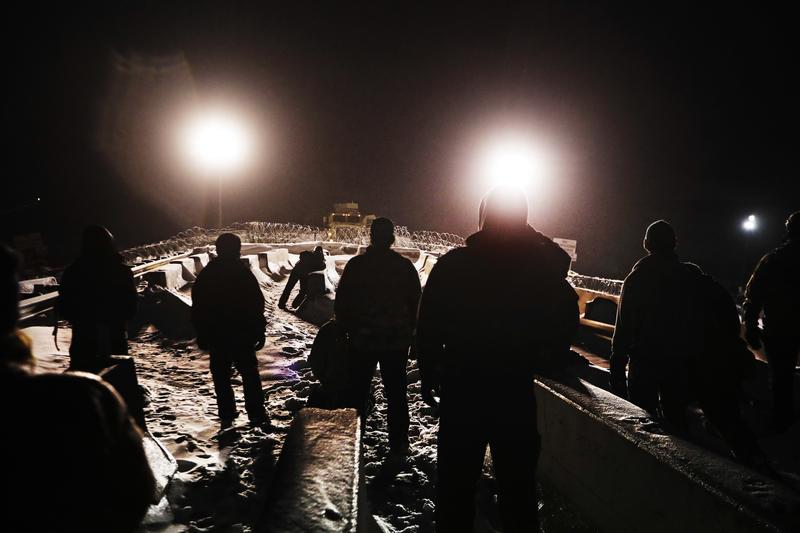 Click on the 'Listen' button above to hear this interview.
After Sunday's decision by the Army Corps of Engineers to look for an alternative route for the Dakota Access Pipeline, Standing Rock protesters and tribal leaders have celebrated. Yet, supporters of the project have remained steadfast that the pipeline will be built and no rerouting will be taking place. In a statement on Sunday, the company behind the pipeline — Energy Transfer Partners — released this as part of their statement on the decision:
"As stated all along, ETP and SXL are fully committed to ensuring that this vital project is brought to completion and fully expect to complete construction of the pipeline without any additional rerouting in and around Lake Oahe. Nothing this Administration has done today changes that in any way."
And other backers have also spoken out. A coalition supporting the pipeline, known as Midwest Alliance for Infrastructure Now, released a statement of their own:
"The pipeline — at no point — crosses the Standing Rock Sioux tribe's reservation, is collocated with a three-decades old natural gas pipeline, and has received all requisite state and federal approvals. The only remaining piece of the 1,172-mile puzzle was the final easement for a 1,000 foot portion abutting Lake Oahe. There is no reasonable logical, factual, environmental, or scientific reason for this not to be issued — in fact the Army Corps of Engineers had already recommended the approval of the easement."
So what is the next step for proponents of the pipeline? Craig Stevens, spokesperson for the Midwest Alliance for Infrastructure Now, joins us to discuss what he expects to happen going forward.
---
Interview Highlights
On the pipeline going forward under the next administration:
We certainly believe that this provides President-elect Trump the opportunity to demonstrate to the world that the U.S. is open for business; that there will be regulatory certainty for businesses and entrepreneurs who actually want to invest in America.
On building a pipeline on sacred lane:
We live in a civil society that is governed by laws and regulations that have been passed through Congress, signed by an executive — a president or a governor — this the circumstance we live in. To change that without any real evidence is a real challenge.
On re-routing the pipeline: 
The amount of time and effort it will take to reroute, if you just look at this Dakota Access Pipeline, I mean they've been at this for over 800 days. They've had to purchase easements, they've had to get cultural and environmental surveys completed and approved by four state governments and federal government. So this is a huge investment already by the company. And to re-route would be a significant amount of money, well into the billions.
On the emotions surfaced by the pipeline:
Certainly the emotional side of this is something that the MAIN Coalition will never win. So that's why we have talked about the facts and made sure that people understood that this pipe does not cross reservation land. That there is actually, right now, a rail line that crosses within two miles of the Standing Rock Sioux's water intake that carries 300,000 barrels a day. So there are real facts out there being missed by the American people.