What To Expect When Your Orangutans Are Expecting? Check Their Gift Registry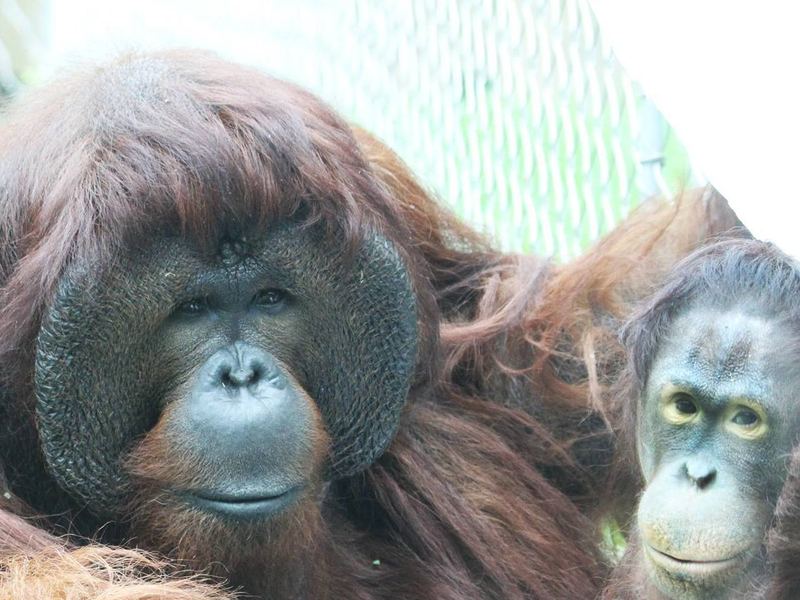 What do you get for an expectant mother who spends most of her time in a tree? Luckily, for visitors at the Cameron Park Zoo in Waco, Texas, that question is now much easier to answer.
An orangutan at the zoo is expecting a baby in mid-January, and staff there have already begun to prepare. They have set up a gift registry at Target for the mother-to-be, an ape named Mei, and they've even planned a baby shower for her and her mate, KJ.
"We have over 400 items on that registry, ranging from blankets all the way to like toys and things that they can interact with," Laura Klutts, one of the zoo's orangutan trainers, tells NPR's Scott Simon.
That list includes videos and CDs — "because they do like to watch movies and listen to different things," Klutts notes — and even a Baby Einstein piano. For the more practical-minded gift-givers, perhaps a baby blanket or a towel is more your style: Klutts says Orangutans, both in the wild and captivity, love to cover themselves up as they live high up in the trees.
The baby's tastes will be rather simple, understandably. All the little tyke will really care about is mom and food and shelter. But the rest of the orangutans in the zoo, four adults in all, will get to use the items people buy, as well.
The featured couple will get to open some of their presents at the baby shower, while visitors to the event will get to feast on cake.
Still, whatever the festivities Mei be, in the end they'll be serving a larger purpose.
"Our first goal as a zoo facility is to make connections between the public and our animals. And we've done that," Klutts says. "Everybody knows Mei and KJ and they love them, and they want to know how they can help them and their wild cousins. They are definitely ambassador animals for their species in the wild."
That means that the expectant couple also helps the zoo raise awareness of conservation methods — which are all the more important given a quirk of orangutan pregnancy.
"They have the longest inter-birth period of any land mammal. So you really only get an infant about 1 to every 8 to 9 years. So their birth rate isn't that fast. When we have a baby, we like to educate people and express that and get them excited about it, because if we don't take care of them or their habitat in the wild, then there's going to be no more of them estimated in about 10 years."
As for Mei, she's been undergoing weekly ultrasounds to check up on her health. But the trainers don't know the sex of the baby yet, so visitors will have to wait a while longer to find out the baby's name. In the meantime, Klutts and her fellow trainers plan to draw up a list of potential names.
"Then, after baby is born, we'll go ahead and get a name pegged," Klutts says. For Mei's last baby, she says, "We actually let the public vote on the top three names, and we raised money for entering it into conservation."
Copyright 2016 NPR. To see more, visit http://www.npr.org/.