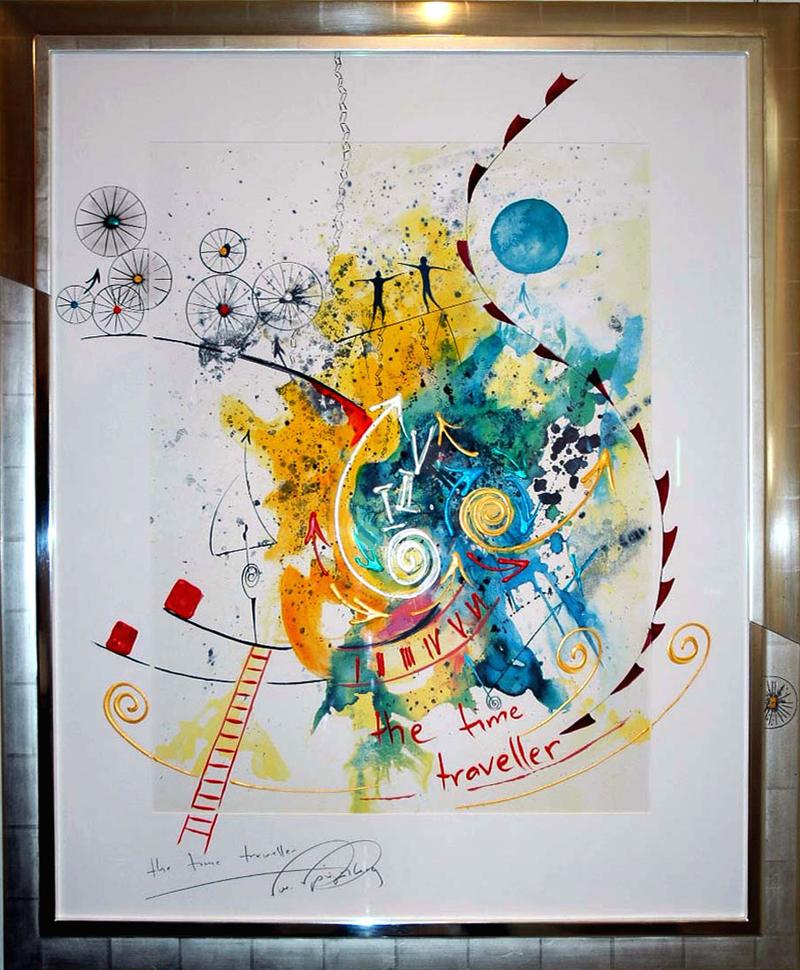 Summary
Time is a specter, time is a train, time is a river, time is an arrow. Time flies when you're having fun and you waste it when you dillydally. Metaphors rule our conception of time. Perhaps, because a straight definition of time is hard to come by.
The philosopher St. Augustine once said, "What then is time? If no one asks me, I know. If I wish to explain it to one who asks, I know not."
In his latest book, Time Travel: A History, science writer James Gleick dives into mankind's longing to understand and transcend time. He and Brooke discuss Albert Einstein's theory of relativity, time travel paradoxes in science fiction, and the existence of free will.
Song:
Time After Time by Miles Davis
Transcript
BOB GARFIELD: This is On the Media. I'm Bob Garfield.
BROOKE GLADSTONE: And I'm Brooke Gladstone. We've spent this hour or, to be precise, the 50 minutes and 30 seconds allotted to us, talking about what the President should consider doing before his time runs out. Time is a specter haunting this hour. Time is a train. Time is a river. Time is an arrow. James Gleick, what is time?
JAMES GLEICK: [LAUGHS] You can't start by asking me the impossible question.
BROOKE GLADSTONE: [LAUGHS]
JAMES GLEICK: Time is nature's way of keeping everything from happening at once.
BROOKE GLADSTONE: So you write that people in the past didn't think about the future the way that we do now, that, in fact, it was Gutenberg's printing press that actually sent us down that path?
JAMES GLEICK: That was the beginning of a long road, yeah. The invention of writing and then the invention of printing, that's an early version of time travel in itself. You write something down or you print it and you are sending a message to your future self or to future generations. That was a, a mind-expanding concept. It's not that people didn't think about the future in a personal kind of way, right? People had been going to fortunetellers and soothsayers and palm readers since ancient times to find out what was going to happen to them.
BROOKE GLADSTONE: But the future of our world, futurism, so to speak, you say that didn't hit critical velocity until the Industrial Revolution.
JAMES GLEICK: When you think about it, they really couldn't have before the Industrial Revolution, before technology started to change fast enough that you could see the effects in your own lives. If you took your time machine now and dropped in on a rural farmer in the 14th century and you - and you said, so, what do you imagine life will be like for your grandchildren, he would say, life is gonna be the same, 'cause life has always been the same. When things suddenly were changing so fast, it really spurred a lot of, well, as you say, futurism. Time travel, as we understand it, didn't exist, really, until H.G. Wells invented his Time Machine in 1895.
The funny thing about H.G. Well's Time Machine is that he starts with this quasi-scientific explanation to get his story going, that time is nothing but a fourth dimension.
[CLIP]:
DUDLEY: I promise you, Filby, that on this machine, a man can go wherever he likes in time. By working these levers he can choose his century, his year, his very day.
FILBY: Oh, for - really, Professor.
DUDLEY: Like I told you tonight, time is only a kind of space. If we can move about in all other dimensions of space, why not in time, too?
[END CLIP]
JAMES GLEICK: He never thought that he was creating a new theory of physics. Ten years after Wells, Einstein came along and he, of course, created his theory of the universe, in which, mathematically speaking, time is best treated as a fourth dimension, just like the three spatial dimensions.
BROOKE GLADSTONE: I guess Wells's view of time was fundamentally Newtonian, right? Time exists as a series of moments. It's an absolute. That's how we experience it and that's what Isaac Newton's cosmology demanded.
JAMES GLEICK: Newton invented a scientific idea of time that hadn't existed before. Before Newton, for most people it was the psychological time that we're all familiar with, that time seems to fly faster when you're having fun or more slowly when you're bored.
[BROOKE LAUGHS]
And for scientific purposes, he needed to define time and space as an absolute background for the universe.
BROOKE GLADSTONE: But then advances in physics started chipping away at Newton's certainty. You talk about the 19th century physicist James Clerk Maxwell who explained electricity and magnetism and light in a set of elegant equations using Newton's time, and he was able to calculate the speed of light for the first time.
JAMES GLEICK: That's right, and the speed of light created a problem in Maxwell's equations. And one of the people who was most troubled, of course, was Albert Einstein –
BROOKE GLADSTONE: Mm-hmm.
JAMES GLEICK: - until suddenly he had one of those famous eureka moments that science is riddled with. His realization was that he was going to have to redefine time itself, that he was going to have to make some adjustments in Newton's notion of absolute time.
BROOKE GLADSTONE: Einstein had to come up with his theory of relativity in which time and space are replaced with a single four-dimensional hole called space-time, right?
JAMES GLEICK: Exactly, the space-time continuum, also known as the block universe.
BROOKE GLADSTONE: Mm-hmm.
JAMES GLEICK: You can imagine the whole thing just sitting there and the past and the future are just directions in this four-dimensional block.
BROOKE GLADSTONE: So, obviously, this feels wrong, [LAUGHS] for so many reasons.
JAMES GLEICK: I feel your pain. If you think through the consequences, it means that, that our sense of free will is an illusion. Our sense that the future hasn't happened yet and we might have some control over the unfolding of events, that's an illusion, which is disturbing.
BROOKE GLADSTONE: It's pretty bleak. Here's a bit of T.S. Eliot's "Burnt Norton," read by the poet, which sort of sums it up.
[T.S. ELIOT/READING]:
Time present and time past
Are both perhaps present in time future
And time future contained in time past.
If all time is eternally present
All time is unredeemable.
What might have been is an abstraction
Remaining a perpetual possibility
Only in a world of speculation.
What might have been and what has been
Point to one end, which is always present.
[END CLIP]
[BROOKE LAUGHS]
JAMES GLEICK: I'd presume that by this time our listeners' heads are spinning.
[BROOKE LAUGHS]
Poets, physicists, philosophers, psychologists, everybody was struggling to come to grips with an idea of time that was changing. It was, it was in turmoil. And, and one of the symptoms of the turmoil was this new kind of storytelling that we now know as time travel. Pulp fiction writers pounding away at typewriters, trying to get a few bucks for a short story, started creating this new genre of fiction. They had to invent the rules as they went along.
What happens if you use H.G. Well's Time Machine, not to go to the future, the way he used it, but to go into the past, and you shoot your grandfather dead before he has time to meet your grandmother and give birth to your mother or father? You know, then you will never be born, and so, you won't be able to go back and shoot your grandfather, and so on. It's a paradox.
BROOKE GLADSTONE: Let's talk about another paradox, the butterfly effect, which you've written about so brilliantly, the Chaos Theory. We have a clip of Homer Simpson finding himself transported back in time. It's playing off a Ray Bradbury story, "A Sound of Thunder."
[CLIP]:
HOMER SIMPSON: Okay, don't panic! Remember the advice your father gave you on your wedding day.
GRANDPA SIMPSON: [Flashback of younger Grampa] If you ever travel back in time, don't step on anything because even the tiniest change can alter the future in ways you can't imagine.
HOMER: Fine, as long as I stand perfectly still and don't touch anything, I won't des-troy the future! (sound of a mosquito) Stupid bug! You go squish now! (swats it) This! Oh, but that was just one little insignificant mosquito. That can't change the future, right? Right?
[END CLIP]
JAMES GLEICK: Only the Simpsons would think of making the time machine as a toaster.
[BROOKE LAUGHS]
But yes, the question that you have to ask, and Ray Bradbury is the first person to ask it in this particular way in "A Sound of Thunder," is what if you go back to the time of the dinosaurs and you change things, is the progress of history in such a delicate balance that if you make a small change in the past it has enormous consequences for the future? This is the phenomenon that chaos scientists know as the butterfly effect, which was named by the meteorologist Edward Lorenz who proved that the flapping of a butterfly's wings in one place can change the destiny of a thunderstorm on the other side of the globe just a few weeks later. This is, you know, scientific fact.
BROOKE GLADSTONE: And what happened to Homer is in one alternate universe, Ned Flanders is a dictator, in one, Bart and Lisa are giants, and there's one where the Simpsons are rich and donuts rain down from the sky.
JAMES GLEICK: [LAUGHS]
BROOKE GLADSTONE: You love this episode of Dr. Who from 2007, where the protagonist named Sally Sparrow is having a conversation with the Doctor, who is actually prerecorded on a DVD.
[DOCTOR WHO CLIP/ BLINK EPISODE):
SALLY/TO THE DOCTOR: Who are you?
THE DOCTOR: [on the DVD] I'm a time traveller. Or I was. I'm stuck.
SALLY: 1969? That's where you're talking from?
THE DOCTOR: 'Fraid so.
SALLY: But you're replying to me! You can't know exactly what I'm gonna say 40 years before I say it!
THE DOCTOR: 38!
SALLY: How! How is this possible? Tell me!
THE DOCTOR: People assume that time is a strict progression of cause to effect, but actually, from a non-linear, non-subjective viewpoint, it's more like a big ball of wibbly-wobbly, timey-wimey - stuff.
[END CLIP]
JAMES GLEICK: What's going on is another of these impossible paradoxes. Here's the Doctor and he needs to send a message to the future, and the person in the future who's receiving the message is Sally Sparrow, played by the young Carey Mulligan in one of her earliest parts. And here's this paradoxical conversation unfolding, where the Doctor is speaking to her through a TV screen, and so, from her point of view, his voice is prerecorded and she is spontaneously coming up with her lines. She doesn't know that she's reading a script, but the Doctor is literally reading a script that has been transmitted back to the past to him by means that we don't yet understand. It's all just so tangled that you have to watch the show two or three times to figure it all out.
BROOKE GLADSTONE: [LAUGHS] And it's really worth it. But you say that this exchange speaks to an experience of time travel of a sort that we all have every day.
JAMES GLEICK: I think that this famous episode of Dr. Who is, in an underhanded way, saying something about the world we're all living in now, all of our information coming to us on multiple screens. You know, we've got our computer screen, we've got the little screen that we carry around in our pocket and we're bombarded with voices. And sometimes it's our own voice reverberating through an echo chamber, sometimes it's somebody we love sending us an instant message. But is it an instant message in real time or is it a message that was sent yesterday and we're only now catching up with it?
We're living with a kind of temporal confusion that is more confusing or more exhilarating than anything our grandparents had available. We've all become time travelers, for better and for worse.
BROOKE GLADSTONE: So we've spent the last hour talking about the final weeks of the Obama White House, what he could do, what he should do, how the future might be altered if Obama had more time in office or he could hop into a time machine.
JAMES GLEICK: Poor Obama. One of the things that I think has always distinguished him is he has a sophisticated sense of time as something that passes slowly. He has more patience than, than the average politician.
BROOKE GLADSTONE: Mm-hmm.
JAMES GLEICK: So what do you do if you're a patient man who plays a long game and you've only got a few weeks left? I don't envy him.
BROOKE GLADSTONE: You say one of the standard motivators for time travel is that it's a way to cope with regret.
JAMES GLEICK: Yes. Why do we need time travel? Sometimes we just want a do over. You want the version of the time machine that's gonna let you go back and do it right this time. We all feel that. After all, what does time do? Time buries us. Time is a bastard.
BROOKE GLADSTONE: [LAUGHS] Thank you very much.
[MUSIC UP & UNDER]
JAMES GLEICK: Thank you. It's been such a pleasure.
BROOKE GLADSTONE: James Gleick writes about science. His latest book is called, Time Travel: A History.
BOB GARFIELD: That's it for this week show. On The Media is produced by Meara Sharma, Alana Casanova-Burgess, Jesse Brenneman and Paige Cowett. We had more help from Micah Loewinger and Sara Qari. And our show was edited - by Brooke. Our technical director is Jennifer Munson. Our engineer this week was Casey Holford.
BROOKE GLADSTONE: Katya Rogers is our executive producer. Jim Schachter is WNYC's vice-president for news. On the Media is a production of WNYC Studios. I'm Brooke Gladstone.
BOB GARFIELD: And I'm Bob Garfield.