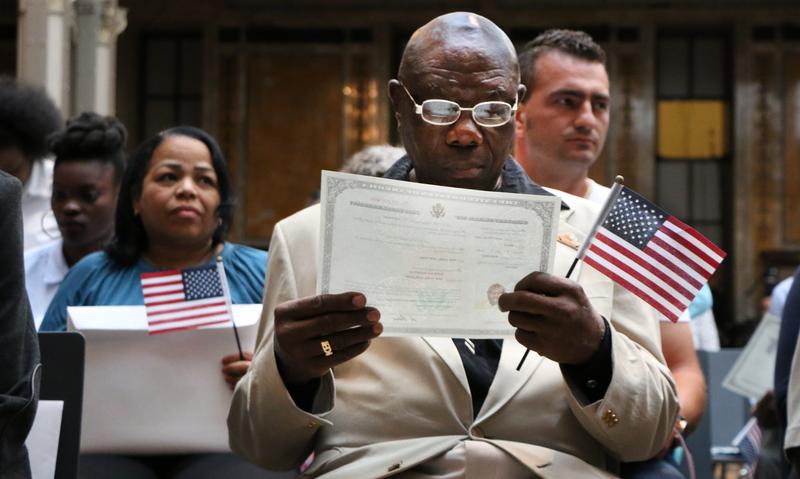 National security is President Trump's focus this week, and after a visit to the Department of Homeland Security on Wednesday, he reiterated his campaign promise to return the country to order.
"We will work within the existing system and framework," President Trump told a room full of press and supporters. "We are going to restore the rule of law in the United States."
Among the plans he outlined were the the immediate construction of a border wall,  a potential crackdown on sanctuary cities, and the addition of 5,000 more border patrol officers.
Today,  Donald Trump announces his vision for the future of refugee policy by executive order. It mandates tougher vetting for foreigners fleeing persecution, and a month-long ban on anyone coming to the United States from Iraq, Syria, Iran, Sudan, Libya, Somalia or Yemen. Refugee admissions in their entirety will be stalled for a time, and when the program resumes, it will allow for roughly half of the admissions established under the Obama Administration, with approximately 50,000 refugees resettled in the U.S. annually, down from 110,000.
These policies are not abstract for many living in the United States. It took Alaa Majeed, an Iraqi journalist and translator, years to reach the United States after fleeing Iraq in 2005, and it has taken her years to bring her family here as refugees. She now works at the International Refugee Assistance Project in New York, alongside Mark Doss, supervising attorney at IRAP.  Trita Parsi is founder and president of the National Iranian American Council, and author of "Treacherous Alliance: The Secret Dealings of Iran, Israel and the United States."