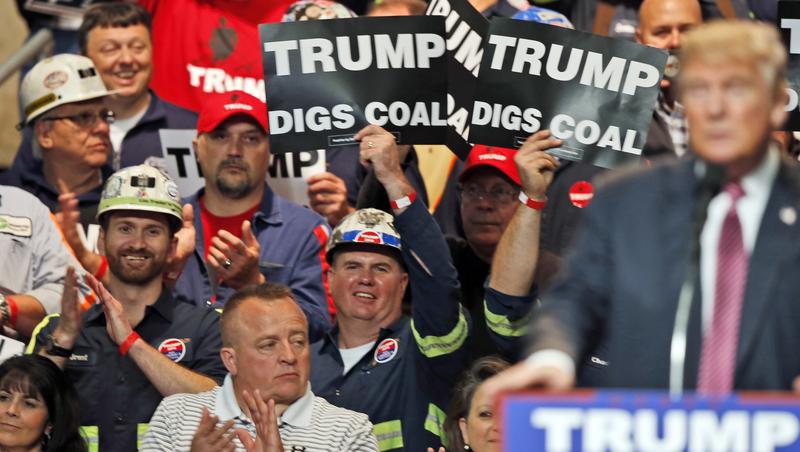 Click on the 'Listen' button above to hear this segment.
This week, President-elect Donald Trump claimed to live up to his businessman appeal when he struck a deal with Carrier, a heating and air conditioner manufacturer, to keep 1000 jobs in Indiana that it were planning to move to Mexico. It'll cost the government about $7 million worth of tax breaks over a decade. The company says that it was scared of losing federal contracts.
On the campaign trail, Trump claimed that he would do the same for the coal industry, which lost 12 percent of total jobs last year. His message resonated in coal heavy states like West Virginia and Kentucky, a state with currently 6,900 coal jobs as of April — the lowest total in 118 years.
Related: In West Virginia, A Changing Economy Isn't Pulling Everyone Along
Ruby Couch has seen this loss firsthand. He's retired now, but he worked underground as a coal miner for 35 years in eastern Kentucky, near Whitesburg. He sees hope in the incoming president. 
Ruby's perspective is shared in West Virginia, a state that was once reliably blue, breaking for Bill Clinton by 15 points in 1996, and then for Donald Trump this year by over 40. That's a 65 point swing in 20 years.
It's also the state with the most coal mining jobs in the country, currently around 12,000. Sheryl Gay Stolberg, mid-Atlantic bureau chief for our partners at The New York Times, traveled to the town of Williamson, West Virginia to figure out how the Democratic Party lost coal country so dramatically.