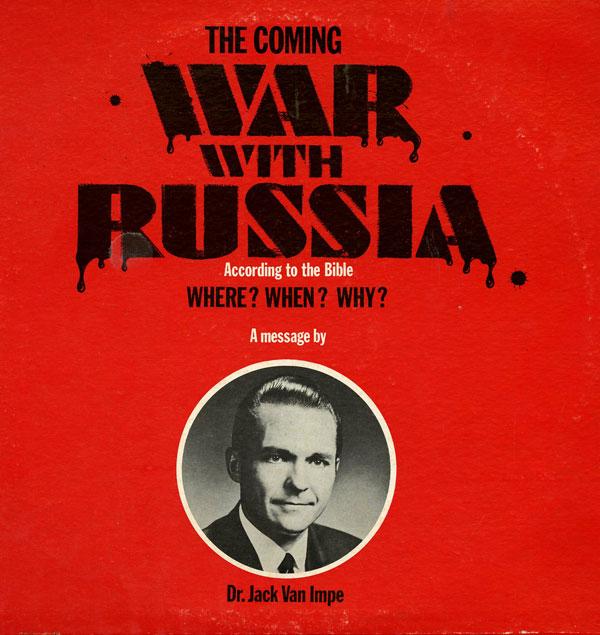 With the collapse of the Soviet Union 25 years ago, the Cold War was declared over. Now, the pundits, policy analysts and TV talking heads say Russia's annexation of Crimea might be the start of a second Cold War. If that's the case, we could be in for the kind of fiery rhetoric that characterized the first one, complete with pounding fists and flying insults.
At least it made for good radio. Indeed, the genre is rich in speeches, songs, dramas and official warnings about the atomic-crazed, godless, mind-controlling, and otherwise communistic threats to the American way of life posed by the "evil empire." And, on the other side, Western leaders who were no better than "Capitalist running dogs that prey on the hearts and minds of the people."
With the Putin-Obama game of chicken growing ever more tense, we dug into our archives in search of the most memorable aural moments from the first round. Pour yourself a Cold War Cocktail and have a listen.
Iron Curtain Speech: On receiving an honorary degree from Westminister College in Fulton, Missouri,on  March 5, 1946, Winston Churchill delivered his famous speech marking the beginning of the Cold War, citing Soviet occupation of Eastern Europe and the outbreak of Communist insurrections all over the world. Here is an excerpt:
"Subversive Activities": In this radio drama from the "This Is Our Duty" series sponsored by the American Legion and designed to develop "100% Americanism," an idealistic young man is politically seduced by a Communist front group organizer. The program was introduced with the theme that "in America today, subversive elements thrive and prosper as never before."
Attack Warning: This 1950s attack warning was produced for the radio by the Federal Government and civil defense authorities.
Excerpt from President Eisenhower's address to the American Legion, August 25, 1952: 

Excerpt from Arizona Senator Barry Goldwater's speech before the Young Americans for Freedom rally, Madison Square Garden, March 7, 1962:
The So-Called Shoe-Banging Speech: At a United Nations General Assembly speech on October 12, 1962, the Soviet premiere banged the podium with his fist and, allegedly, his shoe: 
For more cold war civil defense programming heard over WNYC see the series Plan For Survival.
A 1953 cold war senario. Flickr User James Vaughan