This is What $1 Million in Marathon Security Looks Like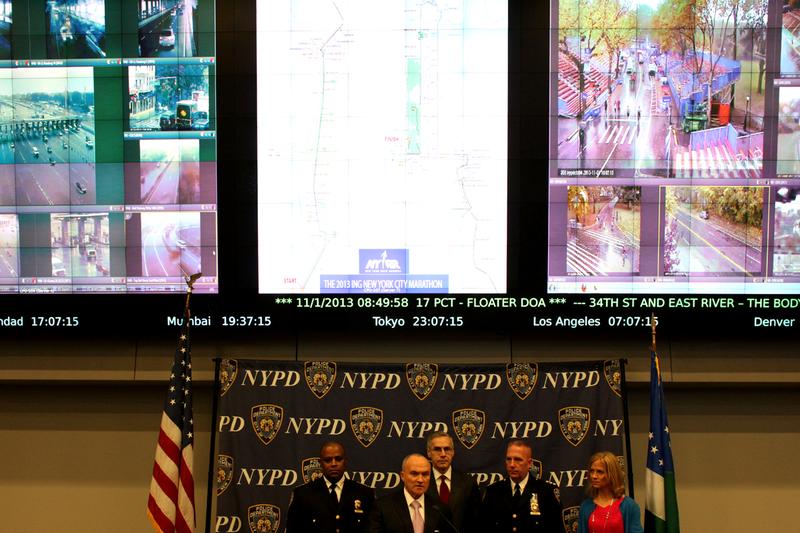 Security for the New York marathon is expected to cost $1 million, double the cost of the last race, according to the New York Road Runners. The NYPD will be monitoring hundreds of cameras along the route, as well as deploying 43 bomb-sniffing dogs.
At the NYPD Joint Operation Center, Police Commissioner Ray Kelly stood beneath dozens of screens showing real-time footage of the marathon route. He told the media that officers will monitor these feeds during the race.
In addition, Kelly said the agency identified 1,400 private cameras that could provide evidence if there is an incident. There will also be counter terrorism officers in uniform and plain clothes equipped with radiation detection gear along the route.
NYPD scuba divers are sweeping city bridges that runners will cross for threats.
Kelly said police began preparing for this weekend's race the day after the Boston bombing.
Check out all the road closures this weekend here.
Ray Suarez, the bomb sniffing dog, (named after a transit officer who died on 9/11)  will be deployed during the New York City Marathon. (Stephen Nessen/WNYC)
Screens monitoring city bridges and roads at the NYPD's Joint Operation Center. (Stephen Nessen/WNYC)
The New York City marathon route on the monitors at the NYPD Joint Operation Center. (Stephen Nessen/WNYC)