SchoolBook
The West Brooklyn Way: Getting In is Just the Beginning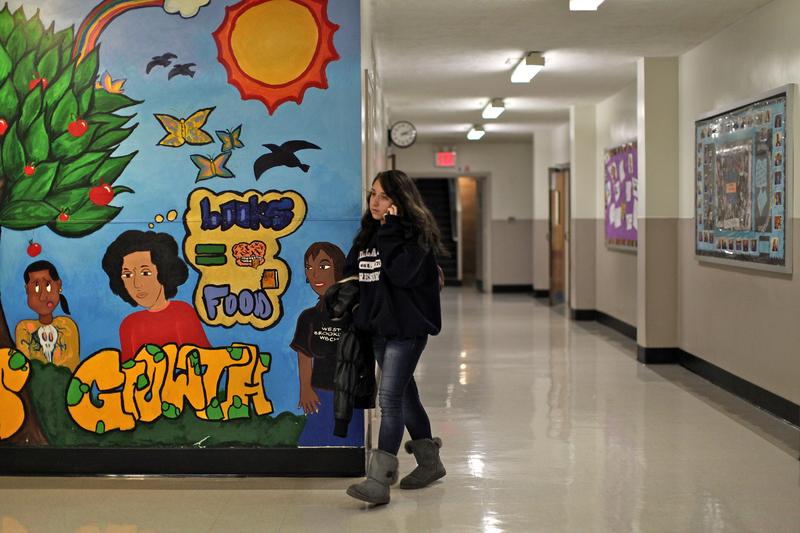 To qualify for a coveted spot at West Brooklyn Community High School students must meet several basic eligibility requirements: they must be at least 16, behind in their academic credits, have a history of truancy and live in one of several neighborhoods near the school.
They also must be willing to accept constant communication with school staff and a counselor who keeps close tabs on attendance, grades, moods, personal challenges outside of school. Basically, students cannot hide. 
For the students who rarely went to class or meaningfully interacted with adults at their former schools, this can be a difficult transition, wrapping their heads around so much adult involvement.
"It takes a while for them to understand, absorb and accept. Sometimes they only understand that once they're here, what it means to have an advocate counselor," said Steve Marcus, director of the school employed by Good Shepherd Services, which partners with the Department of Education to run the school and provide support services.
Steve Marcus, the school's director, oversees the process of enrolling new students. The school's good reputation means that open spots at the small school fill quickly. (Amy Pearl)
West Brooklyn's seven advocate counselors, also Good Shepherd staff members, serve as the primary contact at the school for students and their families. They are the front lines of support in getting students in the building and ready to learn.
Marcus said the culture is apparent from the beginning, when students apply. As part of the intake process, advocate counselors meet with them twice, the second time with a family member. The student and parent must sign a letter of commitment saying the student agrees to West Brooklyn's norms.
"So we're expecting the students to do a lot of things," said Marcus. "First and foremost, to be committed. To be in a school where we expect community. Where we expect relationships. Where we expect them to know that we're gonna have lots of conversations for the students to be reflective and accountable for what they're doing and not doing."
This report is part of American Graduate, a public media initiative addressing the drop-out crisis, supported by the Corporation of Public Broadcasting. Our ongoing "Educating on the Edge" series is here.