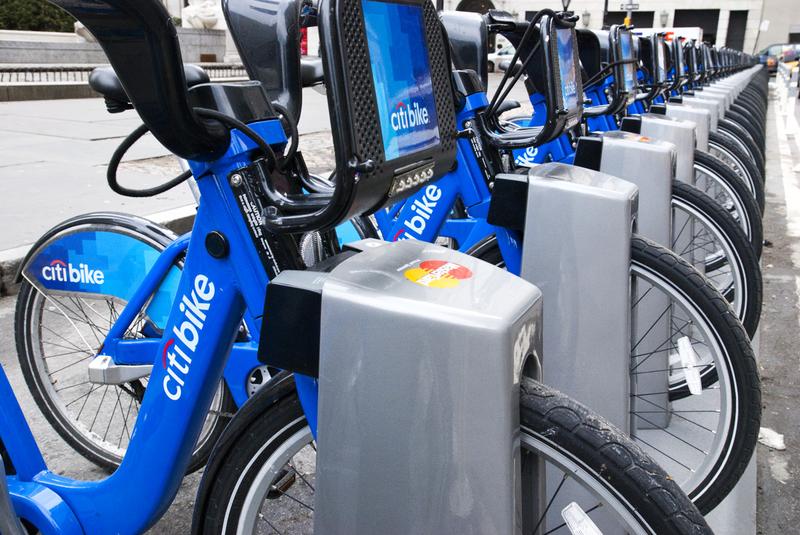 New Yorkers are using Citi Bike as a key part of their commute, not just for touristy joyrides, according to new data released by the bikeshare system and analyzed by NYU's Rudin Center for Transportation (pdf). Riders seem to be using the bikes to get from their subway stop to work, and from work to train on the way home. The busiest docking stations are those close to major subways hubs: Grand Central, Astor Place, Union Square and Penn Station top the list.
Using the bikes for commuting explains riders' biggest gripe about the system: half the time you can't find a bike, and the other half you can't find a dock. Riders take the bikes from a few central stations in the morning, and return them to those few in the evening. Citi Bike has teams of people shuttling bikes around by car to "rebalance" the distribution, but it's hard to keep up with almost 30,000 trips a day.
Compared to bike share programs in Chicago and D.C., New York has far more bikes, and far less distance between stations. Almost 75 percent of stations are within a five-minute walk of a subway stop. But maps of each network illustrate the limits of that – the dense clusters of blue dots end in a sharp line across 60th street, and most of the outer boroughs are blank. In DC, by contrast, the network spreads into Virginia and Maryland. While New York City Council members have expressed their willingness to use discretionary money to expand the system, that hasn't happened yet.
Also out of balance is the gender breakdown of Citi Bike riders. Men outnumber women more than three to one. More men than women bike in general, but other bike share systems have a more even split between men and women members. In D.C., 45 percent of Capital Bikeshare members are female, according to a 2012 study (pdf). 
The system also released age data, which included a surprising number of people born in  -yes- 1899. Unless there are dozens of 115-year-olds cruising around the city, seems like users might be putting in fake birthdays. Leaving out people over age 80, here's the age breakdown, at least as reported by users.