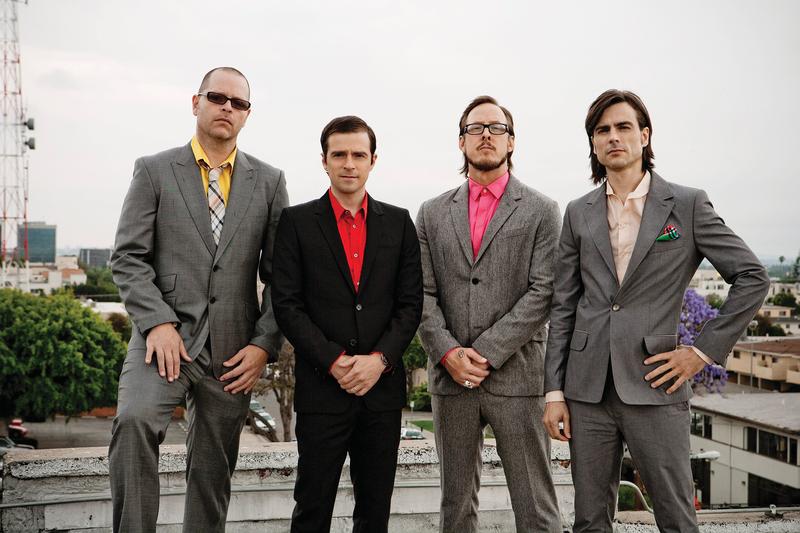 Ask anyone who grew up listening to those first Weezer albums, and they'll tell you that news of a new record comes attached with some trepidation. It's a fair reaction, especially for fans who felt a little burned by a string of, um, not-so-good, seemingly tossed-off efforts -- I'm looking at you, Raditude! Now it's been four years since the band's previous record, 2010's Hurley, and honestly, it's been even longer since a great Weezer album.
So when Weezer unveiled "Back To The Shack" during its Weezer Cruise back in February, many fans guessed this garage-y new song would not only land on the band's next record, but serve as a return to that Blue Album\Pinkerton era we all know and love. There's some rumblings and teases that the recently-announced Everything Will Be Alright In The End will indeed channel those early years -- Ric Ocasek is back as producer -- and of course, there's a great deal of anticipation (second guessing and "Oh god, please don't hurt me again" snark) over what these new songs will be like. Plus, with 2014 being the 20th (!) anniversary of Weezer's iconic debut, it makes sense that even Rivers Cuomo himself is experiencing some nostalgic feels for the good old days when it was just him and his unravelling sweater.
Today, Weezer has officially premiered the studio version of "Back To The Shack" -- and judging from the song's title, its signature pop punk riffs, and some completely self-referential lyrics ("rocking out like it's '94") the band's itch to recapture its past could not be clearer. 
Starting from the opening lines, Cuomo unfurls his mission statement, apologizing for the last bunch of years of dabbling: "Sorry guys, I didn't realize I needed you so much / I thought I'd get a new audience, I forgot that disco sucks / I ended up with nobody and I started feeling dumb / Maybe I should play the lead guitar and Pat should play the drums." Elsewhere, he reflects on his age and maturity, and getting over his anxieties, "I finally settled down with my girl, and I made up with my dad / Had to go and make a few mistakes so I could find out who I am." While pretty on-the-nose, these are the kind of wry, winking lines that we've missed from Cuomo and the band of late. And coupled with that thick crunchy distortion and fun, singable hook, the song really hearkens back to those first singles.
It remains to be seen whether Everything Will Be Alright In The End is Weezer truly coming full circle, but it's a promising first step.
Weezer's new album, Everything Will Be Alright In The End, is out Sept. 30 via Republic. Pre-order it here.