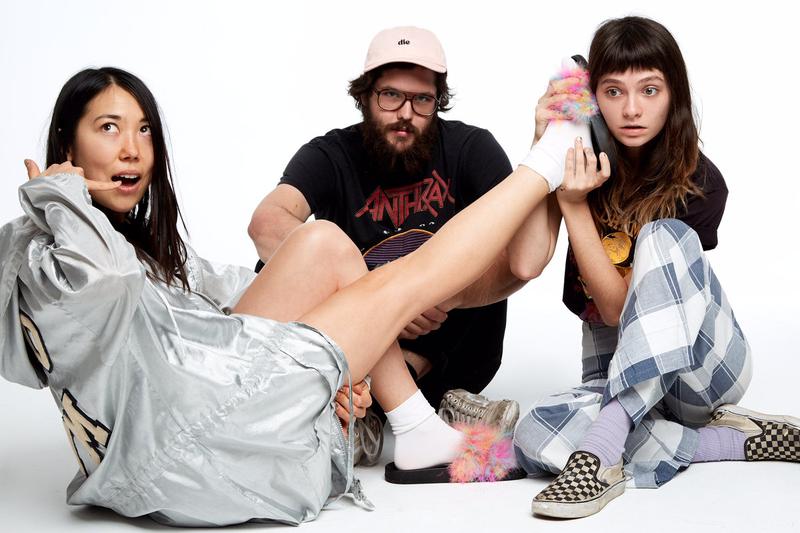 Week of Jan. 16: This week, youth will be served, but the old-timers still have something to say as well.
---
Big Year Brewing For A Young Brit
English singer/songwriter Declan McKenna makes rousing, smart indie-pop, and has been doing so since he was 16.  That was two years ago. McKenna, who looks even younger than his (barely) 18 years, got his start by winning Glastonbury's Emerging Talent competition, with a song called "Brazil" that skewered corruption in FIFA, the world soccer governing body. Since then, he's released singles promoting trangender rights and attacking religious intolerance. This spring, he'll be releasing his debut album, and it will include the new single called "The Kids Don't Wanna Come Home." Written as a response to the Parisian terrorist attacks of November 2015, the song is a rebuttal of the image of the millennial generation as being self-absorbed and not politically engaged. It's also catchy as hell. 2017 is shaping up to be a good year for the young Englishman, who seems to have his head on straight: as he told the UK's Evening Standard, his mantra is "what would David Bowie do?"
---
And a Young LA Singer Isn't Far Behind
Actually, Clementine Creevy is a year older than McKenna, but she too is poised to make some noise this year, with her trio called Cherry Glazerr. And she also has a pretty awesome musical hero in Patti Smith. On Friday she'll release her newest album, called Apocalipstick. The title contains hints of the dark and the silly, both of which Clem (as she's known) has in spades. The album reflects a whole history of women in rock, with nods to Blondie, Siouxsie and the Banshees, and the 90s riot grrrl movement, but the song "Nuclear Bomb" might be the standout track, and it suggests Clem might have a soft spot for bands like Pavement. Don't be fooled by the soft beginning – when the guitars come roaring in the song "buzzes like a fridge," to quote an old Radiohead song. As for the silly, well, the video features Clem and her Rickenbacker guitar, and it's about as NSFW a video as a clothed woman and an electric guitar could make. All in good fun, but for me the song is probably best heard first on its own. 
Cherry Glazerr plays on Wednesday night, January 18, at Bowery Ballroom.
---
22 Years Later, A New Song From Slowdive


Slowdive broke up in 1995, before Declan McKenna or Clementine Creevy were even born. Along with My Bloody Valentine and Ride, they were one of the key bands in the shoegaze movement, which paired walls of often distorted electric guitars with lovely vocal melodies, sometimes sung in harmony. Now, Slowdive has returned with a song called "Star Roving," which hews closely to the shoegaze model but has a clarity of production that would've been hard to accomplish with mid-90s technology. Musically, it's fairly simple – the basic riff just repeats; but this is all about texture, and the rich, layered sound remains something you can lose yourself in.
---
A Surprise No Longer: Rodrigo Y Gabriela Still "Rock"
The Mexican guitar duo Rodrigo y Gabriela could not have foreseen that their self-titled album of 2006 would go on to sell almost a million copies. After all, their music consisted of a series of classical guitar duets, drawing on their love of flamenco, folk music, and classic rock. Not exactly a recipe for topping the charts. But as they told us the first time they joined us in the Soundcheck studio, the two originally played together in a metal band, so they've always brought a bit of attitude to their playing – which has come across in their live performances over the past decade. So when they announced that they'd be issuing a 10th anniversary deluxe edition of that first record (a little late, March 31 of this year), they also released a video from a concert in Dublin from 2006. Check out this version of "Satori," one of their original tunes (they've also done killer versions of "Stairway to Heaven" and Metallica's "Orion" – again, on two classical guitars). Although it was shot in Dublin, it was home territory for these two Mexican musicians, who lived there throughout the late '90s/early '00s. 
---
Karen Elson Announces Long-Awaited Second Album
When Karen Elson released her first album, The Ghost Who Walks, back in 2010, it raised eyebrows. Elson was famous first as a model, and perhaps second for her marriage to the White Stripes' Jack White. Perhaps anticipating the doubters, Elson made that first album in secret, hiding it even from her then-husband until the songs were all worked out. The album was well-received, and the English-born, Nashville-based Elson has continued to do one-off appearances and collaborations, all while juggling her "day job" of being a mom to the two kids she had with White. Now, though, she's announced her followup album, Double Roses.  It comes out in April, but Elson's released the closing track to give us a taste of what's to come. "Distant Shore" features her fellow English singer/guitarist, Laura Marling, on backing vocals, and Benmont Tench of Tom Petty's band (and Johnny Cash and a host of others) on piano.  It has the sound of an album closer, with its buildup of lush strings and its imagery of a journey ended, and another begun.
---
Trainspotting 2 Is Coming, And So Is Its Soundtrack
As Danny Boyle explained when he joined us on Soundcheck, choosing music for his cult classic Trainspotting had a major impact on how that film landed with audiences. The notorious (and beautiful) worst toilet in Scotland scene would be very different indeed without that floating, ambient music by Brian Eno and Daniel Lanois. So with the long-awaited sequel, Trainspotting 2, due on January 27, there has been much speculation about what the soundtrack would be like this time. Now, we know. The tracks from Trainspotting 2 were listed on Amazon, briefly and apparently by mistake, last week. The terrific Scottish alt-hip hop band Young Fathers have no fewer than three songs on it; London rockers Wolf Alice made it on too.  And Underworld, the electronic duo whose "Born Slippy" has become the unofficial theme song of the first film, return with what will probably be a variation on that theme with a track called "Slow Slippy."  Meanwhile, The Prodigy have remixed Iggy Pop's "Lust For Life," also a signature tune from the first movie, and there are lots of other older, familiar tunes from Queen, Blondie, Frankie Goes To Hollywood, and more.  Here's the full sequence as it appeared online. 
1. "Lust For Life (The Prodigy Remix)" – Iggy Pop
2. "Shotgun Mouthwash" – High Contrast
3. "Silk" – Wolf Alice
4. "Get Up" – Young Fathers
5. "Relax" – Frankie Goes To Hollywood
6. "Eventually But (Spud's Letter To Gail)" (Feat. Ewen Brenner) – Underworld
7. "Only God Knows" – Young Fathers
8. "Dad's Best Friend" – The Rubberbandits
9. "Dreaming" – Blondie
10. "Radio Ga Ga" – Queen
11. "It's Like That" – Run DMC, Jason Nevins
12. "(White Man) In Hammersmith Palais" – The Clash
13. "Rain Or Shine" – Young Fathers
14. "Whitest Boy On The Beach" – Fat White Family
15. "Slow Slippy" – Underworld 
And if you can't remember how Trainspotting ended, here's the final scene, with "Born Slippy" playing all the way through.