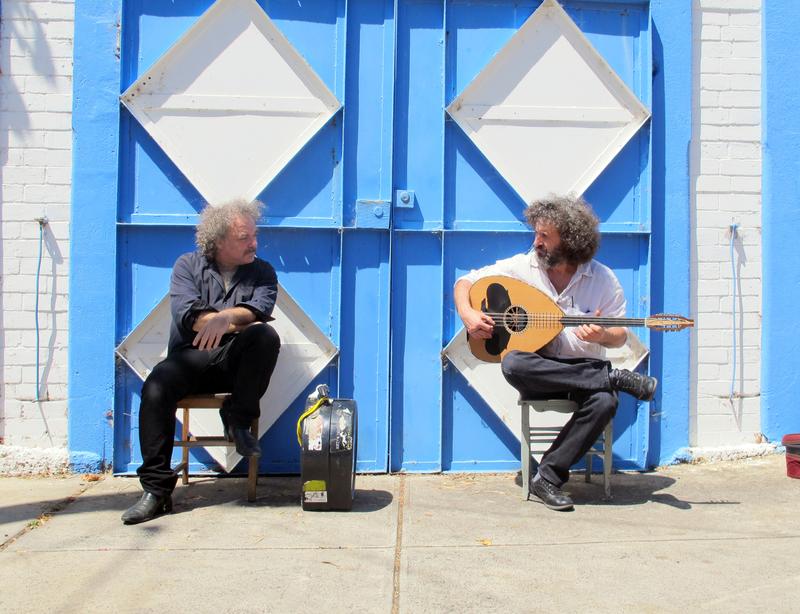 Week of Feb. 6: This week, sounds from West Africa, Crete, and other distant shores, plus the Great American Songbook via Bob Dylan.
---
PREMIERE: Live video performance by Xylouris White

It's hard to know what to call Xylouris White, the duo of drummer Jim White (formerly of the terrific Aussie instrumental rock band Dirty Three and drummer for Cat Power, PJ Harvey, and so many others) and Giorgos (George) Xylouris, who plays the laouto, a guitar-like instrument from Crete. Xylouris is a scion of the first family of Cretan folk music, which may sound pretty obscure but that island has a great history of singers, lyra players, and other folk musicians. As a duo, Xylouris White unleashes a kind of trippy, groove-based, improvisatory music that is both grounded in a very old song tradition and in the rhythms and dramatic gestures of rock. Today we premiere a live performance of "Forging," a song from their most recent album, Black Peak. It was recorded live in Dublin, and the words, by the Greek lyricist Mitsos Stavrakakis, add to the song's feeling of urgency: "I feel the earth tremble underfoot. It is the wrath of the world forever increasing."
Xylouris White will be in NY to play at Trans Pecos on April 5. 
---
The Great American Songbook: Bob Dylan Is All-In


When Dylan released Shadows In The Night, in 2015, it appeared to be yet another willful contradiction of expectations from the Nobel Prize-winning songwriter: here was Dylan, putting his own songwriting to the side and interpreting classic mid-century songs from the so-called Great American Songbook. He followed that with a similar album, Fallen Angels; and both albums did quite well, commercially and critically. So while it's still a little weird to think of Dylan as a singer first (his voice has rarely been mentioned with the great singers of our time), he has now doubled down – or tripled down, as the case may be – on his skills as a song interpreter, announcing the March 31 release of a 3-album set called Triplicate. A look at the track list finds Bob Dylan recasting some of the greatest tunes in that songbook: "Stardust," "These Foolish Things," "As Times Goes By, "Stormy Weather," and more. As with the last two releases, it'll be interesting to see how Dylan takes these thrice-familiar works and makes them his own. So far, he's released one track, a version of "I Could Have Told You," one of a couple of Jimmy Van Heusen songs in the set. There's a moment or two were he sounds almost like Willie Nelson, another artist who has revealed an ability to reinterpret older songs. This is Dylan is full crooning mode, but the leathery, weathered texture of his voice adds a welcome bit of roughness, a kind of emotional heft, that makes the song's regrets feel hard-earned. 
---
Ibibio Sound Machine Give You A Reason To Listen


Nigerian singer Eno Williams was born in London, and her band, Ibibio Sound Machine, reflects her dual musical and personal roots. The songs blend Fela Kuti-style West African funk with the lush electronics of 80s British synthpop acts like Yazoo (Yaz here in the States), Depeche Mode, or Erasure. Since both of those musical styles were built around dancing, the resulting hybrid is pretty irresistible. Williams sings occasionally in English, but much more often in Ibibio, a language of southern Nigeria. A lot of the songs deal with the strength and courage of women, and the album title, Uyai, is the Ibibio word for "beauty."  The album is due on March 2, but if you want a reason to listen now, here is the leadoff track, called "Give Me A Reason."
---
Two West African Legends Collaborate On Mesmerizing New Single
Oumou Sangare is generally considered to be one of the greatest female singers in Mali – which is high praise, given the level of music-making in that country. Tony Allen was Fela Kuti's drummer, the not-so-secret weapon behind his trance-y, kinetic music. Now, Allen joins Sangare on her new single called "Yere Faga," from her forthcoming album Mogoya ("People Today"). It's Sangare's first full album of new songs in 8 years, so it's a welcome return to begin with, but with the French production group called A.L.B.E.R.T. providing the song's hypnotic bassline and Tony Allen offering one of his distinctive grooves, "Yere Faga" will have Afropop fans counting the days till the album's May 19 release date.
---
Porcelain Raft Floats Over Troubled Waters
Italian-born, New York-based Mauro Remiddi records under the name Porcelain Raft, making albums that mix Pink Floyd-style ambience with some of the same British dance sounds that Ibibio Sound Machine, above, is mining. On Friday he released the new album Microclimate, whose title hints at the inspiration behind the record: Remiddi traveled to various spots around the world, looking for a global or macro view of how we are impacting the climate and the species around us. This sounds like it could get dangerously preachy, and the song titles mostly refer to the earth, whether it's specific places ("Big Sur") or general features ("Distant Shore"), but fear not – Remiddi is not wielding a hammer, but a keyboard. Or many layers of keyboards, more likely. "Distant Shore" may have a message in there, if you care to dig for it; but it's couched in elusive imagery and an anthemic chorus.