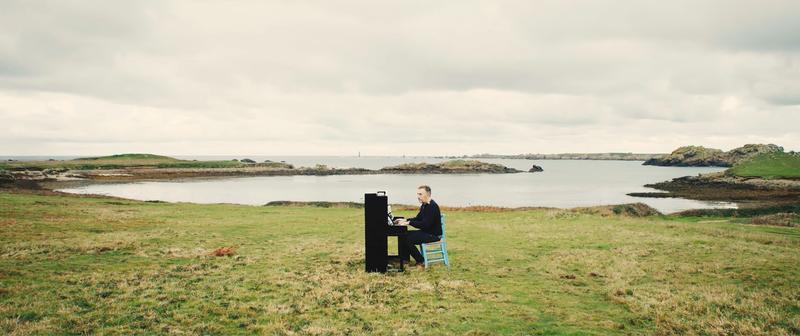 Week of September 19: This week, the premiere of a new Yann Tiersen piece; an upset (again) at the UK's Mercury Prize; and a fun new video from Beck.
---
PREMIERE: Yann Tiersen's Beautiful Postcards From Home
Ever since the film Amelie used songs from his early albums as its soundtrack, Yann Tiersen has become known as a composer of music for film and TV. In fact, though, he has done relatively few soundtracks – it's just that his songs and instrumental pieces have a cinematic sweep and a lyrical elegance that makes them easy for film makers and TV directors to use. I thought his last album, called ∞ (Infinity), was mostly brilliant – a collection of beautiful, haunting songs that drew on electronic soundscapes, processed toys and voices, pounding strings, and more. That album was inspired by Iceland, where it was recorded; but Tiersen actually lives on another island: it's called Ushant, or, in the Breton language, Eusa, and lies off the coast of Brittany, the Celtic region of northwestern France. EUSA is the name of Tiersen's forthcoming album. For the first time in his career, Tiersen has recorded an entire album of piano solos, each one named for a different landmark on the island. Each one also incorporates field recordings made at those spots; so you hear birds, wind, waves, and other ambient sounds. Today we're happy to premiere the track called "Penn Ar Lann," a wistful tune that floats over a cyclical rhythm pattern that might owe a debt to Philip Glass. What sounds like the raspy call of the raven, not usually thought of as the most songful of birds, takes on a poignant, musical quality here.
---
2016 Mercury Prize: Another Upset
It was widely expected that David Bowie's final album, Black Star, would win the UK's prestigious Mercury Prize. But one thing that has characterized the prize over the years is its willfulness, as the jury has often alighted on surprise artists for the award. That happened again this past week, as the rapper Skepta won the prize. For quite a few years, he's been a leader in the genre known as grime, a kind of minimalist hip hop/electronic hybrid that has been popular in the UK since the turn of the century. Drake is a fan, and a friend. Skepta's album Konnichiwa spawned no fewer than four singles, including this one, "Man," which samples the rock band Queens of the Stone Age. 
But Bowie was not ignored at the award ceremony: the highlight of the event was a much-anticipated performance of "Lazarus," by Michael C Hall, the actor who plays that title role in the Enda Walsh/David Bowie play of the same name. With its unforgettable opening line, "look up here, man, I'm in heaven," the song is one of the highlights of both the play and the Black Star album. And on Friday it was announced that the original cast soundtrack of Lazarus, which includes Hall, would be coming out on October 21, along with Bowie's final three studio recordings (all of them songs from the play). Pre-ordering the album gets you an instant download of Hall's recording of the song "Lazarus," but for now, check out his live performance at the Mercury Prize ceremony as broadcast by the BBC.
---
Beck Is Back. Wow!
Beck dropped a new video this past week. It's for "Wow," which was released in June via a sufficiently weird lyric video. The hip hop-inflected number now gets a proper treatment and it's, well, typically Beck. Which is to say it's weird. And fun. Watch it and you will not be at all surprised to learn that he co-directed it. As for the song, it's so stupid it may actually be smart. "Wow" is catchy and simple, and dares you to call it simple-minded. The lyrics of the chorus are: "Wow!/It's like right now/It's like wow!/It's like right, right now/It's like wow!/It's like right now/It's like wow!/It's like right now/Oh wow." Then it dares you to get it out of your head.
---
An Inadvertent Memorial For Donald Buchla
In the 1960s, there were two major types of synthesizers – most people knew of the Moog synthesizer, invented by the late Robert Moog and made famous by Wendy Carlos's Switched On Bach recording. Using a piano-style keyboard, it became a familiar part of rock and pop music over the subsequent decades. The other type was the Buchla synthesizer, designed by Donald Buchla, who decided that a piano keyboard would restrict the synthesizer to the usual notes and harmonies of Western music. So his often fanciful machines were played by tapping pads, or moving a stylus, or using marimba-type mallets. His instruments were far less common, but they were no less important. The first piece of electronic music written for LP was Silver Apples of the Moon, by the pioneering (actually, still pioneering) electronic composer Morton Subotnick.
Donald Buchla died last week, on Wednesday, at the age of 79. On Friday, a long-planned collaboration by two of today's best-known Buchla players was released. Suzanne Ciani has been making electronic music recordings since the 1980s, becoming a leader in the so-called New Age music movement. Kaitlyn Aurelia Smith has been attracting a fair amount of attention in the last two years for her recordings that blend New Age electronics with the sounds of krautrock and Eno-style ambient music. (We've posted her video demonstrating the Buchla Music Easel in an earlier roundup.) Their collaboration, "Closed Circuit," was not intended as a memorial to Buchla, but it certainly a fitting tribute to a true musical maverick.
---
Tune To 79.5 For Smooth Disco-Soul
The 79.5 is not a radio station; it's a quintet that traffics in an almost orchestral brand of R&B, built around some soulful 3-part female vocal harmonies and driven by a simmering disco beat. They remind me a little of (geezer alert!) Dr. Buzzard's Original Savannah Band, the late 70s disco big band. Of course, 79.5's name is way shorter, though no less cumbersome to say. At least their debut single is a promising one; it's called "Terrorize My Heart."