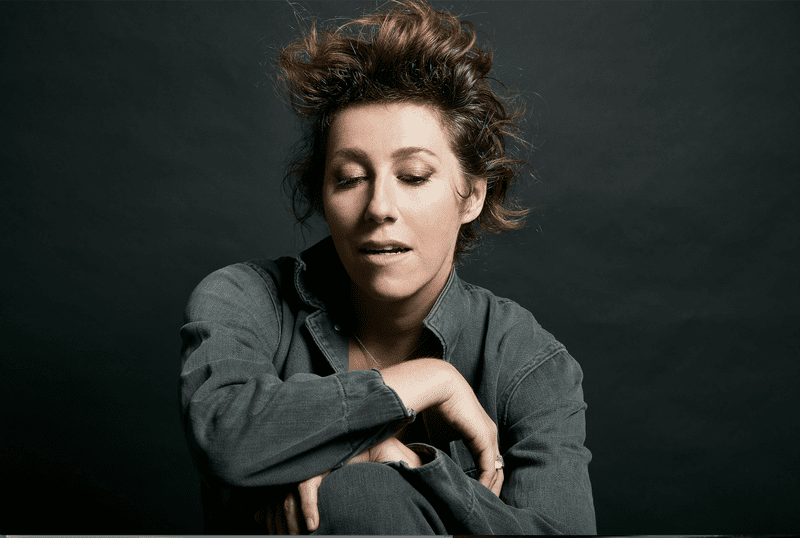 Week of October 17: This week, a strange new version of an old standard, the return of Mexico's rock royalty, and the new look Prairie Home Companion.
---
PREMIERE: Martha Wainwright and tUnE-yArDs Go Dark


As part of the almost freakishly musical Wainwright family (see dad Loudon, brother Rufus, half-sister Lucy), Martha Wainwright was born to be a singer and a songwriter. But on her forthcoming album Goodnight City, she's doing something new: she's invited other musicians to write songs for her. One is by Merrill Garbus, the singer/looper/composer who makes fractious but groovy music at the juncture of indie rock, world music, and contemporary classical. Garbus wrote the song "Take The Reins," and while we can only guess how she meant it to sound, Martha and her producer, the ubiquitous Thomas Bartlett (aka Doveman), have taken it into a strikingly dark and eerie place. Her voice seems to wander, lost in its own key and an uncommonly high register, as if cut loose from the electronic soundscape droning in the background. This sets up a musical tension that is beautifully resolved at the end of the line into a rich choral sound.
Martha Wainwright plays at Le Poisson Rouge on November 18; the album comes out on November 11.
---
What If David Lynch Had Written "Blue Moon"?


The darkness continues with the Swedish singer Matilda Mård, who records under the moniker Many Voices Speak – just listen to her brooding version of "Blue Moon," the 1934 standard by Rodgers & Hart. It is not the first unexpected version of the song – that honor would probably go to fans of the soccer club Manchester City, who have turned this American ballad into their team's signature tune. (The club's official color is blue.) But this version really transforms the song, into something that would not have been out of place in a David Lynch movie. (And of course, Blue Velvet is the one that comes to mind.) The debut EP by Many Voices Speak, called Away For All Time, comes out on October 28 and apparently, this version of "Blue Moon" will not be on it. But that's the internet for you – now we get the outtakes before we get the record.
---
The Return of Rock En Español Leaders Café Tacvba
Mexico's Café Tacvba (sometimes spelled Tacuba) have been unusually quiet lately. Since 1992, they've been putting out music that gleefully skates across the borders between rock, funk, norteño, electronica, and ambient chamber music. They've worked with David Byrne, and the Kronos Quartet. But since 2012, nada. Now, they've broken their silence with a new single called "Un Par De Lugares" ("A Pair of Places"), produced by the band's longtime collaborator Gustavo Santaolalla, one of the few musicians they know who is perhaps even more eclectic than they are. (Gustavo won an Oscar for his score to Brokeback Mountain.) The song is about the two places we go – the head and the heart – to deal with feelings of loneliness and absence; but the video is a love letter to nature, starring Mexico's champion surfer Leila Takeda. As Café Tacvba songs go, it's a fairly straightforward piece of jangly guitar rock; hopefully, it's also a harbinger of another album to come…
---
Fujiya & Miyagi's Extended –and Existential – Dance Mix


If Jean-Paul Sartre had tried writing a disco/EDM hit, he might have ended up in exactly the same bleak, darkly comic, irresistibly groovy place as Fujiya & Miyagi. The British band with the Japanese name and the German electronic sound is about to release the second of three EPs on October 28. It will be called, with typical F&M flair, EP2, and it will include the song called "Extended Dance Mix," a kind of spoken-word/dance-floor banger for people who are beginning to feel the aches and pains of middle age – people like lead singer David Best, who wonders if the clicking in his ankles is a sign of impending arthritis. Maybe it is, but what are you gonna do, not dance?
---
Chris Thile's Prairie Home Companion Debuts – With Guest Jack White
Wow, that looks weird, doesn't it. But it's true: A Prairie Home Companion, which for two generations of public radio listeners will forever be associated with its founder and host Garrison Keillor, is now in the fleet and capable hands of singer/mandolinist Chris Thile (of Nickel Creek, Punch Brothers, and numerous other projects). And in case you missed Saturday's premiere episode, the musical lineup included guitarist Jack White, playing an unplugged set that included a couple of his old White Stripes songs and another from his band The Raconteurs. The latter song, "Carolina Drama," is an epic ballad of bad behavior in which a milk bottle is an unlikely feature. And it featured a special guest on mandolin – Chris Thile. Watch it here – and the whole show is streaming at www.prairiehome.org.