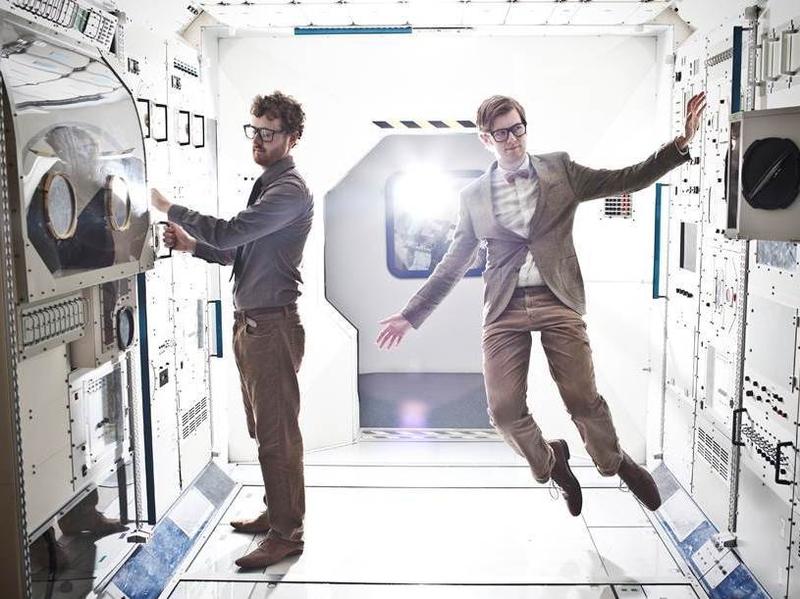 Week of October 10: This week, Alicia Keys gets personal, Regina Spektor gets mermaid-y, and a London duo turns the moon landing into dance music.
---
Alicia Keys Turns Tabloid Fodder Into New Song
Alicia Keys has announced that her new album, Here, her first since 2012, will come out on November 4. The first single, called "Blended Family (What You Do For Love)," is out now, and features a verse from rapper A$AP Rocky. Back in 2009, Keys was dragged into the tabloids as her fiancé, the hip hop producer Swizz Beatz, went through a messy and public divorce from the R&B singer Mashonda. The couple have two children of their own, but Keys' new song seems to be addressed to her stepchildren, the kids Swizz Beatz had prior to their marriage. "And even though I married your father/That's not the only reason I'm here for ya," she sings early on, and then later refers directly to the press that swirled around them: "I hate that you had to read it in the paper." Rocky's verse is a touching look back at growing up in a blended family – "I remember having four step moms at nine," he begins. The song, built around a repeating acoustic guitar figure and a straightforward beat, may not go down as one of Keys' greatest hits, but it may offer encouragement to her listeners who don't come from a traditional nuclear family and who may feel underserved by pop culture.
---
Regina Spektor's Brilliant New Album Spawns An Eccentric Video
Remember Us To Life is the name of Regina Spektor's new album, her first since 2012's What We Saw From The Cheap Seats. As usual, her music walks a fine line between art song and some form of pop. The song "Small Bill$" features pounding piano and orchestral instruments like strings and tympani, but the influence of hip hop can be clearly felt in the rhythms of both the music and especially the lyrics. The video is a largely animated affair, full of sly references to Spektor's Russian background (her Russian Jewish family fled to the States when she was 9) – bears, nesting dolls and the like. Spektor's songs often have an impish streak to them, and the video does a good job of picking up on that (notice the newspaper headline, "Mermaids Sighted," 29 seconds in – it foreshadows the end). Regina Spektor plays at Town Hall on October 17 and Rough Trade on October 18, but first appears in this Thursday's edition of the Soundcheck podcast. Check back on or after Thursday to hear her playing live and discussing motherhood, hip hop, and trying hard to be an optimist.
---
The Moon Landing As You've Never Heard It Before
The London duo known as Public Service Broadcasting has made a couple of albums where they take archival audio footage of radio, TV, documentary, and official government sources and turn them into inadvertent songs and dances. Their album The Race For Space was a simply brilliant look at the 1960s race to the moon, from numerous, often unexpected, angles. Now the band has announced the December 2 release of a live album recorded at a sold-out show at London's Brixton Academy during the Race For Space tour; and they've released a video for their moon landing "song," called "Go!" The band is expanded and there is some archival video of the flight controllers as they signal their readiness (with a simple "go!") during the landing, but the genius of the song remains in how J. Willgoose Esq.(the band's composer/guitarist/keyboardist) and Wrigglesworth (just Wrigglesworth, thank you – the band's drummer) take a signal achievement in human history and make it dance.
Hear the band in a Soundcheck session (this song included) here.
---
Passenger Covers "Losing My Religion" By the River Thames
Another Londoner, singer/songwriter Mike Rosenberg, who records as Passenger, is one of about two dozen human beings with a Youtube video that has over a billion (yes, billion with a b) views. That would be his hit single "Let Her Go." But not everyone recognizes him on the street. When Mike last joined us in August, he told a funny story about busking on a street corner and having a passerby stop and ask, "Why do you play so many Passenger songs?" Well, he apparently plays other people's songs occasionally too, and the new Passenger video, recorded by the banks of the River Thames with London's Tower Bridge in the background, finds Mike and his band doing a pretty straight version of REM's "Losing My Religion." The point seems to be not to put a personal spin on a now-classic song but to remind us, over 20 years later, of what a monumental achievement the song was in the first place.
---
L.A.Salami's Warhol-Inspired New Video
Still more from the English capital: blues-based troubadour Lookman Adekunle Salami - known professionally as L.A. Salami – appeared in one of these weekly roundups just before he released his debut LP in August. The album filters several varieties of blues, hip hop and social commentary through an outsider's lens, and Salami's new video, for the song "Day to Day (for 6 days a week)," presents us with a different sort of outsider's lens: it's inspired by the work of Andy Warhol. The song itself may also recall early Dylan, with its cycling fingerpicked guitar and harmonica; and just as Dylan did an early video for "Subterranean Homesick Blues" with the text displayed in a memorably lo-tech way, Salami's video also plays with the song's lyrics, leading to an interesting literary counterpoint between the song's lyrics and the gradually unfurling (and finally contradictory) text towards the video's end.