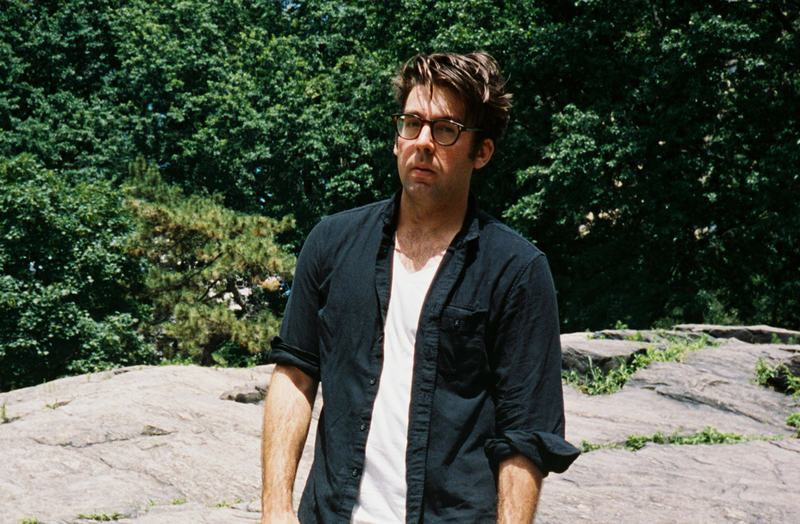 Week of October 3: A Golden Suits premiere, a long-dead actor stars in a new music video, and the next step in artificial intelligence: songwriting.
---
PREMIERE: An Anthemic New Song From Golden Suits
Golden Suits is basically the work of singer and songwriter Fred Nicolaus, who was co-founder of the band Department of Eagles and started this project with a memorable untitled album in 2013. The song "Swimming In 99" from that album seemed to define Nicolaus' songwriting – literate, catchy, and perhaps a little loopy as well. ("We went swimming once/in '99. You lost your glasses in the water/you were blind.") And the video saw Fred trying to buy every copy of a John Cheever book in Manhattan. Now, he's got a new Golden Suits record coming, called Kubla Khan, and it is still literate, still catchy, and – in this song, at least – sounds like the musical equivalent of the shy librarian ripping off his or her glasses and dancing on the counter. "Don't Let Love Go By" still has the hallmarks of a Fred Nicolaus song: witness the interweaving guitar lines, the strange bursts of noise around the edge of the mix, and the memorable opening line "Seven frozen sparrows on the line." But the anthemic chorus is more than a suggestion; it's a demand. So listen.
---
The First Pop Song Ever Written By Artificial Intelligence
First of all, humans, take a deep breath and relax. Your music is safe, for a while at least. Yes, an artificial intelligence program called Flow Machines has composed a song – two of them, in fact, one in the style of the Beatles and the other in the style of the Great American Songbook (Gershwin, Berlin, etc.). The Beatles-inspired tune is completely convincing… it sounds like any of the thousands of actual humans who desperately try to sound like the Beatles. It's called "Daddy's Car," but it must be said that the title, and indeed all the (Beatles-centric) lyrics and actual mixing, was done by a human. His name is Benoit Carré, a French composer who is apparently unconcerned that you may consider him a traitor to his race. The software can write songs in any number of styles, and Carré chose the Beatles category; but Flow Machines wrote all the music, drawing from its database of thousands of songs that it has ingested – which, I guess, is how humans do it too, if you think about it. Anyway, the AI program is no one-hit wonder: it is plotting to release a full album of songs next year. No word though on how long we have before the machine achieves consciousness and destroys us all with its super-maddening earworms…
---
Brooklyn Rider & Anne Sofie von Otter's Beautiful Kate Bush Cover
You know the old cliché about a singer being so good he or she could sing the phone book? Well, Kate Bush came close with her song "Pi," back in 2005, which includes the actual numbers of the irrational fraction. Now, the great Swedish mezzo-soprano Anne Sofie von Otter, whose past collaborators include Elvis Costello, has recorded an utterly beautiful arrangement of the song with the fearless and inventive string quartet Brooklyn Rider. Their collaborative album, So Many Things, is full of gems that inhabit that grey area between contemporary classical and art-rock. Björk, Nico Muhly, Pulitzer Prize-winner Caroline Shaw, Elvis Costello and others are represented, but even in such distinguished company, this arrangement (done by Kyle Sanna) stands out. And von Otter – fellow Kate Bush fans, please forgive me – absolutely owns the song now.
---
Robbie Williams Wants You To "Party Like A Russian"
English singer Robbie Williams is far, far bigger and more famous than you realize. The US has been a tough nut for him to crack, but in Europe, he is a superstar of the first order, and he is apparently huge in Latin America as well. There have been attempts to break him in the American market before, but now Sony will have a go, and they are off to a rousing, winking start with the new song and video called "Party Like A Russian." The song offers a cheeky look at the joys of authoritarianism (the video is cheeky in a rather different way), with Williams playing the role of pampered rich oligarch as if to the manor (or dacha) born. Classical music fans may recognize the orchestral sample that drives the song – it's a sped-up version of Sergei Prokofiev's "Montagues and Capulets" from his ballet Romeo and Juliet. Williams' album, The Heavy Entertainment Show, will come out on November 4.
---
Dick York (1928-1992) Stars In Enola Fall's New Video
Tasmanian band Enola Fall are working on a new album for next spring, but in the meantime they've released a single called "Closer," which has the sound of the 1980s New Romantics – anthemic keyboards, big choruses, and a certain longing in the lyrics. And now, it has a video that stars Dick York, who was best known as Darrin on the hit 1960s TV series Bewitched. Directed by Neil Triffett, the video is built from clips of five instructional films made for American schools in the 1950s – probably, the director says, York's first on-screen performances (he's in three of the five). Some neat editing of bits from a film about making friends with a film about insomnia sees a young Dick York thinking about the boy who invited him to sit with a group of friends. "The scene was purely about making friends (homosexuality wouldn't have been in the minds of the filmmakers)," Triffett said in a press release, "but there was such a complex series of looks that the scene turned into something quite different." It matches the song beautifully, especially in its poignant, questioning chorus: "But could it go on, if there was something between us?"
---
RIP Sir Neville Marriner
English conductor Sir Neville Marriner died on Sunday; he was 92. I did not grow up with classical music at home, but when I began to listen to it in college, Marriner and his chamber orchestra, The Academy of St Martin-In-The-Fields, seemed to be on half of the albums I heard. I know this sounds like an exaggeration, but it's not much of one: it turns out that Marriner and ASMIF made more recordings together than any other combination of conductor and orchestra – more than 600. Some were best-sellers: Vivaldi's Four Seasons, and the Amadeus soundtrack. But the ones that meant the most to me were his recordings of English music – Benjamin Britten, Peter Warlock, George Butterworth, and above all, Ralph Vaughan Williams. The music, the LP covers, they all spoke to me of "England's green and pleasant land," which I had not yet visited but which existed in my imagination as a kind of modern-day Shire from Tolkien's Lord of the Rings.
On a trip to London, in the early 90s, I decided I wanted to see the Church of St Martin-in-the-Fields, the church that served as the Academy's home and from which it took its name. It turned out that this pastoral-sounding place was right across from The National Gallery, off Trafalgar Square. The church was a mid-size building on a busy corner, with traffic going by in front and a large driveway that led to the church courtyard, both full of street fair booths and people wandering among vendors sellilng food and clothing while reggae blared from speakers overhead. It was kind of great in its way, this complete upending of my expectations. But it did not stop me from being transported by Marriner and his ensemble to that idyllic English countryside that the band's name always suggested. Here is one of my favorite recordings by them – Vaughan Williams' The Lark Ascending.