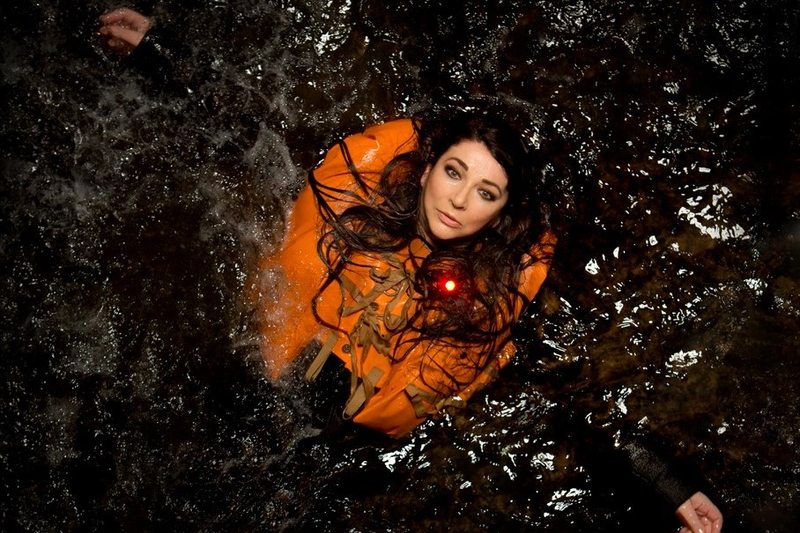 Week of Nov. 28: This week, a dream of sheep, exploding color, and a noir-ish "mystery girl."
---
Kate Bush Releases Triple Live Album – Her Way

Since bursting on the scene in the late 70s while still a teenager, Kate Bush has pursued her career without regard for what was expected – especially what was expected of a young, attractive, female singer.  Shunning the usual album/tour/publicity cycle, she retreated into the studio to painstakingly create a series of artful rock albums that drew on world music, classical orchestration, Bulgarian folk singing, and anything else that struck her fancy. For 35 years, apart from an occasional guest appearance on special events, she did not appear live. So when, in 2014, she did a series of concerts in London, it was a major news event. The reviews were rapturous, and those of us who didn't get to make the trip began wondering when we would have a chance to hear her live. Now, that day has come, with the release of Before The Dawn, a triple-CD or 4-LP document of the musical portion of what was a multimedia extravaganza.  Happily (and unsurprisingly) the songs stand up quite nicely on their own. Typically, Bush has again decided to do things her way: no DVD, no Spotify or other digital streaming release, and, with just a few exceptions, no single tracks for digital purchase. The two you can find in this country are "Dream Of Sheep," for which Kate Bush made a video that brought on a case of hypothermia; and "King Of The Mountain," originally from her 2005 comeback album Aerial, which expanded the already lush orchestration of the album version into an 8-minute workout that sounds like it gave everyone in the enormous backing band a chance to jump in. That song is only available to hear online in a BBC 6 broadcast from last month; the "Dream of Sheep" video is here.
---
Sigur Ros's New Song Celebrates Planet Earth, Vol. 2

The Icelandic band Sigur Ros, whose grand, sweeping music has come to define the term "post rock," have released a new version of the song "Hoppipolla," originally from their 2005 album Takk.  "Hoppipolla – Planet Earth II Mix" was created for the forthcoming release of the BBC TV series Planet Earth II, presented by David Attenborough. At just over four minutes in length, it is not one of Sigur Ros's epic works; but in the steady build-up of sound, with Jonsi's eerie vocals soaring over a sound that becomes genuinely orchestral by the end, it neatly encapsulates the band's aesthetic. The series comes to BBC America at the end of January, but you can see a trailer, with this song as its soundtrack, now.
---
Alexandra Savior, Portland's Mystery Girl

Alexandra Savior is only 21, but she has already attracted considerable attention within the music biz – her first album, Belladonna Of Sadness, is due in April from Columbia Records; producer extraordinaire T. Bone Burnett put her song "Risk" in the HBO series True Detective; and Alex Turner, former frontman of the hugely successful British rock band Arctic Monkeys, has been writing songs with her. They co-wrote "Mystery Girl," which has just been released with a video that plays up the noir-ish qualities of the song (dig that stinging, 60s spy show guitar playing, and the quick nod to the Billy Holiday standard "Don't Explain"), and which will appear on the forthcoming debut.
---
How Did They Do That? OK Go Does It Again


Ever since their famous video for "Here It Goes Again," or as you may know it, "the treadmill video," OK Go have occupied a strange place in the musical cosmos – they make smart, catchy indie pop, and then threaten to overshadow the songs with inventive, often hard-to-believe videos, usually done in a single, continuous take. These are reliably popular – "Here It Goes Again" drew well over 50 million views, which for a 2006 video by an obscure band helped define what we call a "viral video." (It was then removed, but when re-posted, drew another 30 million views.) So the question becomes, what do you do next?  Well the band's new track, "The One Moment," is a fairly typical OK Go song – uplifting and optimistic, urging us to seize the day, or at least this one moment; but the video begins with a 4-second burst of exploding color that is then slowed down and synced to the song. The resulting video has some extraordinary but very subtle tricks – perhaps none better than the flip-book style photographs of lead singer Damian Kulash which turns out to be lip-syncing the lyrics. So again, you're left wondering how they did it. For those of you who like to peek behind the curtains to see how the magician did that, OK Go has released a video that explains how they created their latest exploding, messy, joyful video. 

This video, by the way, also supports the Morton Salt campaign called Walk Her Walk, which aims to support organizations bringing music and the arts to students, finding ways to cope with the global water crisis, and helping refugee adolescent girls.