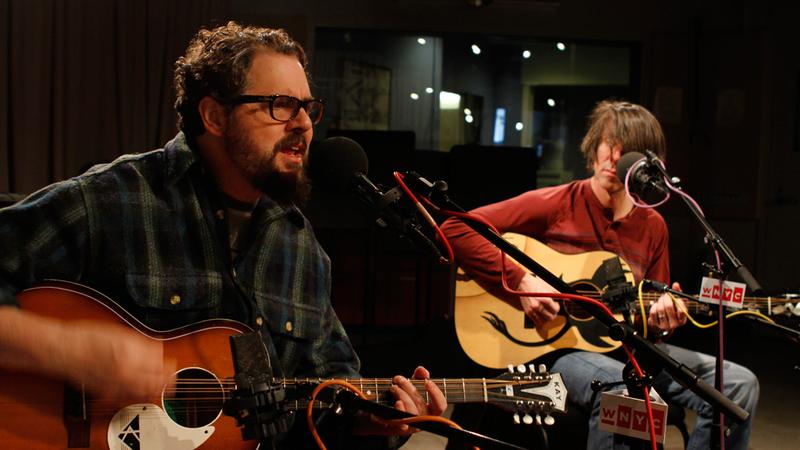 Week of November 14: This week, new songs written before the election acquire different levels of meaning after it. 
---
A Tribe Called Quest Returns To Say Goodbye - And To Call Out Trump?  
A Tribe Called Quest was one of the leaders of the great 90s alternative hip hop movement.  But they did not survive the 90s as a group, releasing their last record in 1998.  So Friday's release of a new album was both a welcome return, and a bittersweet farewell, given the death earlier this year of rapper Phife Dawg.  The band's remaining rapper, Q-Tip, has announced that the album, called We Got It From Here…Thank You 4 Your Service, would be the group's last.  The album was unfinished at the time of Phife's death in March, but was in good enough shape that the rest of the band (and an A-list group of guests) could finish it and truly think of it as a Quest album.  That means thoughtful, sly, provocative rapping over beats that transform into ear-burrowing hooks – and, in the case of the song "We The People," an almost prescient look at post-election America.  There's no way Q-Tip and Phife Dawg would have known how last Tuesday would go, but the satire at the end of this song is almost eerie: "all you black folks you must go/all you Mexicans you must go," and "Muslims and gays/boy we hate your ways."
---
Drive-By Truckers – The Conscience Of Southern Rock


"No More White Silence," reads one of the signs being held aloft by a protester in a shot from the new Drive-By Truckers video.  In the week since the election, that might sound like the rallying cry of some Trump supporters, but in this case, the poster is part of a Black Lives Matter rally.  It goes by in an instant, but crystallizes what DBT have done with their probing and unflinching (and rockin') album American Band.  The Southern rockers have taken on the state of race relations and gun violence in many of the album's tracks – most notably in the single "What It Means," the subject of an earlier Weekly Roundup.  But their driving and defiant song "Surrender Under Protest" also picks at the scabs that have formed over the wounds of racism.  Lance Bangs directed the video, which – and this was no coincidence – was released on Election Day. It is both a portrait of working class America and of an American band that has risen to the occasion to become truly worthy of that name. 

Drive-By Truckers will play at Webster Hall in NY on February 11, 2017. 
---
An Old Message Still Rings True: Don't Give Up The Fight


Today, the London-based duo called Sshh released a benefit album called Issues, full of covers of groundbreaking rock and reggae songs.  Each cover includes guest musicians from the original band (including members of the Sex Pistols, Blondie, et. al.); but the album is largely built around the sounds of Australian-born vocalist Sshh Liguz (aka Sharna Liguz) and English guitarist Zak Starkey (aka Ringo Starr's son).  Starkey is best known not as a guitarist but as a drummer, for Oasis and even more importantly for The Who in the years after the death of that band's original drummer, and Zak's godfather, Keith Moon.  Reggae legends Bob Marley and Peter Tosh co-wrote "Get Up Stand Up," and the guests here include Eddie Vedder of Pearl Jam on backing vocals, Santa Davis of Marley's band on drums, and Fully Fullwood of Peter Tosh's band on bass.  It may not be the best track on the album (check out their cover of The Big Pink song "Dominos," for one), but its message – "get up, stand up, stand up for your rights; get up, stand up, don't give up the fight" – now four decades old, will resonate with many Americans this week. 

The album, Issues, benefits Teen Cancer America (US) and Teenage Cancer Trust (UK).
---
Gord Downie's Final Album Shines A Light On A Dark Moment  
The Tragically Hip is a Canadian institution; it's strange that the band's enormous popularity north of the border hasn't really translated to listeners here in the States but their lead singer, Gord Downie, attracted a bit of attention this summer when he led the band on a final tour while revealing he had terminal brain cancer.  On Friday, Downie, who is now in declining health, released his solo album Secret Path, a remarkable multimedia project that includes a graphic novel and an animated film.  Secret Path tells the grim, tragic story of 12-year old Chanie Wenjack, who was one of thousands of Native Canadians taken from their families and sent to government-funded, church-based schools where they were supposed to be forcibly Westernized.  Chanie escaped and died while trying to walk the 400 miles back to his family.  The whole "residential school" program was hidden from the public until the 1990s, and Downie's album is an attempt at recognition and reconciliation.  "The Stranger" is the first song and opening chapter in the Chanie Wenjack story.
---
Dedekind Cut's New Song Is Spacey, Soothing, And Free
Ever have one of those days where stuff goes wrong – like, let's say you were at the racetrack, and you had bet on one horse who you were sure was gonna win and everyone else agreed she was gonna win and her only competition was just a big ol' horse's ass, not even a real horse, except somehow that horse's ass won and you were left feeling stunned and hollow?  And you just want some music that will take you away from it all?  Well the New York-based experimental electronic artist now known as Dedekind Cut has released some music that creates its own space, and sometimes its own alphabet.  Dedekind Cut is the work of Fred Welton Warmsley, who has also recorded under the name Lee Bannon.  Blending new age/ambient and noise, Warmsley has released an album called $uccessor, the B-side of which just came out on his Wikipedia page, where you could download the five tracks for free. I like this one, called "☯," which I imagine is pronounced "yin-yang."  This is music meant to soothe, something that can easily become grating, but Dedekind Cut also draws inspiration from such NY "downtown" heroes as Laurie Anderson and Steve Reich, so his music has a grounded quality to it as well.  (He's also selling $uccessor yoga mats on his bandcamp page.)