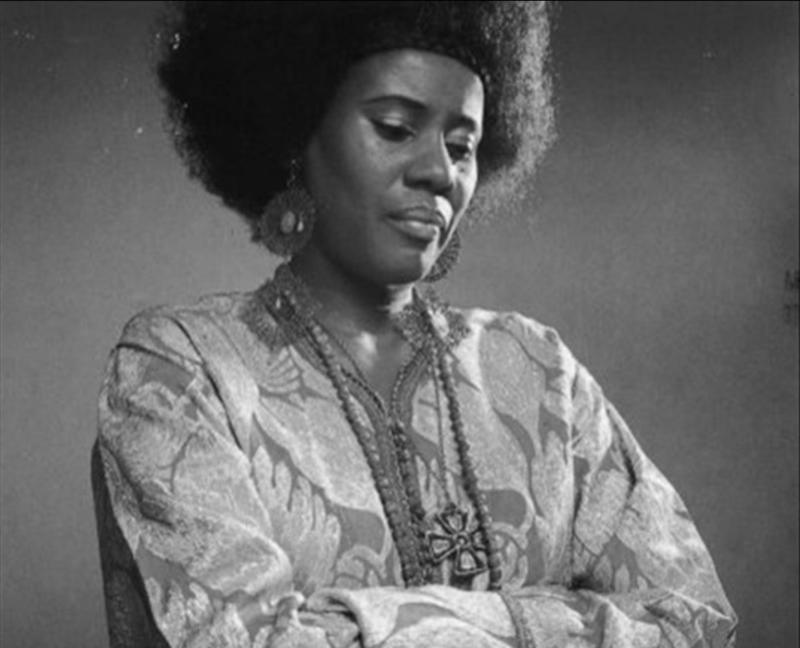 Week of March 6: This week, finding the lost music of Alice Coltrane, rediscovering Lorde, and checking in with Matisyahu. 
---
The Cross-Cultural Spiritualism of Alice Coltrane
John Coltrane was one of the true legends of jazz – a virtuoso sax player but also a seeker, whose later music (A Love Supreme, for example) represented a spiritual journey. Alice Coltrane shared that musical quest with her husband, and as a fine pianist and harpist (a rarity in the jazz world), she had her own distinctive musical voice. After John's death, she released a number of her own albums, whose titles reflected her deepening interest in ancient Sanskrit scriptures and spiritual practice. Eventually, she took the name Turiyasangitananda, occasionally referring to herself as Turiya Alice Coltrane. Between 1982 and 1995 she recorded a series of cassettes, largely unheard outside the ashram she founded in California, that featured a remarkable music born from her Detroit gospel roots and her love of the sacred chants of Hinduism. Many of them featured Alice Coltrane playing the organ, sometimes with synthesizers and often with her disciples singing and clapping along. Some are rollicking and effusive, some are contemplative and lovely. Now, a compilation of that material is being prepared for release, on May 5. A single track, "Om Shanti," is available now – it starts as a solo chant over organ, but watch what happens near the two-minute mark, when the other voices join in: the song's character doesn't change – the song doesn't increase tempo or drop into a rhythmic groove; but those voices, chanting a Sanskrit text, are right out of the Gospel tradition. 
The full album will be called World Spirituality Classics, Volume 1: The Ecstatic Music of Alice Coltrane Turiyasangitananda.
---
Lorde Offers A Bit Of Melodrama

Probably the biggest music news of the past week was the release of Lorde's new single, "Green Light," which serves as an introduction to the New Zealander's sophomore album, due this summer. Pure Heroine, her debut, went triple platinum – reaching sales figures that seem to be the exclusive purview of mononymic female singers (Adele, Beyonce) these days. Most impressive was the way she did it: on her own terms, despite being all of 16 years old at the time. And rather than rush into a second album, she took her time, did other projects (curating the soundtrack for the last Hunger Games film, for example), and has now returned with a new single and video, both of which begin with Lorde sans makeup, getting all up in our faces and launching into a chorus full of empowerment and gospel singing and pulsing piano.  Is it a little melodramatic? Yeah, but she's 20, so she's allowed. Plus the video slyly undercuts the melodrama with knowing touches, like the poor driver waiting for her to finish dancing on the roof of the car. And that new album, due later this year? It's called Melodrama. 
---
Matisyahu Premieres First Single From New Album
Matisyahu's music has always been a highly personal blend of roots-reggae, rap, Jewish mysticism, and indie rock. It's an unlikely mix, but it works; Matisyahu fans are legion. Late last year he put out an EP called Release The Bound, and did a memorable performance of a couple of those tracks on his most recent appearance on Soundcheck. Now he's giving us a first glimpse at what will be his next album, due sometime later this year. The song is called "Step Out Into the Light," and it features Matis both singing and rapping, with lyrics that are deeply personal and outwardly directed. "Hit the ground running/hit the town humming/ancient melodies come back to me now," he raps, "stop and ask the question/like Nachman/I lose the vision…" It's not often you hear a rapper reference Rebbe Nachman of Breslav, one of the central figures in the rise of Hassidic Judaism. This kind of internal searching is a hallmark of Matisyahu's recent work; but in the second half of the song (which is almost 8 minutes long), the music reaches up and out, with a rich choir of horns supporting Matis's voice as he sings the ultimately affirmative line that gives the song its name. 
---
Mark Lanegan Reveals Lead Single From His Next Album
Even when he was fronting the foundational grunge band Screaming Trees, or spending over a decade with Queens Of The Stone Age, singer/guitarist Mark Lanegan was releasing solo material. He's now at the point where his own records are the main attraction. And Gargoyle, due on April 28, is quite possibly his best work yet. The album is full of brilliant, dark, richly textured rock. There are hooks everywhere, although you don't always notice them until you find yourself humming the tunes after the songs end. The lead single is "Beehive," whose deadpan psychedelia is sneakily addictive. But Gargoyle will, I think, be one of those albums where fans all have their favorite deep cuts. (You can also check out "Nocturne," which was released last month.)
---
Juana Molina's Trance-y New Song
Argentina's Juana Molina has always tried to combine the modern and the traditional in her songs, using South American rhythms and instruments even as she's looping her guitars or surrounding her voice with electronics. Her most recent appearance on Soundcheck was a 2014 live event in The Greene Space, but she's been busy since then. She'll release her new album, Halo, on May 5, and has just unveiled the first single, called "Cosoco." It is a trance/dance number – something Molina has done to good, if eerie, effect with past songs like "Eras" – and seems to be built around a 7-beat rhythm borrowed from the Afro-Brazilian tradition of capoeira. The first part of the song evokes the buzzy sound of the berimbau, the archery-bow-shaped instrument associated with that martial art form. Like most trance music traditions, it accumulates sounds as it goes along, including multiple layers of Molina's soft crooning voice, to create a psychedelic effect that's both old and new. 
---
Chamber Pop From NJ's Stolen Jars
Stolen Jars is an indie band from Montclair, NJ. Led by singer and songwriter Cody Fitzgerald, they make music that might recall the quirkiness of Dirty Projectors, or the expansive sonic palette of Sufjan Stevens. They will release their next EP, Glint, on April 7, and it will include this song called "Eliot," named for the poet T.S. Eliot. It's a bittersweet tune, with stuttering drums, a prominent marimba, and an instrumental break that consists of a trumpet playing over interlocking flutes. Yes, all the usual trappings of an indie rock band are here, and the first half of the song reminds me of the '00s Bay Area band Our Lady of the Highway, but the inventive arrangement takes it to an unexpected place.
A quarter of the sales of the EP will go to the Sylvia Rivera Law Project, which protects transgender rights. The band plays at The Silent Barn on March 10 and at Alphaville on release day, April 7.