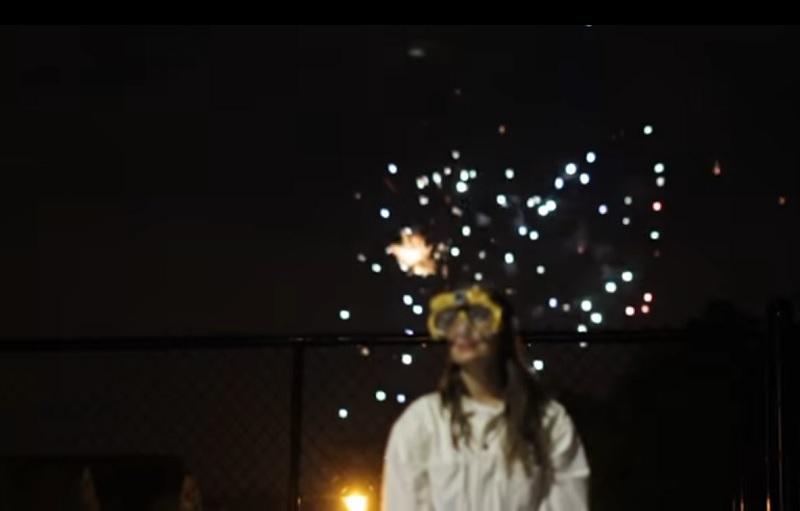 Week of Jan. 9: This week, the new year kicks into gear with new songs from The Shins, Dirty Projectors, and the late David Bowie.
---
An Unexpected Transmission From Major Tom
Sunday would've been David Bowie's 70th birthday; it was on his birthday in 2013 that he surprised the music world by releasing a single and announcing his first album in a decade, The Next Day.  It was on his birthday last year that he released his final album, Blackstar. (He died two days later.) So Bowie fans wondering if anything would materialize on his birthday this year were rewarded with the release of an EP, consisting of songs he wrote for the musical Lazarus but which he recorded while making Blackstar. It was not a secret that Bowie had recorded the Lazarus songs himself, but aside from the title track, which is on Blackstar, we haven't had a chance to hear them. Bowie's team also released a simple but affecting video for his recording of the song "No Plan," which is full of references that will amuse Bowie fans. (The video focuses on the storefront of "Newton Electrical" – Thomas Newton was the character Bowie played in the film The Man Who Fell To Earth, and who is the central character in Lazarus.) 
---
The Shins Offer First Glimpse At New Album
James Mercer, the singer and songwriter behind The Shins, has been a busy guy. His duo with super-producer Danger Mouse, Broken Bells, has been occupying a fair amount of his time; but last time he was in our studio, he did say that there was more to come from The Shins. Now the band has announced that their new album of Mercer-penned (and largely Mercer-produced) songs will be out on March 10. It's called Heartworms, and the first single, "Name For You," sounds like it might have been a missing track from one of the later Beatles albums. The song is aimed at Mercer's own daughters, telling them to find their own way in the world and to ignore the old-fashioned names and expectations placed on young women. 
The Shins will be playing at Celebrate Brooklyn in Prospect Park on June 15. 
---
Dirty Projectors Offer Glimpse At… A New Album?
Unlike the Shins' James Mercer, David Longstreth, the man behind the band Dirty Projectors, is not quite ready to commit to a new album release. But he's been working away at something… In September we got a new song called "Keep Your Name," and now he's released "Little Bubble," as both a single track and a video. The song is a strange hybrid (aren't they all) - a kind of progressive/experimental R&B with all sort of squiggly electronics around the edges and a melancholy chamber ensemble very much in the middle. It's a reminder that Longstreth hasn't confined himself to the outer limits of pop, but has done some classical composing as well (three piece for the Bang On A Can All-Stars). Meanwhile, the song and video offer multiple suggestions about what our "little bubble" might have been – a relationship, or our planet. 
---
Rooting For London Grammar
We fell in love with the English trio known as London Grammar back in 2013, when they released their debut album If You Wait, and played a memorable live set in our studio. But since then, we haven't heard any new material from them… until now. Tweeting "new year, new music," the band released a new song called "Rooting For You." The melody almost sounds like an old folk tune; and the band's affinity for trip-hop rhythms is conspicuously absent here. The focus is on Hannah Reid's vocals, especially because the band also released a live video performance in which Reid sings unaccompanied for the first half of the song. Then, when guitarist Dan Rothman and keyboardist Dot Major finally join in, they are accompanied by a chamber orchestra. It's a simple but stunning performance.  
---
Jenny Hval Asks, Naked or Nude? (NSFW)
Edouard Manet's famous painting Le Dejeuner sur l'herbe (Luncheon on the Grass) caused a scandal in 19th century Paris because, while the image of a female nude was a cornerstone of the visual arts, the sight of a female nude seated on the grass with two fully clothed men was rather more provocative. One critic claimed the woman was not nude – she was naked. I don't think Norwegian singer Jenny Hval had this painting in mind when she wrote her song "The Great Undressing," but it sure seems as if the director of her new video for the song was thinking along similar lines. That director, Marie Kristiansen, wrote, "I was intrigued by what would happen if you watched a naked woman totally ignorant about her own nudity going about a normal day. Would she be perceived as a sexual object? Or would her nakedness and femininity become something ordinary and natural?" The song is an uncommonly pretty one for Hval, whose songs usually tackle subjects of sexuality and sexism in discomfiting and unsettling ways. Watch the video (probably not at work or around the kids), and then go see the film Toni Erdmann, a slow-moving, beautifully-acted, hilarious indictment of – well, many things. It too has a pivotal (but deeply comic) scene that explores this same idea. 
---
Joan Of Arc's "Two-Toothed Troll" Is Allegedly A "Light" Song


First of all, I love the title of Joan Of Arc's forthcoming album (their first in five years): He's Got The Whole This Land Is Your Land In His Hands. The mashup of two old feel-good singalong song titles ends up sounding kinda sardonic and off-kilter. Just like the Chicago band's new song, called "Two-Toothed Troll."  It sports some Kraftwerk-style computer sounds but also some very wobbly and wayward electronics.  Lead singer Melina Ausikaitis stars in the video, which is itself charmingly off-kilter, and the band's founder and only permanent member, Tim Kinsella, writes that this song is "the light counterpoint to a much darker song made from a few of the same elements." Can't wait to hear what that tune sounds like. 
Joan of Arc will be playing Terminal 5 on January 28 with their brother band American Football (literally – it's Mike Kinsella's group), and headlining on January 29 at Mercury Lounge.