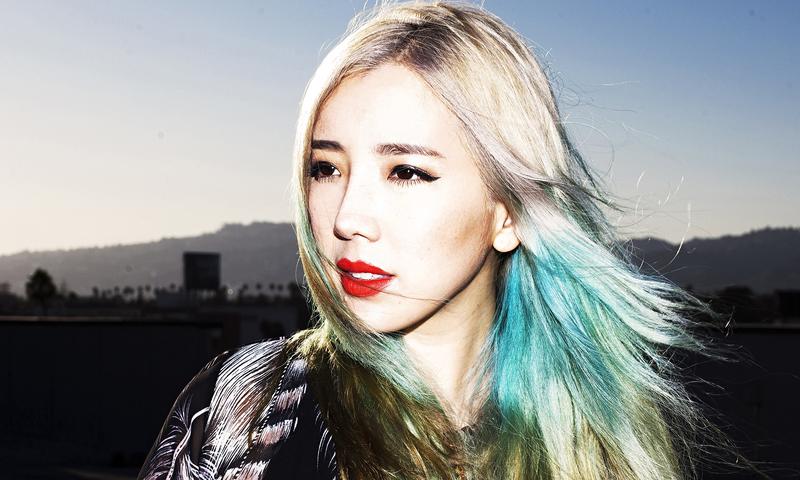 Week of June 20: Turns out Beyonce is right – girls do run the world. With songs from Yemen, Holland, Japan, Portland, and Austin.
---
PREMIERE: Kelley McRae's Musical Journey


This week we unveil a new video for the song "Land of the Noonday Sun," from Kelley McRae's latest album The Wayside. Click the image above to view the video. In 2011, McRae loaded up her stuff – including her guitar-playing husband Matt Castelein – into a van and left New York to essentially do a mini-version of Bob Dylan's Never-Ending Tour. They crossed the US, playing music fulltime before eventually settling in Austin. The Wayside is a collection of tales from the road, redolent of the big sky, the big country, and the open road. "After having lived in our VW van touring the US for two years," Kelley tells us, "Matt and I found a cabin in the Nantahala Forest in North Carolina. We would walk along the Little Tennessee River near our cabin and it was those walks that inspired the song." The title, "Land of the Noonday Sun," is the English translation of the Nantahala Forest's Cherokee name.

The song features McRae and Castelein playing guitars and singing (the video suggests Castelein is playing a dobro, a metal-clad guitar). No synth patches, no programmed beats, not even a rhythm section. The video, fittingly, is simplicity itself, letting the song's imagery of travel, loneliness, and the idea of "home" carry the storytelling weight. (Kelley also admits that while it was "one of the most beautiful places I have experienced, it was also the coldest I've ever been in my life!")
---
Girls Run The World – And The Air Above It, Apparently


The Dutch musician known as Amber Arcades (Annelotte de Graaf, to use her given name) released her debut album Fading Lines recently, and just announced an autumn tour of the States that will bring her to the Music Hall of Williamsburg on September 17. The album is full of dreamy vocals and ethereal, chiming guitars – which may suggest an artist who is a bit of a space cadet. But in fact, Annelotte has worked as a legal aid on a UN war crime tribunal and currently works with Syrian refugees, so she is at least as earthbound as any of us. Perhaps that's why she was so eager to leave the earth in this beautiful and startling video for the title track, "Fading Lines." I can only describe what she's doing in the middle of the video as dancing – on air. And spare a thought for the cameraman while you're at it…
---
TOKiMONSTA Destroys LA


OK, so maybe the dark, animated world of desolate mountains and heaving seas in TOKiMONSTA's new video isn't a post-apocalyptic LA. But Jennifer Lee – DJ, producer, and I'm guessing unrepentant Pokemon fan – is certainly helping to destroy some stereotypes. Because one part of the music world that girls don't run is the production end. While there are some very fine women producers, starting perhaps with Imogen Heap, the top rung of DJ/Producers remains a boys' club. So for a woman, an Asian-American woman, to be creating her own space in that world is a welcome sign. TOKiMONSTA's latest video is for the song "Wound Up," featuring the Toronto-based singer allie. It's from her latest album called Fovere, and it reminds me of some of Moby's more downtempo stuff – a floating, ambient opening, and then the entrance of allie's voice over a chilled dance groove. So chill and watch the pretty pictures. Then maybe check out the hip hop end of her work, in the elegant single "Put It Down" that she did with the rapidly rising rapper Anderson .Paak earlier this year.

TOKiMONSTA will play the Panorama Festival on Randall's Island here in NY on July 23.
---
Mitski Makes Waves Too



Mitski Miyawaki is not wholly Japanese, nor is she wholly American. And that state of "betweenness" occupies much of her brilliant new album, Puberty 2, which came out on Friday. "I'm not happy or sad, just up or down," Mitski (she doesn't use her last name) sings at one point. On another track, she welcomes Happiness, only to find him a disappointingly onerous house guest. And on this song, "Fireworks," she sings "one morning this sadness will fossilize, and I will forget how to cry." But make no mistake - Mitski does not deal in half-measures. Her songs are fully committed blasts of Pixies-style rock, or sardonic observations of modern communication (and the lack thereof), or unblinking looks at depression. On an album that oscillates wildly between wall-of-sound guitars ("Your Best American Girl") and unsettling ballads ("A Burning Hill"), "Fireworks" occupies, perhaps appropriately, a place in between.
---
A-Wa's Modern Update On An Ancient Tradition


The three sisters who make up the Israeli band A-Wa represent the distinct and ancient lineage of the Yemeni Jews. It is thought that the cantillation – the chanting of the Psalms – of the Yemeni Jews is the oldest such tradition in the world, and their songs – love songs, lullabies, prayers, story songs – are sung in an Arabic dialect not found elsewhere. (A-Wa, pronounced "Ay-wah," is Arabic for "yeah.") This may all sound way too esoteric to ever cross over into the world of pop music, but it's been done before: the great Israeli singer Ofra Haza, who died in 2000 at the age of 42, brought the songs of the Yemeni Jews to a wide Western audience. She worked with Thomas Dolby, Iggy Pop, Paula Abdul and many others, and her version of a 17th century Hebrew song, "Im Nin Alu," would be sampled by Eric B & Rakim, Nas, and Snoop Dogg, among others. So there is a precedent for what A-Wa does. Their album, Habib Galbi, comes on the heels of a well-received video for the title track, and suggests that dance rhythms are not just universal – they're timeless. For this album, the sisters Tair, Liron and Tagel Haim teamed up with producer Tomer Yosef, who is also of Yemeni Jewish extraction but whose main claim to fame is that he is part of the band called Balkan Beat Box, which provided the signature riff on Jason Derulo's mega-hit "Talk Dirty." Yosef sets the trio's voices against several different types of rhythms. The song "Zangabila" features call and response vocals, some classic ululations just over two minutes in, and a funky organ/percussion section that marries an old desert rhythm to modern dance beats.
---
Summer Cannibals Continue Legacy of Feminist Punk


The Portland band Summer Cannibals, led by singer/guitarist Jessica Boudreaux, have just released a video for their song "Say My Name," from their latest album called Full Of It. The band is signed to Kill Rock Stars, the label that brought you such legendary feminist punk bands as Bikini Kill and Sleater-Kinney, in addition to token males like Elliott Smith and The Decemberists. Nothing too complicated here: Summer Cannibals offer full-throttle, hook-laden punk, with a message of personal empowerment leavened by a sense of fun. Watch the simple, purposeful, playful video and you'll get the idea.