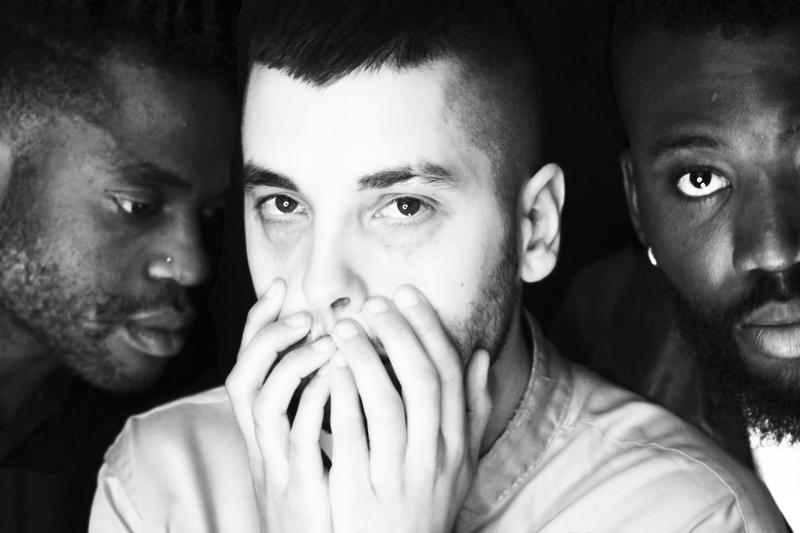 Week of Jan. 30: This week, the British are coming, again. Plus Syd shows off her "Body."
---
You Don't Have To Be Sherlock Holmes To Enjoy elbow's New Video
But you do have to be a fan of classic mid-80s videos to get what English band elbow (small e) are up to with "Gentle Storm." Okay, so I've raved about this Manchester-based group in these roundups before, but I promise this will be the last time. I also promise to build a wall around the roundups and make elbow pay for it. Anyway, their new video for "Gentle Storm," from their new album Little Fictions (out on Friday), is essentially a remake of the 1985 video from Godley & Crème's "Cry." elbow frontman Guy Garvey asked Kevin Godley to do the same technique of a dissolving series of faces for this new song – using a different set of faces, of course, including Garvey's own. (Godley & Creme were original members of the band 10CC and became famous as video directors in the 80s, doing Herbie Hancock's "Rockit," numerous Police videos, and many more.) I believe you might actually spot Godley in there too, and you will certainly recognize one of Garvey's friends, a guy named Benedict Cumberbatch, in his first on-camera role since the new series of Sherlock finished up. 
---
British Sea Power Rises Again
Another terrific British band is returning soon. British Sea Power used churning, melodic guitars to great effect in their 2003 debut, The Decline Of British Sea Power, and were nominated for the prestigious Mercury Prize for their 2008 album Do You Like Rock Music?. (They lost to elbow.) They've since become known for songs with unusual subject matter (birds, obscure bits of history, landscapes) and continue in that vein on the forthcoming LP Let The Dancers Inherit The Party (out March 31), their first since 2013.  The songs tackle media manipulation, the space station, and whatever is going on in this first single "Bad Bohemians." The video gives us the lyrics, but it certainly does little to explain them. The band are fans of the 20th century German artist Kurt Schwitters, best known for elevating collage to high art although he also created an important piece of sound-art, the Ursonate, which Brian Eno notably sampled in his album Before and After Science. The video for "Bad Bohemians" seems to be a collage of lyric video, dancing gifs, and stray bits of other video stuff, done as a tribute to Schwitters, who also inspired the album's cover art typography (an example of which starts this video). 
---
Young Fathers Release First Track From Trainspotting 2
The Scottish alternative/hip hop trio Young Fathers are also Mercury Prize winners, and are all over the soundtrack for Danny Boyle's long-awaited sequel to his 90s cult film Trainspotting (as mentioned in a previous roundup). Boyle released a statement saying, "their songs are my heartbeat for the film." For their part, Young Fathers released a statement and a song; the track is "Only God Knows," and the accompanying statement on their Bandcamp page explains that they visited the set of the film in Edinburgh, armed with a demo of this song.  Thus inspired, they finished it and included the Leith Congregational Choir, because "there's nothing like singing with your aunties." As for the song itself, it's a typically hard-driving, clear-eyed, quick-changing mashup of gospel, punk and rap that will have you looking for the next barricade to man.  You may also be looking for the film, which came out on Friday in the UK; but it doesn't reach these shores until March 17.
---
Syd (Tha Kyd) Releases Subtly Steamy New Track


The singer/producer Syd has quite a resume for a 24-year old. She first came to attention as Syd Tha Kyd, the female member of the hip hop collective Odd Future. Then she founded The Internet – the band, not the, you now, series of tubes – releasing three albums and getting a Grammy nomination for the last one, Ego Death. Her new solo album, Fin, comes out on Friday, and Syd has just released the track "Body," which is a minimalist, spare, slowly pulsing come-on. Predictably, a girl singing seductively to another girl has excited the internet trolls (yes, the series-of-tubes internet), as you can see in some of the comments for this track; but for the rest of us, "Body" offers some steamy heat in the dead of winter. 
---
Becca Stevens Finds New Lyricist: Shakespeare


As a vocalist, Becca Stevens has become a sought-after figure in the community of musicians who've been tagged as "indie classical" – musicians who live in the worlds of contemporary classical music and indie rock.  As a songwriter, she makes music that finds itself in a shadowy place between art rock and jazz, with an occasional hint of folk balladry.  Her new album, due on March 24, will be called Regina, a title that originally grew out of her study of Queen Elizabeth I and which expanded to include other queens. And the first song from the album, called "Queen Mab," takes its text from Shakespeare's Romeo And Juliet.  In that play, Mercutio is teasing Romeo with the tale of the fairy queen, Mab.  There is a lightness in his language, but an underlying darkness in his meaning – that dreams are unreliable and mysterious.  Fittingly, Becca Stevens' voice floats over a stomping but shifty rhythm.  She doesn't sing the entire tale, but (in the style of an old folk ballad) returns at the end to a repeat of the opening lines; and she makes a repeating chorus out of the lines "The cover of the wings of grasshoppers/her traces of the smallest spider's web/her collars of the moonshine's watery beams."  Comparisons to Kate Bush might be facile, but they're also inevitable with a song that sounds as lush and loopy as this.