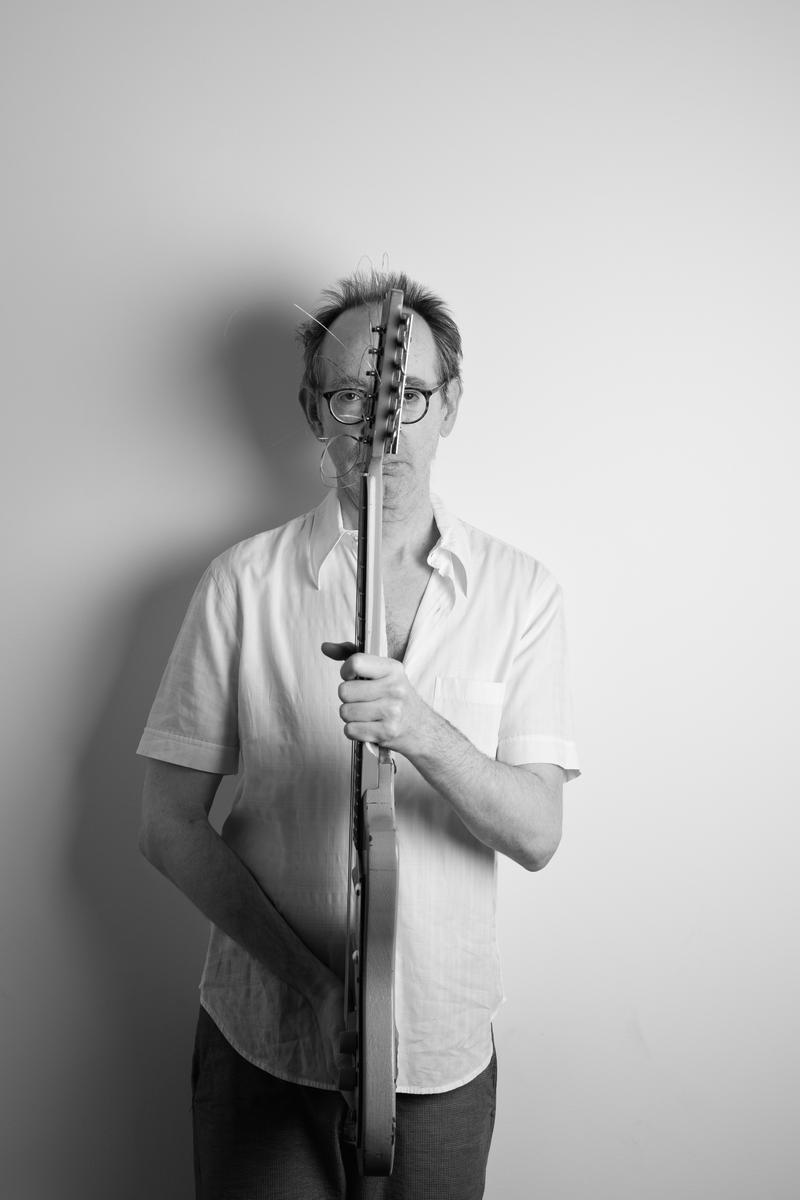 Week of Feb. 27: This week, Visions of Paradise, Fred Armisen Saves The Day (Sort Of), and A World Premiere From a "Downtown" Stalwart.
---
PREMIERE: A Trip to Downtown Brazil, From Arto Lindsay
Arto Lindsay has long inhabited two musical worlds – I first heard him as a restlessly inventive guitarist whose skronky, noisy guitar interjections to songs by Laurie Anderson, David Byrne, Tom Waits, and his own band The Golden Palominos seemed to define him as a "downtown" New York musician.  But Arto was raised in Brazil, just as the revolutionary Tropicalia movement was taking hold, and he has also written songs that feature a more languorous, samba-based approach to guitar, with his own soft, sensuous vocals.  On April 21, Arto will release his first new LP in over a decade; it'll be called Cuidado Madame ("Careful, Madam"), and it deftly weaves together both sides of his artistry. There will be plenty of English songs on the album, but the one that caught my ear is "Ilha Dos Prazeres," or "Island of Pleasures." The song announces itself with a bang – actually, a series of bangs on various samba drums, which set up an irresistible pulse… except that the piano does in fact appear to be resisting, playing its sharp little stabbing chords. Floating implacably over all of this are Arto Lindsay's vocals, sung in a style that may recall the great Caetano Veloso (which whom he has also worked). The pot is stirred further by some of Arto's signature electric guitar noises, very sparingly deployed. The overall effect is of several songs being played at once, and all somehow finding a way to work together.
---
ANOHNI's Vision(s) Of Paradise
ANOHNI's voice has always been an androgynous wonder. When she was still recording as Antony of Antony & The Johnsons, she made no secret of her love of Nina Simone's similarly gender-blind voice.  After several Antony & The Johnsons records that dealt with transition and transformation, she became ANOHNI with last year's well-received album Hopelessness. And she received a notable nomination at the annual Brit Awards, in the Best Female Vocalist category, which reflects well on both ANOHNI and the Brit Awards. Now, she is preparing to release a companion EP called Paradise, and if the title track is any indication, ANOHNI is still mining the rich but dark vein of songwriting we heard in Hopelessness. (Some of the lyrical material clearly calls back to that LP.) The song rides a beat that initially recalls Phil Collins' "In the Air Tonight," with eerie wisps of electronics, but builds to an anthemic, dance-y climax as layers of ANOHNI's voice are added. The video for "Paradise" stars the painter and model Eliza Douglas, who also traffics in androgyny – one of her works is called "I Will Be Your Mother Father" – and who appears superimposed on different images that might suggest paradise. That can include pastoral nature scenes, or at the very end, archival footage from New York's famous old nightclub, the Paradise Garage.
The EP is due on March 17.
---
Got 7 Minutes?  Old 97s Will Give You a Comedy Routine AND A Song
The Old 97s, led by singer/songwriter Rhett Miller, have been at the forefront of the alt-country movement for over 20 years. Their new album, Graveyard Whistling, came out on Friday and features the single "Good with God," co-written with Brandi Carlile. The song is worth checking out on its own for its hard-charging momentum and its clever wordplay ("all's I know is I'm good with God/I wonder how She feels about me"), but when time came to make a live video of the song, the band's drummer couldn't make it. So they drafted Fred Armisen (Portlandia, Saturday Night Live, etc) to sit in. The video is a sendup of music/interview shows (specifically MTV's 120 Minutes) starring Jenna Fischer (The Office), and while the two comedians improvise their way through the scene, Rhett and the boys gamely keep up until they're finally freed to play the damn song already. 

---
Angelique Kidjo Will Perform Talking Heads' Remain In Light

Three-time Grammy winner Angelique Kidjo is a riveting live performer, so as well-received as her albums have been, there is nothing like being in the same room when she takes the stage.  She has lived for many years here in New York, but she is never far from her roots in the West African nation of Benin.  Now, she has come up with an extraordinary project that combines one of her favorite New York bands with the rhythms of West Africa: she is performing the groundbreaking Talking Heads album Remain In Light in its entirety at Carnegie Hall of May 5. (Kidjo and Talking Heads singer/songwriter David Byrne have worked together before, and appeared together on Soundcheck.) Remain In Light was the result of David Byrne and producer Brian Eno looking to the music of the Nigerian bandleader Fela Kuti for inspiration, so Kidjo's new arrangement will, in her words, complete the circle: "As Remain In Light was influenced by the music of my continent, I want to pay back the homage and create my own African take on Talking Heads songs."


"Special surprise guests" have been promised as well. Further live performances will follow, including at the Bonnaroo Festival in June, and a recording will be announced later.  No music available yet, but to get a glimpse of the power and the invention of Angelique Kidjo's rock covers, check out this live performance from 1999 of Jimi Hendrix's "Voodoo Chile."  Ticket info is here.
---
Saltland's Common, But Inconvenient, Truth

Saltland is the work of Montreal cellist/vocalist/composer Rebecca Foon, who has deep ties to that city's vibrant contemporary classical and indie rock scenes. I was a fan of her first album under the Saltland name, the curiously-titled I Thought It Was Us But It Was All Of Us. Now, she's about to release a new album called A Common Truth, and while the term "concept album" is out of fashion, this Saltland effort is about something – in this case, climate change. Working with Nick Cave's right hand man Warren Ellis, who provides pump organ, violin, and loops, and backing vocalist Ian Ilavsky, Foon has released a track called "Light of Mercy" which is somehow both warm and sad. A surprising amount of the sonic landscape is created by the cello, often looped and processed; and the lyrics, which could easily have devolved into something hectoring, are impressionistic and poignant. 
The album is due on March 31.