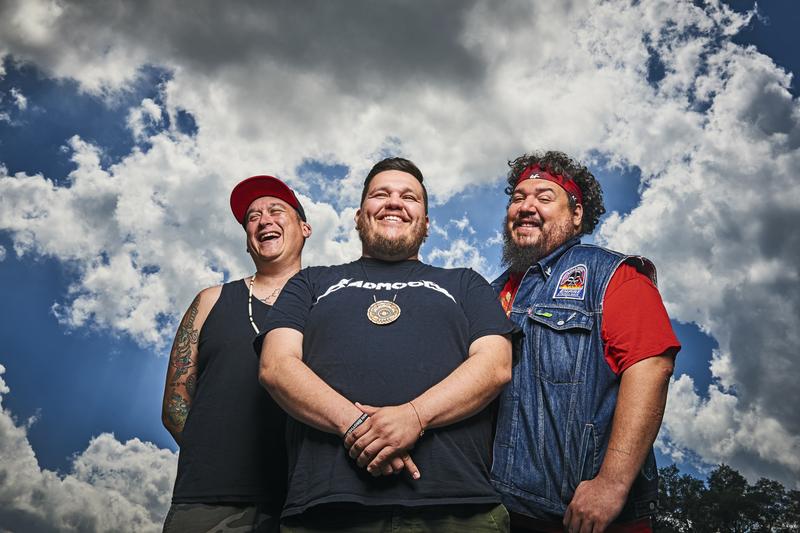 Week of Dec. 5: This week, songs that celebrate women's voices, North America's First Nations, and an alternative to "Hamilton."
---
Canadian Album of the Year: A Tribe Called Red
The Canadian DJ/producer trio known as A Tribe Called Red has never hidden its influences: the chant and drumming of their own Native American (or First Nations, to use their preferred term)heritage; the rhythms and hypnotic momentum of EDM; and the socially conscious rap of Mos Def, Common, and of course A Tribe Called Quest.  So their album We Are The Halluci Nation featured a gathering of musical tribes that would have raised eyebrows anywhere else, but made perfect sense here. Yasiin Bey (the former Mos Def), Inuk throat singer Tanya Tagaq, the Chippewa Travelers (an indigenous drum band), and poet/rapper/actor Saul Williams all make appearances.  Now the CBC, the Canadian Broadcasting Corporation, has named the band's release the best album of 2016. In making the announcement, the CBC wrote "We Are The Halluci Nation challenges a history of cultural genocide in the most urgent political statement in music this year." To get an idea of what the band is about, check out this song and video: "R.E.D." features Yasiin Bey rapping over the throaty cries of First Nations chant and a thumping, electric guitar-based rhythm. 
---
London's Deep Throat Choir Is Very Okay
In a church in East London, a choir gathers each week.  They gather not to sing hymns, but to write or arrange songs for a specific combination of sounds: female voices, including untrained ones, and drums.  The group, founded by Luisa Gerstein of the band Totally Enormous Extinct Dinosaurs, is called Deep Throat Choir, and their debut album, Be OK, comes out on February 17. It is essentially a celebration of women's voices, and of the power of a group of voices raised together.  Their album will include arrangements of songs by Amy Winehouse, house music pioneer MK, and more.  There will also be several original songs, including the title track (which has some subtle instrumentation – a keyboard-bass, by the sound of it), which the group has just released as a single. With its refrain "I'll be OK if you carry me, it carries me," "Be OK" seems like a statement of intent as well as a catchy tune.
---
Hip hop + Musical + History = ?  (No, it's not what you're thinking)


Forget Hamilton (you're not getting in anyway); rap's next Off-Broadway target is Shakespeare.  The musician/actor/rappers known as the Q Brothers have created Othello The Remix, and the biggest remix is in turning Shakespeare's dark and depressing tragedy into a comedy.  Like Hamilton, it sounds like the kind of project that could easily be a mess.  I mean, just really awful.  But a fine review in the Times made me look twice, and then I saw the group's trailer.  That sealed the deal.  Watch and enjoy, but yo, don't cut in front of me on the ticket line. 
---
The Orwells' Double-Length "Double Feature"
The members of the Orwells are just old enough to be in college, but they're already indie-rock veterans.  You may know their song "Who Needs You," an infectious piece of garage rock which was used in an Apple ad back in 2014. They're releasing their new album, Terrible Human Beings, on February 17, but yesterday they unveiled that album's closer, an epic, 7-minutes-plus song called "Double Feature."  One early line seems to shout out to a musical influence: "shoulda been a doctor or a lawyer/shoulda never listened to Destroyer," a reference to the solo project of New Pornographers songwriter Dan Bejar.  But it's the darker, post-punk sound of bands like Interpol that seems to animate this ambitious track.
---
Lush, ambient soundscapes from Bing & Ruth


Pianist and composer David Moore started the band Bing & Ruth in 2006 to play his post-minimalist compositions.  At first the band was eleven members strong, but they pared down to seven for 2014's haunted album Tomorrow Was The Golden Age.  Now, Moore is preparing to release the third Bing & Ruth album, calledNo Home Of The Mind (yet another album scheduled for February 17).  This time, the band is only five people, with Moore's piano aided by some unusually subtle woodwinds and bass, as well as tape delays.  The effect is strikingly electronic, given that it's all acoustic.  Moore has even started doing some solo performances of this music.  But don't let any of this give you the wrong impression: the sound is, if anything, fuller and more sweeping than ever.  The new album is on the 4AD label, the alternative rock label that brought us The Cocteau Twins in the 1980s.  That group's collaboration with composer and Eno-associate Harold Budd may be the closest predecessor  Bing & Ruth has in the musical landscape today.  Speaking of landscapes, this hazy video offers a first listen to the new album's opening track, "Starwood Choker."