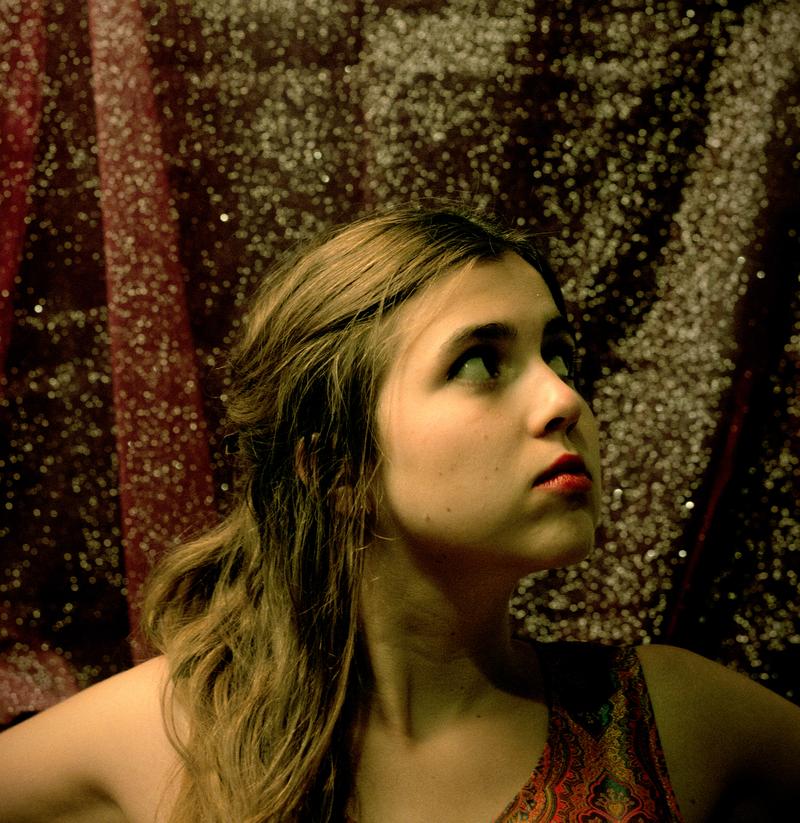 Week of October 24: This week, Saharan blues, a Cinematic single, and two premieres – both covers.
---
SONG PREMIERE: Nouvelle Vague Covers A Punk Classic
Since 2004, the band Nouvelle Vague has been offering listeners a cool, elegant take on 1980s new wave hits.  (Nouvelle vague is French for "new wave," and the band's default style is bossa nova – Portuguese for "new wave.")  Songs by New Order, XTC, Echo And The Bunnymen, and Depeche Mode have all been recast as Gallic or tropical lounge standards, often to great effect.  Now the band is preparing to release its first album of new material since 2010, and it will include some original songs as well as covers of tunes by The Ramones, Brian Eno, The Cure, and one of the early punk classics, "Love Comes In Spurts," by Richard Hell and the Voidoids.  Hell's original was a wonderfully angular, shambolic piece of work, built around a cheeky title that was just this side of juvenile.  Since I was in high school at the time, that kinda worked for me.  Now, Nouvelle Vague offers a smooth, grown-up version of the song that may prompt a grin even from people who've never heard the original.
The album, I Could Be Happy, comes out on November 4.   
---
VIDEO PREMIERE: Dom La Nena's New Video – "Scenic World"
Brazilian-born, Argentine-trained, French-based cellist and singer Dom La Nena recently released her second album, called Soyo.  Her own songs tend to have a cosmopolitan sound – you'd be hard pressed to identify her songs as specifically South American or European, for example.  Now, she's released an EP of favorite cover songs, called Cantando.  And today, we premiere the charming video for her version of "Scenic World," a song originally from Beirut's first album, The Gulag Orkestar.

In Beirut's songwriter Zach Condon, Dom La Nena has found a kindred spirit – the original version of the song is full of echoes of Central European and Balkan brass music, even though it was made in New Mexico.  But Dom, who fell in love with the record as an 18-year old newly transplanted to Paris, heard something else: "I don't know why but I always found Brazilian influences within the song 'Scenic World,' almost like a little Samba."  The arrangement is simplicity itself: a few layers of cello and some basic hand percussion.  And the video is equally simple – just a series of gif-style shots of Dom, including some absolutely appropriate moments where she dances across a mosaic map of the world. 
---
From the Western Sahara, A Hypnotic Song and Video by Tinariwen
Over the past decade, the band Tinariwen has been one of the most popular groups on the so-called World Music scene.  Made up of Tuareg musicians (or Tamashek, as they refer to themselves) who once trained to be armed rebels but who took up electric guitars instead, Tinariwen's music is often referred to as "desert blues," and is built around a loping rhythm that's often compared to a camel's gait.  That comparison has not been lost on the animator/director Axel Digoix, who has done the video for a new single by the band.  Although the album, Elwan (Elephants), doesn't come out until February, the band has released this hypnotic song and its quietly beautiful video this week.  The song is called "Tenere Taqqal," meaning "what has become of the desert?" 
---
Jenn Wassner Meets The Mighty Thor
Guitarist/singer Jenn Wassner is best known as half of the Maryland group Wye Oak, whose 2011 album Civilian remains a touchstone for indie rock fans… and for Walking Dead fans, thanks to the title track being used in an early trailer for that series.  (But check out "Holy Holy" from the same record – also a great song.)  Wassner has recently released a solo album under the name Flock Of Dimes, and while passing through Austin, Texas, she decided to perform a version of one of the album's tracks, "Ida Glow," in the home of drummer Thor Harris.  Thor, who has appeared in our studio with Shearwater, is also the drummer for veteran rockers Swans and many others.  And he seems to have enough percussion in his home to go around – by the end of the song three people are striking some kind of drum or mallet instrument, including Wassner herself.  The performance has an appealing, spontaneous quality, and Wassner seems genuinely pumped when it ends. Her album, If You See Me, Say Yes, is out now; Flock Of Dimes plays Rough Trade in Brooklyn on November 2. 
---
The Cinematic Orchestra's New Single Is, Um, Cinematic
"To Believe" is the latest from The Cinematic Orchestra, a mostly UK-based group led by pianist/songwriter Jason Swinscoe.  Their records between 1999 and 2012 touched on jazz, electronica, and a Coldplay-like orchestral pop; their name was in no way coincidental – in fact, we've presented them here in New York playing their score to the silent film Man With A Movie Camera in the past.  But the band hasn't been heard from since 2012, when a busy year produced their heartrending hit "To Build A Home."  Now, they've teamed up with the rising young LA singer Moses Sumney to produce this new single.  Like "To Build A Home," it starts slow, and builds to both a sonic and emotional climax.  It's a classic Cinematic Orchestra song, and the group is touring Europe this Fall, all of which will raise expectations among the band's fans that a new full-length is finally on the way…