Music Hub
Weekly Music Roundup: Peter, Bjorn, Bon, and Frank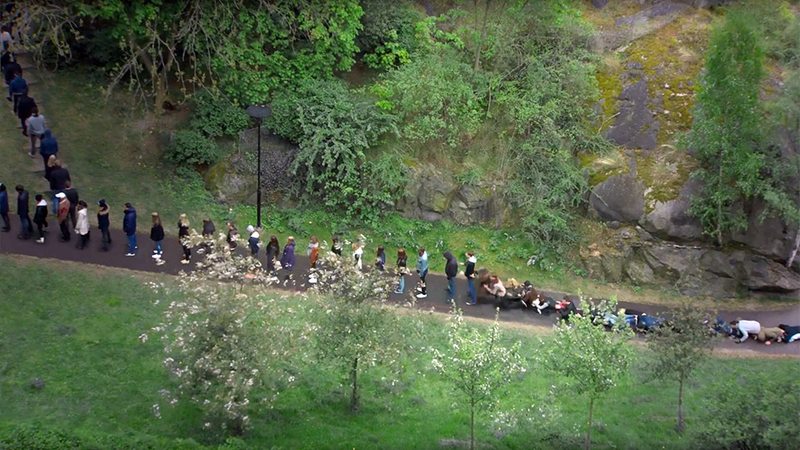 Week of August 22: This week, Frank Ocean's flood of music, Bon Iver's two-fisted return, and a human domino game from Sweden.
---
Frank Ocean's New Single Is OK For The Workplace; The Video, Not So Much


So, when we last looked in on the mercurial R&B singer Frank Ocean, he was busy not putting out his second album, which we were told would be called Boys Don't Cry. And which we were told would be out on August 5. His website then implied that the album would be put off until November. But in the past few days, Ocean has flooded the marketplace—or at least Apple Music's corner of the marketplace—with no fewer than three projects, released in rapid succession. The 45-minute video called Endless sees Ocean building a spiral staircase while we hear what appears to be a mixtape of new songs—but not the songs that we'd been promised.  Then came the song "Nikes," with an arty but probably NSFW video. Finally, on Saturday, we got the new album, with a new title. It's called Blond. Or Blonde—the record is exclusive to Apple Music right now and they're spelling it with an E, even though it doesn't appear on the album cover that way.
Like the man himself, the album is hard to pin down: it has moments of straightahead soul or R&B, but if it's not a hip hop album, it is at least hip hop-adjacent. Guests include Kanye West, Kendrick Lamar, and Beyonce, and there are samples from indie rock (Elliott Smith), art rock (David Bowie and Brian Eno), and a fair amount of pitch-shifting of Frank's voice, making him sound like Darth Vader or Alvin from The Chipmunks. Given the quality of Ocean's voice, this seems like a strange decision, but when you finally hear his unaltered voice in "Nikes," halfway through the song, it comes as a welcome sonic surprise. "Nikes," it turns out, is the new album's leadoff track, and currently the only one you can hear if you don't have an Apple Music subscription. Or you can send the kids from the room and watch the video here:


---
Bon Iver Returns As Well
It's been four years since Frank Ocean's last record—it's been five since Justin Vernon, recording as Bon Iver, released his last effort. And while the buildup to the new Bon Iver album hasn't been as frenzied, it will still attract a fair amount of attention when it comes out on September 30. The album is called 22, A Million, and there are numbers in the title of each song. Two have just been released: the first is the album's opener, "22 (OVER S∞∞N) [Bob Moose Extended Cab Version]," which isn't all that extended at 3:22. It too starts with a bit of pitch-shifted vocals, then quickly gives you Justin Vernon as you loved him back in 2007, when that first album, For Emma, Forever Ago, put his brand of willowy, pensive indie folk on the world stage. But there's a jittery, anxious electronic underpinning to the song that suggests this Bon Iver has moved to new sonic pastures. That suspicion proves to be well-founded in the second single, also the second track on the album, called "10 d E A T h b R E a s T ⚄ ⚄ (Extended Version)." The unusual stylization of the title, the fact that the extended version isn't even three minutes long, and above all, the dark, distorted industrial sound of the song, all point to a challenging and perhaps controversial album. Predictably, reactions from old Bon Iver fans on the Youtube page for this song have been wildly mixed, although if you listened to any of Justin Vernon's work with Kanye West, especially on the Yeezus album, it shouldn't be that big a surprise. It does make me look forward to September 30, though…
---
Hey Confused Bon Iver Fans, Try Former Belle
The Philadelphia band called Former Belle makes an unfussy, heartfelt kind of folk that might prove to be just the thing if you're one of the Bon Iver fans scared off by the first two singles of that forthcoming album. Former Belle just released an animated, apparently handmade video for their song "Beautiful One," from their most recent album called Foreign Bed (hence the "foreign boat" in the video). Both the video and the song, in their separate but simple ways, are about finding some comfort amid the hardships and frights of the world. 
---
Watch Peter Bjorn and John's Improbable Human Domino Game
The Swedish trio Peter Bjorn and John will probably never live down the whistling in their song "Young Folks"—an earworm if there ever was one. But the three, who all pursue solo careers, have continued to work together to cheery effect, and this week they released a video for their song "Dominos" that takes the title literally, as long lines of patient Swedes get knocked over, on sidewalks, up and down stairs, and if one particularly dubious shot is to be believed, out of a high apartment window. The first half of the video is played in reverse, which is cute, but the real fun begins when you actually watch the human dominos fall. A shot on a Stockholm train was apparently not staged, if the startled reaction of the guy in the background three minutes in is any indication…