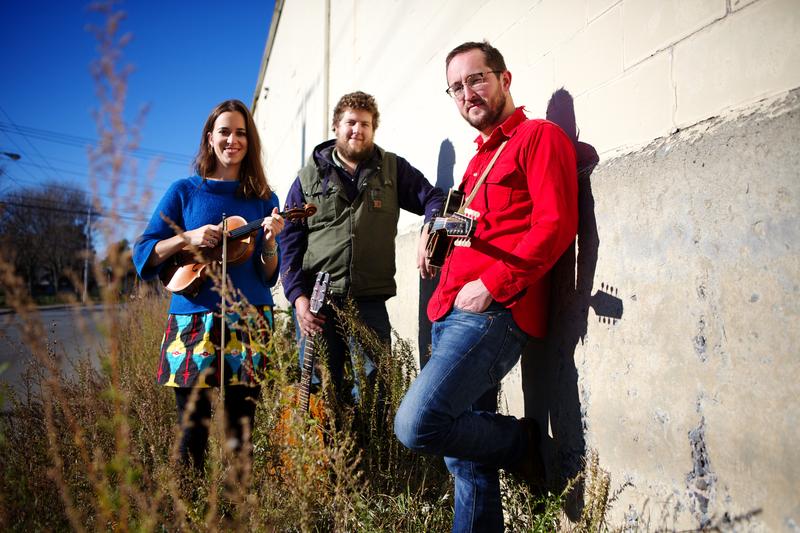 Week of August 15: This week, a presidential playlist, a hip hop anachronism, and a rootsy world premiere. 
---
PREMIERE: Nick Drake Covered By Bluegrass Mandolinist Joe K. Walsh
Singer and mandolin wiz Joe K. Walsh is pretty busy these days – he's part of the band Mr Sun with our old friend Darol Anger (formerly of the Turtle Island String Quartet); and his solo album, Borderland, comes out on September 9. It'll feature fiddler Brittany Haas, who you may know from her work with Americana hero Dave Rawlings. But before that happens, Walsh, Haas, and guitarist Owen Marshall are releasing an EP together. And before that happens, they're giving us a chance to preview the opening track of that EP. It's a lovely, rootsy take on Nick Drake's "From The Morning." Drake's original was so close to the sound of the English folk revival of the late 60s/early 70s that Walsh's twangy vocals and bluegrass-y arrangement don't seem at all alien to the song. The EP is due "in a week or so," we're told; this is the only cover the trio recorded, and to quote from Drake's lyrics, "it was beautiful."
---
Nas And Michael Kiwanuka Collaborate On Song For The Get Down
The Baz Luhrmann-directed series The Get Down, about the rise of hip hop in the Bronx in 1977, premiered on Netflix on Friday, and so did its soundtrack. Initial reviews of the series have been mixed, but there is no doubting the bona fides of the people working on it. Grandmaster Flash and Kurtis Blow are listed as Associate Producers, and DJ Kool Herc, Afrika Bambaataa, and Rahiem were all consultants. These are most of the important figures in the early years of hip hop, and that's before we even mention Nas, one of the central figures in rap's last two decades, who served as Executive Producer, and sings on a couple of songs on the soundtrack. The soundtrack, like the series, walks a tightrope between doing it right and spoiling the broth with too many cooks. A good example might be the song "Black Man in A White World (Ghetto Gettysburg Address)," a remix of sorts of the title track of Michael Kiwanuka's impressive album from this year. It's a little distracting to hear this 2016 song in a 1977 context, but Nas, delivering the lines as Mr. Books, one of the main characters of the show, is in fine form. The song was produced by the ubiquitous Danger Mouse and Inflo… and then "re-produced/remixed" by Emilie Haynie and Jamieson Shaw. I have no idea what that last part even means. My advice: enjoy the sausage and don't worry about how it was made.
---
A Storm Brews In Slothrust's New Song
The trio called Slothrust (I'm gonna guess you say "slow thrust" as opposed to suggesting that a sloth has rusted somewhere) has released a song from their forthcoming album called Everyone Else. "Horseshoe Crab" is full of watery imagery (as is the accompanying video), and includes the line from which the album title comes. "I don't have anything in common with myself," vocalist/guitarist Leah Wellbaum sings, "except that I came from the sea, like everyone else did." The song seems to be an oblique look at mental illness, and its suggestion that "under water it gets better" is more than a little unsettling. The song itself begins quietly enough, but unleashes its stormy seas midway through; the effect that this shoegaze-style wall of sound has on the lyrics, which are otherwise unchanged, is quite remarkable.
---
President Obama's Summer Playlist, 2016 Version
Remember last year, when the White House released a Spotify playlist of President Obama's summer playlist? It was eclectic both in terms of style and era – I was struck by his inclusion of one of my favorite classic rock tracks of the 60s/70s, "Gimme Shelter" by the Rolling Stones, and one of my favorite songs of the past 5 years, "Down Down The Deep River" by Okkervil River. How the hell does he even have time to listen to new albums and new artists, I wondered. Well, POTUS has just released his 2016 summer playlist, and again, there are some great old classics ("Sinnerman" by Nina Simone!) as well as evidence that Obama somehow manages to keep up with a wide range of new music. Courtney Barnett and Leon Bridges are just two recent breakout artists who find a spot on this year's playlist. As with last year, the 2016 edition is divided into a daytime and a nighttime list.

DAYTIME
LoveHate Thing - Wale
Smooth Sailin' - Leon Bridges
Elevator Operator - Courtney Barnett
Home - Edward Sharpe and the Magnetic Zeros
Many the Miles - Sara Bareilles
Tightrope - Janelle Monáe
Classic Man - Jidenna
So Ambitious - Jay Z feat. Pharrell
Me Gustas Tu - Manu Chao
Forever Begins - Common
The Man - Aloe Blacc
As We Enter - Nas & Damian "Jr. Gong" Marley
Sinnerman - Nina Simone
U Got the Look - Prince
Rock Steady - Aretha Franklin
Good Vibrations - Beach Boys
Don't Owe You A Thang - Gary Clark Jr.
Man Like That - Gin Wigmore
II B.S. (edit) - Charles Mingus

NIGHTTIME
If I Have My Way - Chrisette Michele
Espera - Esperanza Spalding
Tell It Like It Is - Aaron Neville
Alright - Ledisi
Trapped By A Thing Called Love - Denise LaSalle
Lady - D'Angelo
So Very Hard to Go - Tower of Power
Midnight Sun - Carmen McCrae
Cucurrucucú ​Paloma - Caetano Veloso
Green Aphrodisiac - Corinne Bailey Rae
I'll Be There for You / You're All I Need - Mary J. Blige / Method Man
Lover Man - Billie Holiday
Criminal - Fiona Apple
Acid Rain - Chance the Rapper
My Funny Valentine - Miles Davis
Do You Feel Me - Anthony Hamilton
I Get Lonely - Janet Jackson
Lean In - Lizz Wright
All Day Music - War
Say Yes - Floetry
---
The White Stripes, Unearthed and Unplugged
Jack White is about to release a two-CD set called Jack White Acoustic Recordings 1998-2016, out on September 9. It'll feature the usual compilation stuff – alternate versions, new mixes and remastered songs, and some unreleased music from White's various bands. One of those unreleased songs is notable, though: it's a White Stripes tune called "City Lights," originally written for the 2005 album Get Behind Me Satan, and then, according to the record label, "forgotten until White revisited [it] for Third Man's Record Store Day 2015 vinyl reissue and finished the recording in 2016. The track is the first new, worldwide commercially released White Stripes song since 2008." The song is fairly simple, in that Delta blues/early Led Zeppelin style that the White Stripes drew from so often and so well. Check out the tasty dual-tracked guitar work that ends the song.