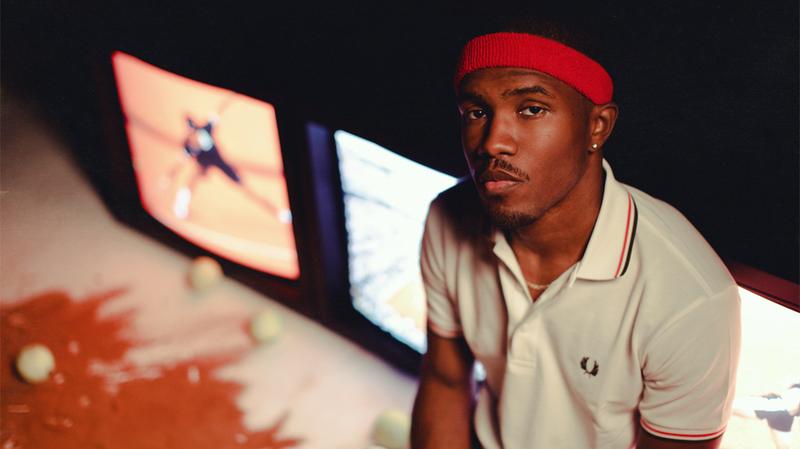 Week of August 8: A powerful protest song, Norah Jones and Regina Spektor reappear, and where the heck is that Frank Ocean record?
---
Frank Ocean Is Way Overdue
The big music news of the past week was the non-release of Frank Ocean's long-delayed second album, called Boys Don't Cry. After his game-changing debut, Channel Orange, in 2012, fans have been clamoring for more, and in July 2015, they were primed to get it. But the album was postponed, and it was expected to be released in July of this year. Last week, Ocean's website began dropping hints that the record was coming, finally, on Friday, August 5. Things seemed settled when the New York Times confirmed the date. But Friday came and went and we have no new Frank Ocean album. And his website now displays one of those old due-date cards that libraries tuck in the back of their books. (Kids, a "library" is like a bookstore where you can borrow the books for free. A "bookstore" was a place where they sold books. A "book" is… oh never mind. Just google it.)
So when is Ocean's new album due? Look at the card – the dates are not in chronological order, but the seventh one down is "November 13, 2016." 
---
Drive-By Truckers' Bruising, Brilliant Protest Song


The essential Southern rock band Drive-By Truckers have released a powerful protest song called "What It Means"; it's a preview of the band's next album, simply called American Band, due on September 30. "What It Means" was written by Patterson Hood, who told Rolling Stone it's "a song I wrote a couple of years ago protesting the Ferguson decision and the Trayvon Martin killing. Unfortunately, the song is still timely today. I hope and pray that one day it won't be." The song is melodically simple—the better to keep the words clear—but it has some nice musical touches, like the gospel-style handclaps at the very end. But to get to the end you have to negotiate some pointed lyrics that wrestle with racial inequality, conscience, and white privilege. The most heartbreaking moment comes at the end of the third verse, about Trayvon Martin, where Hood, writing in rhyming couplets throughout the song, mentions "that guy who killed that kid/down in Florida standing ground" and "some kid who's dead and buried/and laying in the ground," only to finish with a single line, left dangling and un-rhymed: "with a pocket full of Skittles…" That's a poignant image—and very good songwriting.
---
Regina Spektor's Multiform Return


A couple of weeks ago, members of the music press were surprised to find that an email promising a link to a new album by someone named Lisa Griffen actually delivered the next Regina Spektor album. Remember Us To Life will be her first album since 2012's highly acclaimed What We Saw From the Cheap Seats and her first since becoming a mom and a TV composer (Orange Is The New Black). The album doesn't come out until September 30, but the single "Bleeding Heart" is already online. Now, Spektor has released a cover of George Harrison's classic "While My Guitar Gently Weeps," in an arrangement apparently done with the Oscar-winning film composer Dario Marianelli (Atonement) for the 3D animated film Kubo And The Two Strings, which is set in ancient Japan and opens next Friday, August 19. The arrangement ingeniously employs traditional Japanese instruments like the koto (zither) and biwa (lute), which, it turns out, weep as gently, and as musically, as a guitar.
---
Hamilton Leithauser & Rostam's Beautiful New Song


When Soundcheck presented Hamilton Leithauser at BAM in 2014 as part of the annual RadioLoveFest, we knew he'd be bringing his band. Not The Walkmen, the group he has famously fronted for years, but the band he was using for his solo work. We did not know that Rostam Batmanglij, from Vampire Weekend, would show up to play on several of the songs. It was a welcome surprise for us, and, it turns out, a harbinger of good things to come. Rostam, who has apparently taken pity on the multitudes who can't handle his last name, began working with Hamilton, first as producer and then as co-writer, and the resulting album, I Had A Dream That You Were Mine, is due on September 23rd. The new single called "In A Black Out" shows just how keen the duo's ears are: a tremulous acoustic guitar eventually leads to some stunning yet restrained choral backing and some subtly deployed orchestral sounds. It's intimate and expansive at once, and neatly frames the storytelling in Hamilton's lyrics.
---
Norah Jones' New Single Is A Return To Her Roots


There is much to admire about 9-time Grammy winner Norah Jones. But what I like most about her is that after she conquered the world with her debut album Come Away With Me in 2002, she followed her own restless musical instincts into lots of other areas. She's performed on Soundcheck with her all-star roots trio Puss N Boots, and her country cover band The Little Willies; and she did a rock album with super-producer Danger Mouse. On October 7, she releases her sixth solo album, called Day Breaks, and on it, Jones goes "back to my early influences," as she puts it in the press release. We've heard her writing and playing on the guitar a lot over the past decade or so, but the new album, led by the single "Carry On," is a return to both the piano and to her distinctive mix of country and jazz. Jazz legends Wayne Shorter and Dr. Lonnie Smith appear on sax and organ, respectively, on the album; and the single features a simple, sweet music video that complements the feel of the song perfectly.
---
From France, La Femme's Musical Hallucination


French band La Femme will release their new album Mystere (Mystery) on September 2; it is well-named. The band draws on a head-spinning array of sounds, from 60s psychedelia to French pop to Giorgio Moroder-style electronica to woozy post-punk. Singing in French insures they have access to their national broadcasters and further guarantees that they remain almost unknown anywhere else. The album has already spawned a pair of singles, one of which is called "Sphynx," a startling piece of electronic pop that somehow combines the weirdness of the 60s avant-garde with the high-energy new wave of the 80s and the gauzy vocals of 90s trip hop. The video is a sonic acid trip (from what I can gather of the lyrics, it suggests that LSD might be a gateway to knowledge of the ancient Babylonians, Khazars, and of course, the sphinx herself) full of Eastern religious imagery, topless women (well, one topless woman, digitally replicated), and finally, men being spit out of the mouth of a sphinx-like character.