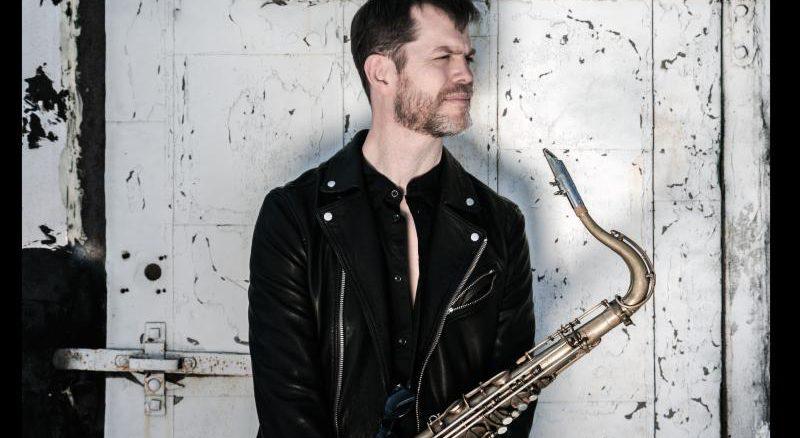 Week of August 1: This week, a Bowie tribute from his last band, a song you won't be able to avoid, and a possible super-group.
---
Bowie's Last Band Pays Tribute To Late Star


The album Blackstar, the brilliant final record by David Bowie, was a collaboration with sax player Donny McCaslin and his band. The experience of working with Bowie apparently had a lasting impact: In the weeks after Bowie's death in January, McCaslin and his band added the Bowie/Eno instrumental "Warszawa" to their live sets. Then they set out to record a new album. Called Beyond Now, it is dedicated to Bowie's memory, and includes two Bowie covers, as well as songs by producer/DJ Deadmau5, the bands Mutemath and Chainsmokers, and some original works. It comes out on October 14, but the first single is out now. It's a cover of Bowie's "A Small Plot Of Land," from his 1995 album with Brian Eno, Outside. Guest vocalist Jeff Taylor gives an appropriately dramatic reading of the lyrics as the McCaslin band offers a propulsive, expansive sound that perfectly fits the song.
McCaslin and Co. will be playing at the Prospect Park bandshell as part of BRIC Celebrate Brooklyn! Festival next Wednesday, August 10, as part of a bill that features a screening of the film Labyrinth, which of course featured Bowie as the Goblin King.
---
No One Sells Records Anymore? No One Told Jason Derulo
Jason Derulo released a Platinum Hits album on Friday, mostly because he could. Thanks to ubiquitous songs like "Talk Dirty," with its irresistible horn sample, Derulo's sound is familiar even to people who don't know his name and don't really keep up with pop music. By this point, the American-born son of Haitian parents has assembled enough platinum-selling singles to put out an album with that title – a real rarity in the music business these days. But the album also includes a new single, called "Kiss the Sky," and like "Talk Dirty," which was built around a Turkish-themed sax clip from the Israeli-American band Balkan Beat Box, it engages in a bit of slightly suggestive wordplay ("I wanna funk you") and, if you listen closely, briefly samples a different kind of world music, in this case the Indian sitar. Again, you won't need to be a Derulo fan to find yourself hearing this song in the coming months – it will be featured in the star-studded animated movie Storks, opening on September 23 and featuring the voices of Key & Peele, Kelsey Grammar, Jennifer Aniston, and Andy Samberg. But you might as well hear it here first…
---
Would You Like To Punch Omar Rodriguez-Lopez? Get In Line
The Puerto Rican-born guitarist and songwriter Omar Rodriguez-Lopez is best-known for his longstanding Texas band The Mars Volta, but since the band broke up in 2012 he's been keeping busy. Or at least, that's how it seemed. Apparently, he wasn't busy enough, because now he's embarked on a plan to release twelve albums in the second half of 2016. That's one every other week, people. The second in the series, Corazones, is available now, and has spawned a jangly, catchy single called "Running Away." Like the song, the video deals with miscommunication and regret – you know, the difficulty of saying "I'm sorry." It's especially difficult when the person you are apologizing to isn't in a place where they want to hear it. And in this video, that describes pretty much everybody (including John Frusciante, ex-Red Hot Chili Peppers) except Omar. Check it out, and remember – there's more, plenty more, where that came from.
---
Jenn Champion's Existential Dread Sounds Great


In a week where fans of The Cure learned that a new memoir about the band was coming soon, Seattle's Jenn Champion has released a single called "No One" which will probably appeal to old unrepentant Cure fans (like me). And perhaps to fans of Jean-Paul Sartre. "No One" begins and ends with the same depressive, Cure-worthy line: "and there's no one, and there's no way out." But the music, with its programmed drums, its flowing electronics, and its ringing guitars, seems to blend '80s new wave with a more recent, lo-fi sensibility, and just a touch of '90s shoegaze. The song is a precursor to an EP, also called No One, that Champion plans to release on August 5.
---
Odd "Supergroup" Pfarmers Release New Single


Pfarmers is a trio comprised of Bryan Devendorf of The National, Danny Seim from Menomena, and Dave Nelson from Sufjan Stevens' band. Whether that pedigree qualifies them for "supergroup" status is a matter of opinion, but if you stop and think that we're talking about a drummer, another drummer, and a horn player, well it doesn't sound so promising, does it? But in fact all three are songwriters and multi-instrumentalists, and the band made an impression with last year's debut, Gunnera. Now, they're about to release their new album, Our Puram, on August 12. The album title refers to the Rajneeshpuram community in Seim's native Oregon, and imagines a follower of the controversial Bhagwan Shree Rajneesh leaving the community alone. The first single, "Red Vermin," is built around a steadily-building core of keyboards (piano, chattering electronics, etc.) and percussion, both live and apparently programmed – until the explosive ending, with a choir of horns riding on waves of crunchy guitar chords.