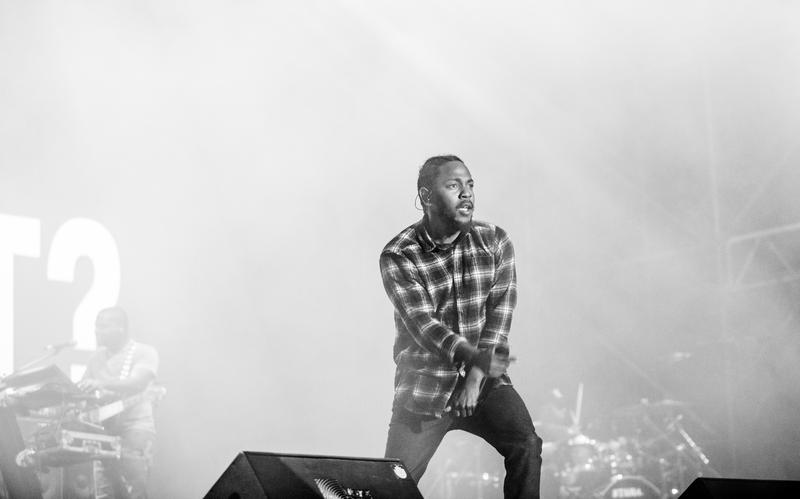 Week of April 17: This week, Kendrick Lamar returns; so do videos in black and white.  
---
Damn, Kendrick Lamar Is Back
Kendrick Lamar's album DAMN. came out on Friday; it's his first record since the groundbreaking 2015 release To Pimp A Butterfly. (Last year's untitled unmastered was a series of unfinished demos.) To Pimp A Butterfly was a wide-angle, epochal statement about America in general and about black America in particular. DAMN. is more narrowly focused – it's tempting to call it a series of interior monologues, except there often seem to be multiple voices going in Lamar's head. But the focus here is on Kendrick Lamar himself, as he wrestles with questions of family, anxiety, community, and perhaps most of all, religion. The line "ain't nobody prayin' for me," or variations on it, appears in at least five of the songs on the album; one track is simply called "GOD." So while this is a more intimate kind of storytelling, Lamar is still talking about big picture stuff.

The guest list here is small (including Bono of U2 and Rihanna, both in unusually restrained form); but the set list is wide-ranging. "PRIDE." is as much a rock song as it is hip hop (and despite the U2-like title, is not the track that Bono is on). "HUMBLE." has the classic sound of gangsta rap that we associate with Lamar's hometown of Compton, and is currently the only song with an official video (full of startling imagery, too). 
"DNA." might be the album's obvious killer track, an urgent, "I contain multitudes" song. But I'm also impressed by "FEEL.", a downtempo song with electric bass played by Thundercat; it seems to contain the beating heart of the album: "I ain't feelin' your presence/Feel like I'ma learn you a lesson/Feel like only me and the music, though."  
---
Watch Natalia Lafourcade's Elegant And Beautiful New Video

The wonderful Mexican singer Natalia Lafourcade has been attracting a bit more attention in the States in recent years, with her YouTube videos routinely topping eight figures and her Latin Grammy totals not so far behind. As she explained when she joined us after the release of Hasta La Raiz, her 2015 album, she has begun mining a deep vein of Latin American folk music – initially as a tool for breaking through writer's block. But even after she began writing again, she has continued to revive and renew some classic older material.  Her new video is a cover of "Que He Sacado Con Quererte," a song by Chile's Violeta Parra, one of the most legendary and tragic figures in Latin American music. The video is simplicity itself: a single camera circles Lafourcade and her unusual ensemble – 4 classical guitars (including the duo Los Macorinos), bass, and percussion – while they perform the song live in an empty theater.  Lafourcade's voice is in great form; listen to how her high notes ring out like a bell. And the arrangement is exquisite. 


The song will appear on her forthcoming album, Musas, due on May 5.
---
Many Shades of Gray: The World of Gracie and Rachel

The gothic-tinged orchestral pop of Gracie and Rachel comes in two colors: black and white. Singer/pianist Gracie Coates and violinist Rachel Ruggles usually dress in white and black, respectively, and their videos – all of them evocative and poetic – are shot in black and white. Of course that restricted color palette allows for a whole universe of grays, and Gracie and Rachel's music inhabits the gray area between art and pop; between classical instrumentation and rock rhythms; between California, where they both grew up, and Brooklyn, where they now live. The duo made a strong impression in 2015 with a live set in our studio, but only now are we getting to hear their self-titled debut album. It comes out on June 23rd, but the single, "Only A Child," is out now, in all its black and white glory. 
---
Alt-J's Extraordinary New Video Is Also In Black And White
The Mercury-Prize-winning band Alt-J will release its third album, Relaxer, on June 2; but they too have gone the black and white route in their brand new video for the album's first single, "3WW." The title stands for the "three worn words" of the lyrics (presumably, "I love you"), and the song itself is reminiscent of some of the early folktronica music of bands like Tunng, with its unhurried programmed percussion and acoustic instrumentation. Ellie Rowsell of Wolf Alice provides vocal support. The whole effect is to make the song hard to place in time, which seems to have inspired the director known as Young Replicant (who, among other great videos, did "Team" for Lorde) in the making of his six and a half minute long movie. Shot in Mexico in beautiful black and white and full of enigmatic, haunting imagery, the video provides not a literal recasting of the song but a poignant counterpoint to it.
---
Bishop Briggs Mixes Old and New On Her Debut EP
For someone who just released her debut EP on Friday, Bishop Briggs has sure wasted little time in establishing her oddly-named self on the music scene. Blessed with a huge voice and a knack for blending the sounds of blues and gospel with modern, often glitchy production, she had a viral hit with her first single, "River," last year, and has already sold out many of her major US tour dates. That includes the Bowery Ballroom here in New York. The EP is self-titled, and includes both "River" and its followup hit, the hip hop-inflected "Wild Horses," but it also gives us a chance to hear new songs, like the rambunctious, gospel-rocker called "The Fire." Watch the lyric video here. Her Bowery Ballroom date on May 9 is sold out; but you might have better luck on May 10 at the Music Hall of Williamsburg.