A Week Before Special Election, Booker and Lonegan Draw Contrasts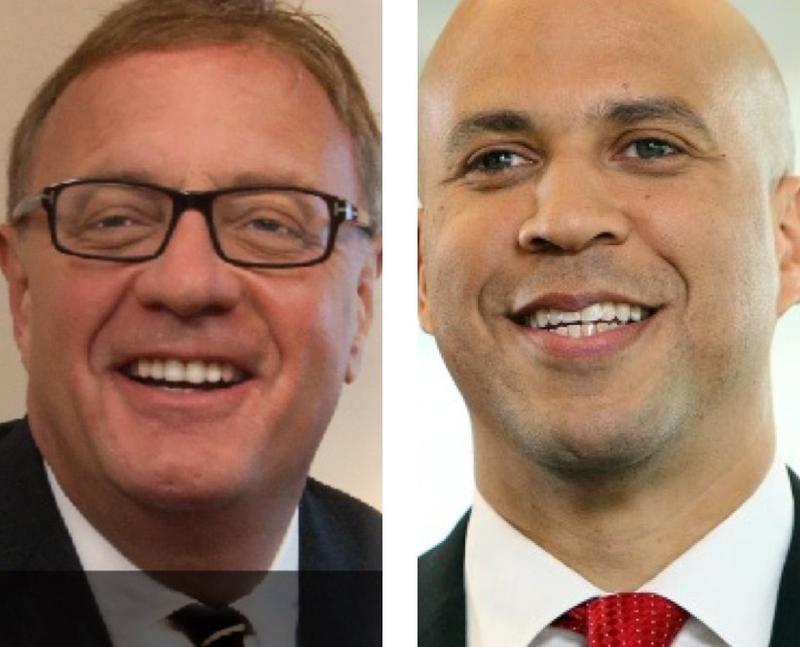 In early polls for the New Jersey Senate race, Democrat Cory Booker led Republican Steve Lonegan by 35 points. And many experts assumed the road to the Senate would be a cakewalk for Newark's celebrity mayor. But with Booker's lead down to 15 and just a week to go, the race is closer than expected -- and heating up. 
Just before the two candidates arrived at a forum hosted by the Jewish Federation of Greater MetroWest NJ in Whippany Monday, a strong storm blew through the area, downing trees and plunging the event in darkness. For Republican candidate Steve Lonegan, it was a perfect opportunity to discuss his origin story.
"I feel like I'm in my environment," he said. "Because I'm blind. For those of you who don't know that, it's not something I usually make a big issue about, but it sort of goes to form much of my belief in government."
Lonegan said he has retinitis pigmentosa, and by the time he graduated from college, he'd lost most of his vision, couldn't get a job, and depended on disability payments. But a Jewish businessman in Union, New Jersey, gave him a chance, a job, and eventually the store. He went on to expand the business and become mayor of Bogota, a small town in Bergen County.
"My roots of my understanding of government are rooted in my belief of individual liberty," he said. "That we need to give individuals the opportunity to grow and prosper that could only come from the private sector. … That government is not the answer to our problems. That government is the problem."
Then Booker took the podium. The Newark mayor has studied the Torah for decades, and knew more Yiddish than many in the audience.
"You give this goy up here great naches," he said.
Emphasizing his relationship to the Jewish community, he talked about the experiences that shaped his outlook
"It's a deep part of my commitment to larger social principles, social justice ideas that we have to all work together. I know my family as an African American has benefited greatly from the incredible activism within the Jewish community. Both indirectly in the Civil Rights Movement and even directly trying to move into the state of New Jersey when we faced incredible housing discrimination," he said.
His view of government stems from that appreciation of partnerships and coalitions, Booker said, which can be a catalyst for solving problems. He contrasted that perspective with the federal shutdown.
"Right now in Washington, we have a reality that is unsustainable, where people can't work together, where we actually have not people coming together around a common table, but a zero-sum game brinkmanship driven in large part by the Tea Party, which has captured the Republican part," he said. 
The shutdown has come to play a central role in both campaigns, showcasing the difference between the two candidates. Unlike Booker, Lonegan said he's opposed to President Obama's health care reforms, specifically, and federal spending, generally.
"I am supportive of doing whatever it takes to put an end to the runaway borrowing, massive spending, the explosion of debt, regulation and rules that are crushing this economy," he said. "If it takes a shutdown, then I will support it."
The two candidates disagree about almost everything. Booker favors gun control, the Affordable Care Act, increased education funding, and improved public transportation. Lonegan wants to eliminate the IRS, abolish the Department of Education, ban abortion, remove all gun control, and privatize social security.  
Political commentators predicted a landslide for Booker against the Tea Party-backed Lonegan in blue state New Jersey. But with his 35-point lead down to 15, Booker says he plans to spend the next week drawing a contrast with his opponent.
"I never expected anything but this was going to be an election that I had to earn and I had to fight every single day to keep pushing forward," Booker said. "And if anything we think we need to continue to do it's to sound the alarm, to ring the bell, to let people know what our opponent really stands for."
"That he wants to end Medicaid and Medicare, that he wants to get rid of social security, that he wants to get rid of the minimum wage," Booker continued. "That he actually believes that abortion should be criminalized even in the case of rape or incest," he said. "Once New Jerseyans find out these issues, even Republicans leave him."
Lewis Schwartz says he certainly hopes so. Like most people at the Jewish Federation event, he said he supports Booker. And he says he's been surprised to see the groundswell for Lonegan.
"I think Booker has run a terrible campaign," he said. "He hasn't gotten his message out. ... You see signs all over the place. But they're for Lonegan. You'd think Lonegan is the big leader."
As for Booker signs, he said he hadn't seen any.
"Have they made them?" he asked.