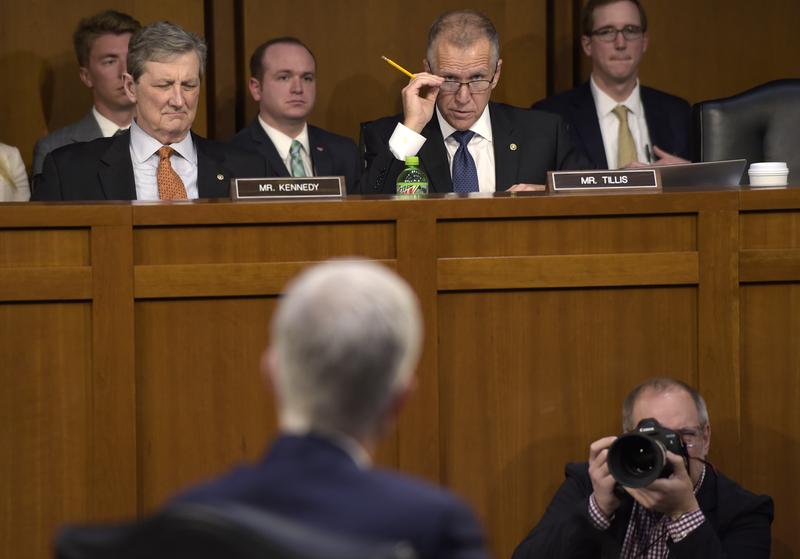 This week on Indivisible we focused on hearings, hearings, and more hearings. On Monday, FBI Director James Comey sat in front of the House Intelligence Committee to answer questions on the Trump administration's ties to Russia. That same day the Senate Judiciary Committee launched four days of testimony from Supreme Court justice nominee Neil Gorsuch.
On Monday hosts Kai Wright and John Prideaux reviewed highlights Comey's testimony. Washington Post reporter Karoun Demirjian weighed in on how the GOP is handling the revelations.
Mark in North Carolina is concerned the FBI's investigations could upend the government:

Host Brian Lehrer turned the conversation on Tuesday to how the hearings are challenging the norms in American politics, security, and justice.
Wednesday's episode looked at whether judges can be impervious to party politics.
Host Charlie Sykes posed the question to our listeners: "Will there be a cloud over Gorsuch because of the way Garland was treated?"
Everything Gorsuch said was an act. He knows the dance that gets him confirmed. He performed the practiced steps, smiling. #IndivisibleRadio

— Dumb as a post (@DumbAsAPost) March 23, 2017
"I blame the Democrats for not making a bigger stink over Merrick Garland. It shouldn't have been politicized." -Robin #IndivisibleRadio

— WNYC 🎙 (@WNYC) March 23, 2017
Thursday ended the week with a discussion on voters who choose to back candidates who are at odds with their interests.
Journalist Sarah Kendzior thinks education is a major dividing factor in our politics, all our overall well-being:
Joshua disagrees. He believes voters are well aware of what interests they prioritize:
And if you haven't checked it out yet, our hosts got together on Tuesday to discuss the state of national politics. Listen to it over at The Brian Lehrer Show. 
Thanks for tuning in this week. Remember you can listen to Indivisible Monday through Thursday at 8pm ET on WNYC and on over 160 public radio stations across the country. You can also subscribe to the show on iTunes or wherever you get your podcasts.