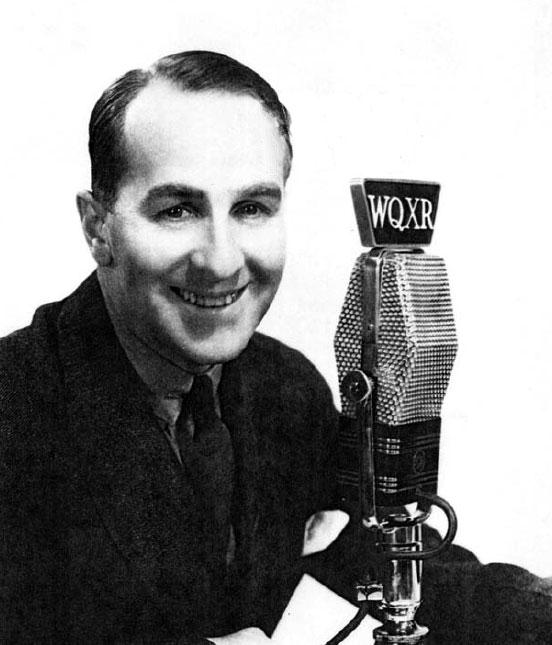 From the May, 1941 WQXR Program Guide:
"My little boy, aged 4, has very definite likes and dislikes in music. He will sit as quiet as a mouse all through Tchaikowsky's Symphony Pathetique..."
Thus opens one of the communications in the ever-increasing fan-mail arriving daily from WQXR's many grateful listeners whose growing ranks, to the deep satisfaction of those of us who are purveyors of music, reflect the rising tide of musical enjoyment in America. The observant mother of the above mentioned youngster requests us to broadcast the compositions to which he is particularly attentive, and she encloses a list that is startling in its maturity of selection. Perhaps her child is a precocious music lover. Perhaps he was exposed to music at such an early age that his capacity for absorbing it is greater than that of many an adult. If the classics are largely responsible for his excellent discipline, as contrasted to the behavior of many a lad whose mind seems devoid of the graces, then by all means let us advocate a radio or phonograph in every cradle. Imagine the possibilities of harmony among the adults of the future!
WQXR's listeners who make themselves articulate to us have more influence in shaping our programs than many non-writing fans realize. Why, WQXR itself resulted from the hunger of the listeners of some half dozen years ago who, hearing a few records in some experimental broadcasts, cried out for more. And their cry was answered. They and those who have since joined their forces often write their approbation or give constructive criticism. Many a rare and beautiful work has been broadcast at the suggestion of a writer. Music lovers have had  more and more opportunity to become acquainted with the music of the masters, and occasionally WQXR has asked them to send in a formal vote for their musical preferences.
Those of us who are responsible for the programs you hear over WQXR realize that the more variety we provide in our musical fare along with the popular favorites, the more pleased listeners will be. We try to keep a balanced program of orchestral, chamber and vocal music, sacred and secular, ancient and modern. But if there is one thing that radio proves, it is that you cannot please everybody all of the time. Since not all tastes are equally catholic, and since there are many musical prejudices, there is bound to be adverse criticism. Of modern music in particular, say you? Not at all. There are those of the jig-jigging of Bach and Mozart and Haydn. And why do we play so much Beethoven? Why so much Sibelius? There must be someone on the staff who dotes on Delius. (There is. I'm it.) And the bad taste of broadcasting the retchings of such contemporaries as he and him and it. It's the same old story. Beethoven's symphonies were condemned by his contemporaries, and Mozart's quartets were disparaged as a distortion of music. For dissatisfied critics, WQXR's adolescent days should suffice to make them realize the sumptuousness of the ethereal repasts of the present and of the opportunities offered  for selection. Let us look at the station's very first printed program, that of June, 1936, when the broadcasting schedule was only four hours a day. Here is the program for the first day of that month  and year:
5:00-6:00 p.m. Cocktail Hour -- Popular Music

8:00-9:00 p.m. Tchaikowsky--Symphony No. 4

6:00-6:45 p.m.  Light Classics

6:45-6:50 p.m. Press Radio News

6:50-7:00 p.m. Light Classics

7:00-8:00 p.m. Gounod --Faust: Acts 3 and 4
A glance at the broadcasting schedule on a day in the year 1941 reveals a tremendous contrast in favor of the music lover. And to the music lover goes part of the credit for the wealth of tonal beauty flowing through the air, for he is the customer and therefore the one whom we and the sponsors must satisfy.
As a salute to the music lover, WQXR broadcasts during the month of May the thirty-one favorite symphonies and concertos of its listeners. These will be played in ascending order of popularity on Symphony Hall each evening with the exception of May 9th when, on account of a special program, Schubert's Unfinished Symphony will be played on the 10 o'clock program. Others of your favorites will be scattered lavishly throughout the month, including special concerts by WQXR's recently enlarged staff orchestra. We hope you derive as much enjoyment from the programs as we do in planning them for you.
Editor's note: Douglas A. MacKinnon (1903-1984) was hired by W2XR founder John V. L. Hogan in December, 1935 to be the station's first Program Director. He worked there until August, 1941 and departed as Music Editor. He later worked for NBC and Radio Free Europe. According to WQXR co-founder Elliott Sanger, MacKinnon was a "one-man broadcasting station" when he was hired by Hogan; selecting the music, writing the continuity, announcing and operating the turntables and control panel. This was critical during the station's infancy but Sanger writes that as WQXR expanded, they needed someone who worked better as a team player and "we had to part company despite his very real abilities." [1] MacKinnon's papers, however, imply a more bitter if not acrimonious parting. [2]
[1] Sanger, Elliott, Rebel in Radio: The Story of WQXR, Hastings House, 1973, pgs. 131-132.
[2] Szasz, Tibor, Enescian Documents from the Douglas MacKinnon Archive at Duke University, Durham, North Carolina, U.S.A. 2005-2006.