Wayfaring Stranger Burl Ives Performs at the Book and Author Luncheon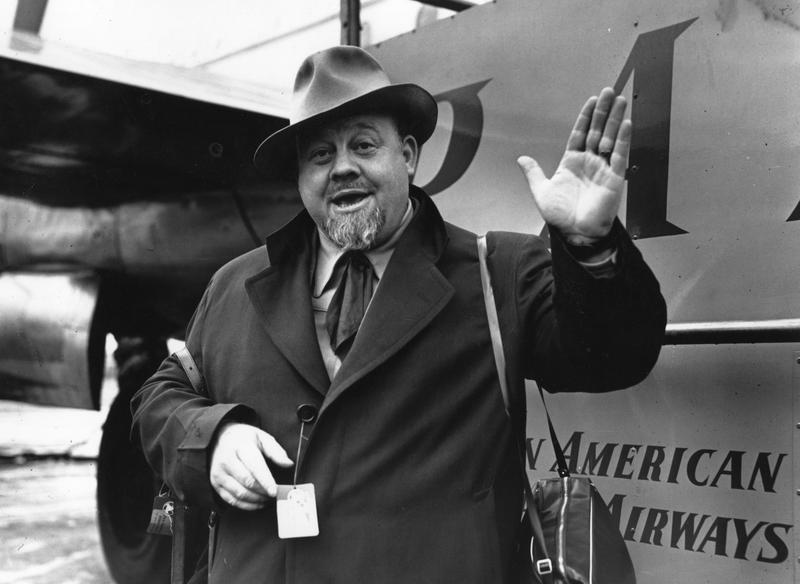 Burl Ives lets his guitar do the talking. In this 1954 Book and Author Luncheon, moderator Irita Van Doren introduces the well-known folk singer who is here to promote his recently published Burl Ives Songbook. She tells an amusing anecdote about Ives' last appearance at this event, when he shared the stage with Dwight Eisenhower and got the future president to sing a few bars of The Cowboy's Lament. Ives then gives a short, witty introduction to this miniature concert, also referring to his previous appearance, when he thought he would talk but was instead asked to sing. This time he has brought his guitar but is expected to say a few words! He then launches into an Irish folk song, "The Stuttering Lovers," and gets the audience to sing the chorus of "Goober Peas." Sir Edmund Hillary, the conqueror of Everest, is also on the dais and requests "The Foggy, Foggy Dew." Ives concludes his performance with the old favorite "Blue Tail Fly."
---
Burl Ives (1909-95) was a multi-talented performer who first made his mark as a folk singer. A large man with a commanding stage presence, he had previously played football and considered the ministry as possible careers. As the website allmusic.com reports:
After spending his early twenties traveling the country as an itinerant singer, Ives moved to New York City in 1937. By the end of 1938, he had made his Broadway debut, and he also sang folk songs in Greenwich Village clubs. In 1940, Ives began to appear regularly on radio, including on his own show, The Wayfarin' Stranger, on CBS. Ives made his first records for Stinson, a small folk label, then was signed to Decca, a major label. He made his movie debut in Smoky in 1946. In 1948, his first book, Wayfaring Stranger, was published. In 1949, he had his first chart hit with "Lavender Blue (Dilly Dilly)."
With the rise of McCarthyism, his association with the folk music scene and its ties to organized labor and the Communist Party caused him to be threatened with blacklisting. In 1952 he testified before HUAC Committee, earning the enmity of his former fellow performers. The website for the Association for Cultural Equity notes:
In his testimony he defended folk music as patriotic, not subversive. He distanced himself, as required, from his former associates, explaining that his first audience had just happened to have been "various unions and so-called progressive organizations." "I am very sorry that I have to bring up names in this manner," he said, "because I would like to be able not to mention other names, but I can't [avoid it]." He thanked the Committee "for the very fair and democratic way in which you have heard my story. I believe that in no Communist country would such a hearing be possible at all…" Ives named four people, including his former publicity director, Arthur Meltzer and his friend Richard Dyer Bennet (whose bookings were cancelled forthwith and whose career basically ended.)
Championed by the director Elia Kazan (who had also chosen to testify before the HUAC committee), Ives received his greatest break when asked to create the role of Big Daddy in Tennessee Williams' play Cat On a Hot Tin Roof. As The New York Times recalled in Ives' obituary:
Lumbering about the stage as he angrily puffed on a cigar and snarled about the "mendacity" of those around him, Mr. Ives gave a vivid, larger-than-life performance that had critics and audiences cheering. And his skillful work as Gregory Peck's business rival in the 1958 film The Big Country brought him an Academy Award for best performance in a supporting role. "I was typecast a bit," Mr. Ives said much later, "and not everyone thought I could act. But that didn't matter to me because I always saw myself as an entertainer. The movies, plays, music, it's all entertainment of one kind or another."
Ives went on to have a long successful career as a character actor on screen and later in television. It's notable that for this 1954 appearance, fresh off his testimony and recently disowned by the folk community (notably Pete Seeger who blamed him for ruining several people's lives) he sticks to the more traditional, slightly insipid examples of folk, rather than the questioning, potentially subversive strain of that music popular in the years leading up to World War II. Unlike Seeger and others, Ives clearly saw himself as a performer first, not a social activist. It was a rare moment in American history when so many artists were forced to make a stark decision as to which path they would take and what sacrifices they would be willing to suffer.
Audio courtesy of the NYC Municipal Archives WNYC Collection.
WNYC archives id: 150181
Municipal archives id: LT2743