Waterfront Fire in Williamsburg Still Smolders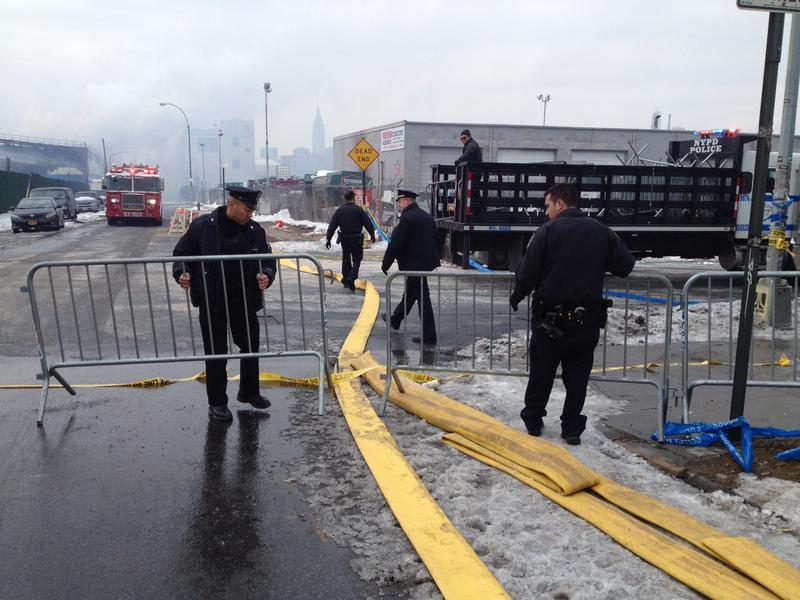 A massive, seven-alarm fire that erupted at a Williamsburg, Brooklyn warehouse on Saturday continues to slowly burn. Yellow fire hoses stretched for blocks around the waterfront near the charred building on Sunday.
The site was a storage facility filled with government files — layers of paper that have become potential hot-spots that must be monitored and doused.
To keep onlookers back, Police Captain James Ryan, commander of the 94th precinct, helped to erect metal barricades around the site. "We're trying to ensure the safety of the firefighters and the public," said Ryan.
The blowing smoke attracted a steady crowd of residents walking by to see what was happening. "It's blowing all the way up into Greenpoint and the smell in the neighborhood is pervasive," said Katie Pawluk, who stood and watched with her family while firefighters sprayed the site with water.
Fire units are being rotated in and out of the site every three hours, and officials estimated that could be the case for weeks.
The Red Cross is on site helping to distribute hot food and drinks to the crews. The cause of the blaze is under investigation.