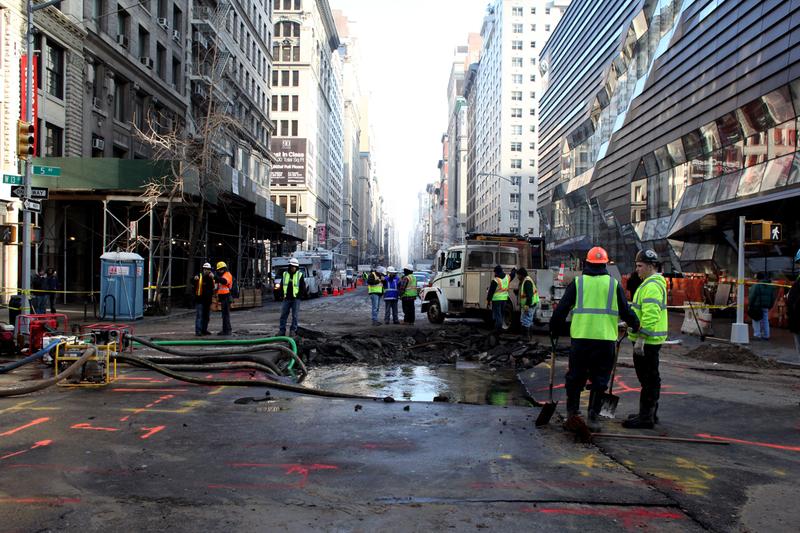 The Department of Environmental Protection says the water main that burst early Wednesday, disrupting eight subway lines and leaving a van-sized hole in the ground, was likely one of the original pipes from the Croton Aqueduct that first brought Catskills water to New York City.
The DEP says the 36-inch cast iron pipe was laid in 1877, and its age and the recent temperature swings probably played a role in the break.
The main burst around 1:40 a.m., flooding Fifth Avenue between 13th and 14th Streets. It caused extensive delays and disruptions to the B, D, F, M, J, Z, N and Q lines, and M2 and M5 buses were re-routed.
The Cardozo Law school building on 5th Ave and 12th was closed after flooding in the basement affected the building's heat and elevators; PS 226 (located at 12 W12th Street) was relocated to a school on East 15th Street for the day; and the New School University buildings on 5th Ave. and at 2 W. 13th St had delayed openings.
Voicing the frustrations of many New Yorkers, Greta Floyd from Jamaica, Queens said the subway disruptions were a major annoyance. But the flowing water that soaked her suede boots was even worse. "This is a nightmare," she said. "I don't want to wet my shoes. It's not that inconvenient, it's just lately everything in New York is a natural disaster. Every time something happens, everything falls apart."
2 blocks of 13th St remained closed Wednesday afternoon, and the DEP says it hopes to repair the crater and reopen the streets by the end of the week. The department still must decide whether to attempt to repair the water main or retire it.
A stream of water flows down 13th Street where DEP workers pump water from the water main break. (Stephen Nessen/WNYC)
The New School building was flooded and closed following a water main break on 13th Street (Stephen Nessen/WNYC)
 (Stephen Nessen/WNYC)