Voting Isn't as Easy as it Could Be in New York, and Some Legislators Like it That Way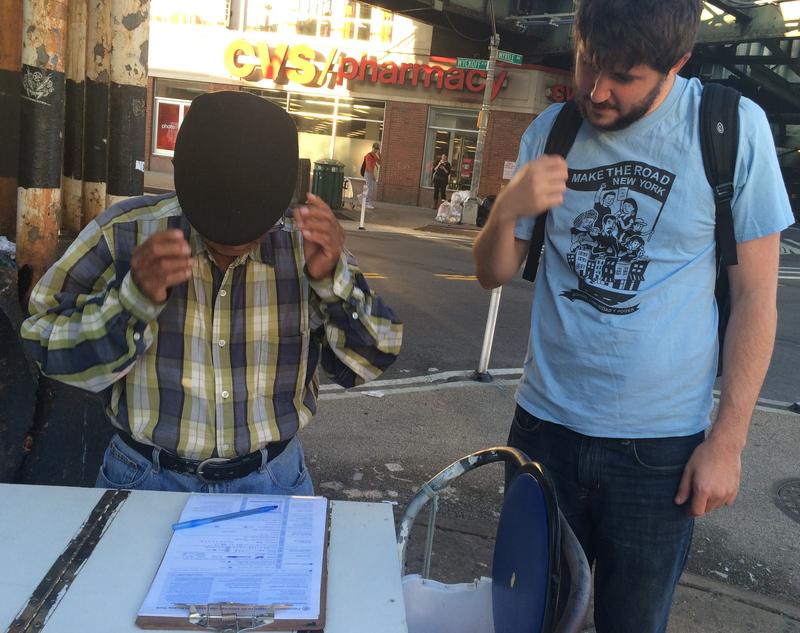 Imagine, New Yorkers, registering to vote from that smartphone in the palm of your hand. Or avoiding the long lines on Election Day by simply voting early — maybe even on a Saturday.
Or even better, not having to fill out the paperwork and mail in, or physically hand in, the forms, which is the process today. Imagine you can register to vote automatically when you have an encounter with a government agency — registering for a college class at CUNY, or applying for public housing.
Such conveniences don't exist in the Empire State, despite years of attempts by good government groups and progressive legislators in Albany to enact such reforms into law.
Other states, meanwhile, are treading into new territory. In Oregon, anyone with a driver's license is automatically registered to vote unless they opt-out. In more than 30 states, residents can vote early. Across the Hudson, in New Jersey, registered voters can cast an absentee ballot without having to present an excuse.
Getting such advances through the New York State legislature, especially the Republican-controlled Senate, has proved to be a challenge. One legislator says it's a conflict of interest.
"We're asking the people who benefit from the system that has become predictable for them to make it an unpredictable system — to allow for fairness, justice and equality for the masses," said Assemblywoman Latrice Walker, a Brooklyn Democrat.
She said members from both parties have shown resistance, because opening the floodgates to more voters makes election outcomes unpredictable. Walker proposed a bill in the last legislative session to make the process less cumbersome for her constituents, many of whom are poor and struggle to find transportation. It would have made online registration available.
"People aren't just trekking to the post office anymore," she said. "But ... they're on Facebook and they're checking their bank accounts and they're doing the rest of their life online."
State Sen. Michael Gianaris, a Democrat, has proposed a bill that he calls the Voter Empowerment Act four times, including in the last legislative session. It's still sitting in a committee.
"Why do we even have to make people jump through hoops to participate in our democracy?" he asked. "People should just be automatically registered to vote."
Of the more than 13 million eligible voters in New York, roughly 2 million are not registered. And turnout among those who are registered is low compared to other states.
New York election lawyer Jerry Goldfeder blames Albany.
"It's one of the most dysfunctional legislatures in the country," said Goldfeder, who also teaches election law at Fordham University and is the author of Goldfeder's Modern Election Law."The Democrats and Republicans cannot get together to expand the voters ability to cast their ballots."
To make his point, Goldfeder pointed to North Carolina, which had been sued over a law that required voters to have ID. A federal appeals court struck it down, saying it suppressed the votes of African-Americans. Thomas Farr, the attorney defending the law, said North Carolina wasn't so unusual compared to New York.
"The defense was, 'It's not so bad here, it's worse in New York,' " Goldfeder said, calling argument embarrassing. "What kind of defense is that?"
In just the last decade, there have been numerous proposals in Albany to fix the system: Allowing citizens to register electronically using their smartphone or tablet. Allowing voting by absentee ballot — no questions asked. Or registering and voting on the same day, when you show up to vote. The simplest proposal? Automatically registering everyone, and letting those who don't want to be registered opt out.
None of those proposals have moved out of committee. The state Assembly has been more agreeable to measures to modernize voting. In the last session, the chamber voted to let voters cast absentee ballots without having to provide an excuse for not voting in person; allow early voting and online voting; and give eligible New Yorkers the ability to register or update personal information on any web-enabled device. But those measures did not pass in the Senate.
Gianaris concedes that many of the unregistered are groups that tend to vote for Democrats: minorities, immigrants and the poor. One Republican legislator did offer a bill to make voter registration more accessible — to citizens applying for hunting and fishing licenses. It was a nod to upstate Republicans. That bill never made it out of the Assembly.
WNYC reached out to Senate Republican leaders, including Senate Majority Leader John Flanagan and his spokesman, Scott Reif. Neither responded to requests for comment.
Peter Kosinski is the Republican chairman of the state Board of Elections, and a former attorney for the Republicans who control the Senate chamber in Albany. He emphasized he doesn't speak for the body, but he did offer an alternative to the position that New York's voting systems are behind.
Kosinski said voting is already simple in New York because anyone can get a voter registration form in person or print one out online. He said he expects online registration and voting will arrive some day. But he said today, it's just too risky because the system could be hacked.
"You don't want to give people an opportunity to perpetrate fraud," he said.
Warnings about fraud have been a lightening rod in this year's election; Donald Trump has suggested there is widespread fraud, though there has not been widespread evidence. 
Bill Lipton, of the Working Families Party, says obstacles to voting should be viewed in the context of the Civil Rights era, when poor and black voters were prevented from casting ballots if they failed a literacy test, or couldn't pay a poll tax.
Progressive groups like the WFP continue to advocate for a more modern system. In the meantime, they rely on the old fashioned way of getting more people registered — hitting the streets for registration drives. Daniel Altshuler, director of civic engagement with Make the Road New York, a non-profit that works to empower Latinos politically, said these drives take time and money — about $15 to $20 per registration when training and resources are factored in. 
He said having automatic voter registration would change that. But that would likely require more pressure on the legislature — from voters who are already registered.