Is Vision Zero Working? Early Signs Look Good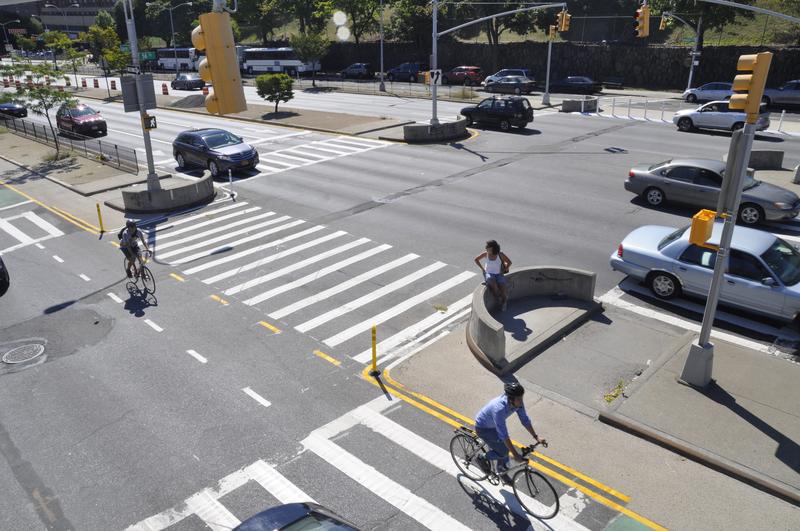 According to data gathered by the New York World, there have been 224 traffic fatalities so far this year. In the same time period last year, there were 252.
If that downward trend continues, it would seem to endorse Mayor Bill de Blasio's approach to street safety, which aims to entirely eliminate all traffic fatalities.
"We do feel like we're seeing some progress with Vision Zero," said New York City Transportation Commissioner Polly Trottenberg. "I want to be careful, let's see what the numbers look like come year end." 
While more years of data are needed to draw serious conclusions, the numbers are down in four of the five boroughs. Fatalities are nearly 30 percent lower in Manhattan (30 this year versus 42 last), 22 percent lower in Queens, 17 percent lower in Brooklyn, and 11 percent lower in the Bronx. But traffic deaths are sharply up in Staten Island, where so far this year, 23 people have been killed in traffic. Last year, for all of 2014, that same number was 11.
The city's numbers stand in contrast to preliminary national data, which shows an 8 percent increase in traffic deaths for the first six months of the year.
Trottenberg says initiatives like lowering the speed limit to 25 miles per hour, installing 140 speed cameras (which have generated about a million tickets so far) and redesigning dozens of intersections are helping to change behavior. She also cited a public awareness campaign launched by the city which hammers home the message "Your Choices Matter."
"We polled drivers," she said. "Seventy-two percent of them could recall our TV ads, our radio ads, our billboards." And 84 percent, she said, reported they'd be more likely to yield to pedestrians in crosswalks.
The additional enforcement doesn't hurt, either: according to the mayor's office, the NYPD has issued nearly 12,000 more tickets for speeding in 2015 than it did last year. And failure-to-yield summonses are up as well.
Additional reporting by Melissa Hirsch and journalists at the New York World who have been tracking this year's fatalities.