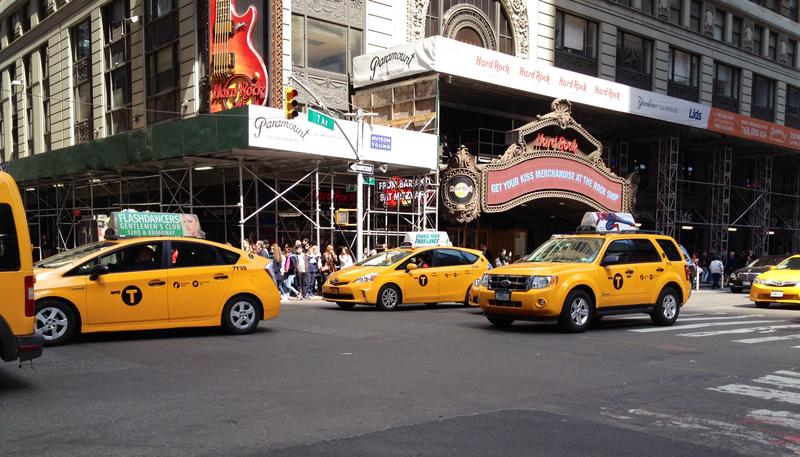 New York's City Council overwhelmingly passed a legislative package aimed to dramatically reduce traffic fatalities.
"At the end of the day, we feel that these new laws will strengthen our city's ability to avoid death and injuries caused by car crashes," said Ydanis Rodriguez, the chair of the council's transportation committee.
The 11 bills and six resolutions cleared a full vote Thursday afternoon. In a statement, Mayor Bill de Blasio called the bills "a major step forward for our Vision Zero initiative. They will protect families and make our neighborhoods safer." He thanked the council "for its partnership keeping New York City streets safe."
The legislation requires the city to create seven new "slow zones" each year for the next two years, fix broken traffic signals within 24 hours, and create stiffer penalties for drivers who break traffic law. One of the bills will also require the city's Taxi and Limousine Commission to revoke the TLC licenses of cab drivers convicted of a violation that caused a critical injury or death.
That isn't finding favor in the taxi industry. Bhairavi Desai, the head of the Taxi Workers Alliance, said it scapegoats cabbies. "It doesn't make sense when you take the motorists who have the best driving records in the city of New York," she said, "and pass laws and rules that target them for the harshest penalties."
But Ydanis Rodriguez said it's about setting a good example. Before the council voted, he spoke directly to cab and livery drivers during a press conference. "You are the most important cars in the city," he said. "Therefore, we must hold you to the highest standards in the city. These are not punitive measures, but rather assurances that you will continue to drive with the utmost care so that other drivers will follow your lead."
The pieces of legislation will go into effect when the mayor signs them. The accompanying resolutions, however, are aimed squarely at Albany and will require state legislators to act. The city wants more control over its state-regulated traffic camera program. 
Councilman Jimmy Van Bramer said the cameras aren't about ticket revenue. "We're not interested in playing a game of gotcha," he said. "We're interested in changing behavior and making sure people are held accountable for breaking the law."
"If you speed on the streets of New York, if you are breaking the law, you should get a ticket. If you run red lights...you are endangering the lives of your neighbors," he added. "People should not complain they get a ticket if they blow a light."