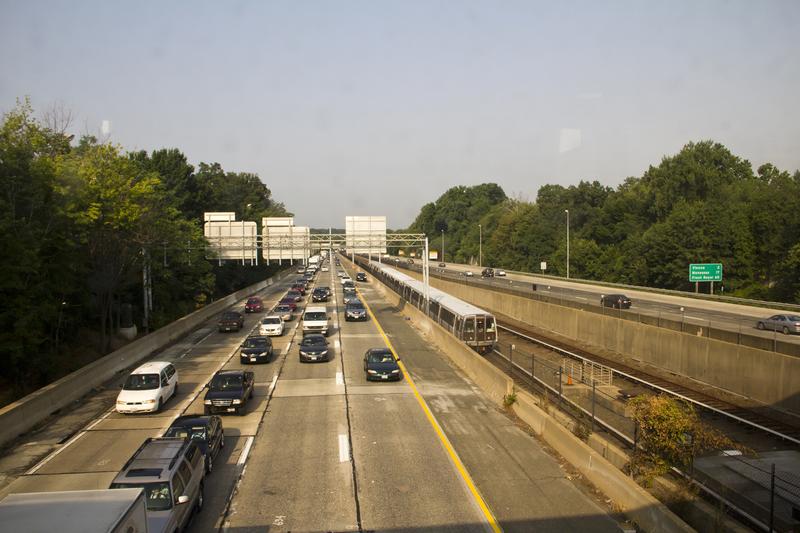 Unlike his recent predecessors, Virginia's new secretary of transportation will have the advantage of adequate funding — possibly not enough for all the commonwealth's road and rail needs, but a large infusion of tax revenues nonetheless thanks to the passage of a transportation funding overhaul by the General Assembly. By eliminating the state gas tax and increasing the state sales tax to fund transportation, Virginia will be able to avoid the transfer of money out of its depleted construction fund in order to cover its maintenance expenses, as Virginia is a maintenance-first state.
In his first interview since taking office, Secretary of Transportation Aubrey Layne discussed his priorities, pending legislation in the General Assembly, and whether the administration of Democratic Governor Terry McAuliffe would support some of the most controversial proposals awaiting decisions in the state.
"We have to pick the right projects."
Sec. Layne is familiar with Virginia's transportation landscape, having served on the Commonwealth Transportation Board since 2009 when he was appointed by then-Governor Tim Kaine. He was reappointed to the CTB by Governor McDonnell, who also placed Layne on the Chesapeake Bay Bridge Tunnel Corporation.
Layne said his top priority is to wisely spend the new money that will be available from the transportation funding regime.
"The first thing we have to be is good stewards of that money. That will be one thing that will override many of my decisions," said Sec. Layne. "I have a business background. I started my career as a CPA and have run several companies, and being accountable for your actions is going to be top of my agenda."
Layne said he supports House Bill 2 (HB2), which will allow the Northern Virginia Transportation Authority to plan projects based on several factors, including congestion reduction, which will place public transit on equal footing with highways.
"There is no doubt in my mind that public transit removes congestion in Northern Virginia. There is still economic development, mobility, and other factors, but in the urban areas congestion mitigation has got to be a top-weighted priority for us," Layne said.
"Depending on what part of the state the money may be in — for instance, in Northern Virginia — congestion mitigation should be the most weighted factor. Some would argue in other parts of the state, particularly in more rural areas, that economic development should be weighted. It will be up to the CTB to work on what those weightings will be in the different areas, but at least we will be viewing them all from a similar perspective on what's important."
Layne said HB2 will not touch regional funding, meaning Northern Virginia will be allowed to direct dollars to transit projects, and he said transit initiatives will score well under a prioritization process now being developed for the allocation of statewide revenues.
The fate of the Bi-County Parkway
A proposed agreement that will allow the Virginia Department of Transportation to pave the ten-mile Bi-County Parkway over the western fringe of Manassas National Battlefield Park (in exchange for closing congested Rt. 234 through the battlefield) is still awaiting the signatures of five key bodies: VDOT, Federal Highway Administration, Advisory Council on Historic Preservation, Virginia Department of Historic Resources, and National Park Service.
The signing of the programmatic agreement does not mean the highway connecting Rt. 50 and I-66 in Prince William and Loudoun Counties definitely will be built. The Parkway would have to compete for dollars in the new funding environment — if the McAuliffe administration decides to pursue it. The Bi-County Parkway was a priority of the McDonnell administration after Governor Kaine had shelved the project. Sec. Layne said his boss still has not decided whether to move ahead on the controversial road plan.
"There has not been a decision made," Layne said. If the administration decides to pursue the parkway, it "would have to run through the prioritization process and we will see how it scores. Something needs to be done to get people moving through that corridor. Right now what is on the table is the Bi-County Parkway."
Tolls and P3 likely on I-66
VDOT currently is evaluating about a dozen ideas submitted by the private sector to increase capacity on I-66 from the Beltway to Haymarket.
Layne said any new lanes on I-66 will likely be tolled and possibly managed by a private entity, similar to the projects to add capacity to I-495 and I-95. The 495 Express Lanes opened in November 2012 and the 95 Express Lanes are scheduled to open next year, both built the construction conglomerate Transurban under Virginia's public-private partnership law.
"I do believe there will be some tolled lanes on [66], and I do believe it will end up being a P3 project," said Sec. Layne, who said the additional capacity should also carry express bus service. "It appears to me that certainly at the very least we ought to have bus rapid transit and incentives for using the tolls or managed lanes, and we can coordinate that with the current Metro system."
Local outreach
Secretary Layne says he is committed to working with the local jurisdictions in the path of I-66 and he and wants to make communicating with localities across Virginia a focal point of his tenure.
"I do believe the best decisions for traffic and transportation decisions are at the local level. On the CTB we did not always do a good job at getting local input. We've already reached out to Loudoun, Fairfax, Prince William, Alexandria, and Arlington and discussed how we move forward on I-66."