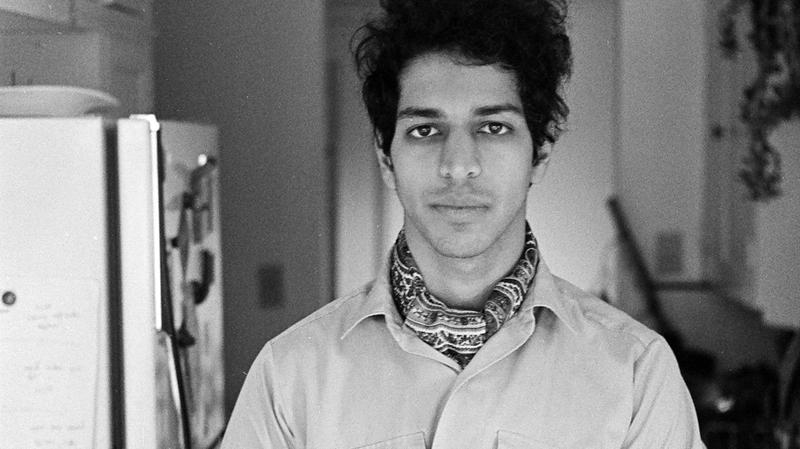 On its own, Vikesh Kapoor's "Bottom Of The Ladder" is your prototypical working-class folk ballad; It's a sparse and winsome song showcasing the Portland songwriter's warbling voice -- which falls somewhere between Conor Oberst and Woody Guthrie -- as he sings earnestly of personal hardships, feeling rudderless and artistically discouraged. It's an introspective look into what it means to be an artist trying to live up to expectation while aspiring to live simply.
But the song is actually just the opening statement of a larger narrative that unfolds on Kapoor's debut album, The Ballad Of Willy Robbins. The record is a concept album, or at least a song cycle of sorts, depicting one man's journey inspired by Kapoor's own life: The songs detail the challenges of getting by in small-town America, and the struggles his parents had as immigrants.
In the music video for "Bottom Of The Ladder," we see Kapoor's frustrations and sense of aimlessness in the form of an endless climb up a ladder. Shot by Zia Anger and directed by Randy Sterling Hunter, the stark black and white video shows a figure reaching the top of a ladder over and over, only to dissolve into another ascent.
Paired together, the song and its video are simple and somewhat D.I.Y. in tone, but elegantly done.
Vikesh Kapoor's album, The Ballad Of Willy Robbins, is out now, and you can catch him on tour this winter:
11/20: Pittsburgh, PA @ Garfield Artworks #
11/25: Chapel Hill, NC @ Local 506*
11/26: Atlanta, GA @ The Earl*
11/27: Nashville, TN @ Mercy Lounge*
11/29: Cincinnati, OH @ MOTR Pub*
11/30: Louisville, KY @ Zanzabar *
12/1: Asheville, NC @ The Mothlight *
12/2: Richmond, VA @ Strange Matter*
12/3: Arlington, VA @ Iota*
12/4: Asbury Park, NJ @ The Saint*
12/5: Philadelphia, PA @ North Star Bar*
12/6: Hamden, CT @ Cafe Nine*
12/7: Cambridge, MA @ Middle East*
12/8 Burlington, VT @ Higher Ground *
12/9: New York, NY @ Mercury Lounge*
# with Saintseneca
* with The Melodic